Want To Sell Your House Fast In Albany NY?
We buy houses in Albany in any condition. 
No repairs | No agents | No waiting | No worries



We Buy Houses In Albany and the Capital Region of New York
Sell Your House Fast In Albany and Avoid Real Estate Agent Fees, Repairs, and Cleanouts.
Find Out How Our Home Buying Process Works Below.
We buy houses in Albany NY in as-is condition so the process is hassle free. Leave The Key Homebuyers is a family-owned home buying company that buys houses for cash in Albany, NY. If you need to sell your house fast for cash, we are serious about buying your home and have the cash proof of funds to back up our offers.
We buy houses for cash in Albany and can close on your schedule. Depending on your needs, we can coordinate a closing in as little as 7 days or as long as a few months. You have the flexibility to sell your home in Albany on your terms, while still getting a fair price for your home.
We have helped homeowners all over the Albany Capital Region sell their property for cash and avoid the hassles of listing with a real estate agent. If you want to sell your house without commissions, fees, or making repairs, request a no-obligation cash offer by filling out the form above.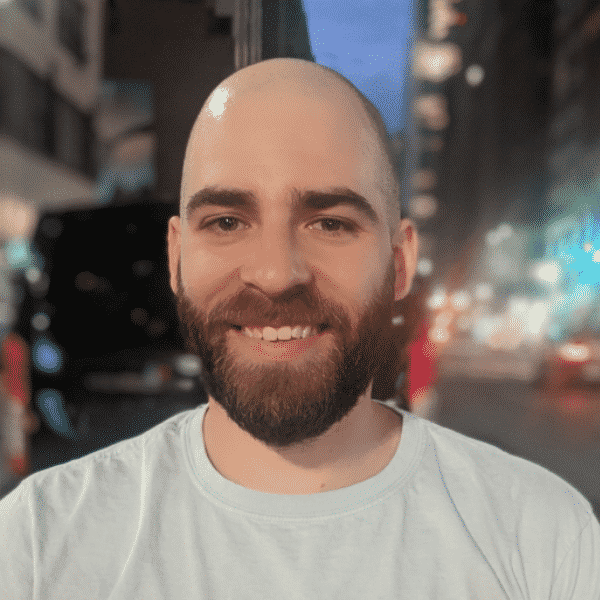 We are Larry and Ben, father and son that work together with our team to create the best offer for your property in Albany NY.

"Oh my God, what a wonderful company this is…Every one of them are pure gentlemen, very helpful, very kind. I had my weeping stories that they sat and listened to. It's a wonderful company and I would recommend them to anybody, absolutely anybody."

Mrs. Galvin
How Can I Sell My House Fast In Albany NY?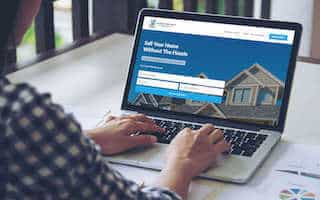 Call or submit your
information.
We review the details of your home
and set an appointment to meet
with you or tour the property virtually.
Meet with us at
your home.
We walk the property with you or review property photos. Once we view the property, we present you with a fair cash offer on the spot.
We can close on your schedule,
whether you need a fast or slow
closing. Sell your house on your terms.

"I just sold my house to Leave The Key Homebuyers and they're just great…seamless, very easy, very easygoing, no problems, no late calls. Everything was just on time and on point… I felt comfortable, very comfortable, they answered every question I had, and they made it very easy for me to do this transfer…"
Keyza R.
We Buy Houses For Cash In Albany NY
If you ask homeowners in the Albany Capital Region, many will tell you that they had a poor experience listing their home with an agent. Selling your house doesn't have to be painful. We offer a fair price for your home, a faster service, and an easier way to sell your Albany home. You can be certain that when we make an offer on your property, you can move forward knowing it is sold.
"As-Is" Condition
We want to purchase your home regardless of it's condition and you'll never have to make any repairs. It doesn't matter if your home needs major remodeling or even a complete rebuild.
Sell Your House Quickly
We will make an offer within 24 hours of seeing your home. When we make an offer to buy your house, we can close on your schedule, in as little as 7 days.
No Agents or Fees
The traditional home selling process is awful. Agents parade dozens of buyers through your home and typically charge a 5% to 6% commission, adding up to thousands of dollars that you'll never see.
Sell Your House For Cash In Albany
After 10+ years of buying homes, we have seen it all. We understand that you may need to sell your house fast in Albany for whatever reason, or maybe you just don't want to deal with the stress and hassle of listing with a real estate agent. Thankfully we offer an easier solution to sell your home quickly. There are no fees, commissions, or lengthy contracts when selling to Leave The Key Homebuyers. We make you a fair, no-obligation cash offer on your Albany home, and you can decide if it's the best fit for you and your family. There is absolutely no pressure to accept our offer.
If you choose to accept our offer, you can pick your closing date. If you need to sell your house fast, we can close quickly. Sometimes in as little as 7 days. If you need more time, that's ok too. We work around your schedule and can close when it works for you. The flexibility of an offer from Leave The Key Homebuyers is just one of the many benefits of working with us and you can rest assured that the sale will not fall through due to common issues like inspection or mortgage contingencies (which we waive).
We Offer A Better Way To Sell Your Albany Home
Selling to Leave The Key Homebuyers
Competitive cash offer in 24 hours
No listing, prep work, or showings
Skip the repair work and deduct the costs
Sell on your schedule
Risk of buyer financing fall-through
Hours of prep work and home showings
Manage repairs yourself
Uncertain closing timeline
Fast Cash For Your Albany House
We can buy your house fast in as-is condition and pay cash for your Albany house. We make it fast and easy to sell your home without the hassle of dealing with an agent. If you want to get cash for your house, and still get a fair price, give us a call today to get started at 631-388-7771.
There are never any obligations when working with us and getting a fair cash offer on your home is entirely free. Just give us a call or fill out our form to receive your no obligation cash offer on your home.
Leave The Key Homebuyers can stop foreclosure in Albany too. If you're facing foreclosure and want to sell quickly, give us a call. We're here to help and can help solve your real estate problem, whatever that may be.
We Buy Houses In Albany Regardless of the Situation!
We specialize in buying homes from sellers in a variety of different situations. Below are some of the most common situations that we encounter. We use our real estate and financial experience to find the best solution for every homeowner.
In Need of Repairs
Your house is a fixer-upper or in need of major repairs and you can't afford or just don't want to pay for repairs yourself.
Relocation
A new dream job popped up across the country and you need to sell your home to relocate.
Inheritance / Probate
You and the beneficiaries are looking to move on and sell an inherited property.
Foreclosure
If you are behind on payments, we can work with you to stop financial strain and prevent foreclosure.
Vacant House
Vacant homes can be a lot of work and a source of stress. Rather than let your property sit empty, you can sell the property and have some money in your pocket.
Divorce
A home is a difficult asset to deal with during divorce. Since you have no control how long it will take to sell, you risk holding up the completion of the divorce process.
We Can Buy Your House, No Matter The Condition!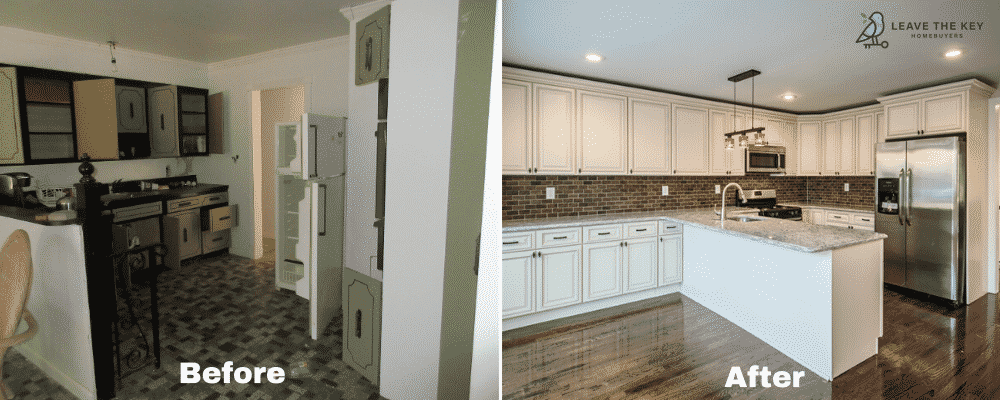 When we say "We Buy Houses As Is", we mean As Is and in ANY condition. You can leave your property in its exact condition, take what you want and we handle the rest. Even if your property has trash on the floor, unused furniture, food in the fridge, clothes, it doesn't matter how bad. We can still buy your house, no matter the condition.
The Easiest Way To Sell Your House Fast In Albany
We are family-owned cash home buyers in the Albany area and we understand what it takes to sell your home fast. We've purchased hundreds of homes all over New York. We have bought houses in as-is condition for cash in a variety of situations like bankruptcy, foreclosure, divorce, behind on mortgage payments, stuck with bad tenants, inherited an unwanted property, or homes that just need a lot of repairs. No matter what situation you are facing, we can help.
Our simple home selling process allows you to sell your house fast in Albany on your terms and without the hassle of listing with a real estate agent. You can sell your house when you need to, even if it needs a lot of repairs. We buy houses as-is and you can leave whatever you don't want behind.
Information About Albany New York
Albany, nicknamed Smallbany, is the capital of New York and has an estimated population of 99,224 residents as of 2020. It is the economic and cultural center of New York's Capital District which includes the Albany, Schenactady, and Troy MSA. The broader Capital District of New York has an estimated population of 1.170 million in 2020. In the late 1700's through the 1800's, Albany was a center for trade and transportation since the city lies at the north end of the Hudson River and was originally the eastern terminus of the Erie Canal, leading this area to have some of the earliest railroads in the world. In the mid-late 1900's Albany's population started to shrink as people moved out of cities and suburbanization became popular. 
Since the dot com and tech boom of the 1990's, Albany has focused on attracting high tech talent and businesses and has even branded the eastern part of New York as "Tech Valley." This tech ecosystem is bolstered by facilities by UMB as well as colleges like Rensselaer Polytechnic Institute and The State University of New York at Albany. In 2021, the Albany-Schenectady area was rated #4 on the Forbes "Best Cities for Jobs" list due to the expansion of high-tech jobs.
Although property values are on the rise, the percentage of homeowners delinquent on their mortgages represented 4.3% of Albany homeowners, which has grown by 1.7% since before COVID.
Locations We Buy Houses Near Albany NY
We buy homes in the following areas: