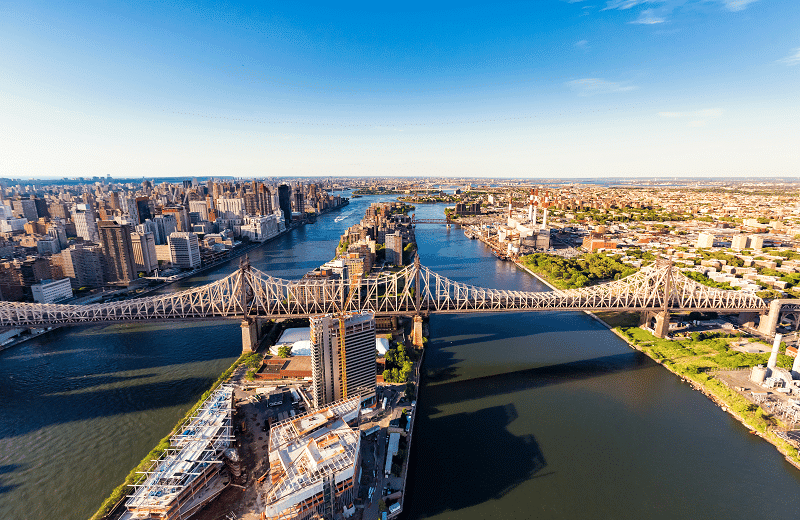 A list of the best things to do in Queens during the weekend, including the best places in the borough to shop, eat, learn, and play.
Best Things To Do in Queens
Queens is a family-friendly borough of community and diversity in New York state, with some of the best food and art on display in New York City. The numerous official and unofficial cities in Queens mean a new restaurant or business is always popping up.
Many famous artists and musicians like Louis Armstrong and Isamu Noguchi made Queens their home because of its cultural richness and affordability. Whether you're having a picnic in Gantry State Plaza or catching a New York Mets game at Citi Field in Corona, Queens has attractions for everyone.
Since Queens is the largest borough, we'll start by breaking down where you can find what and some of the borough's history before jumping into the best things to do in Queens on the weekend. Moving to or from NYC? Keep in mind that we buy houses New York City residents want!
Different Parts of Queens
Queens is the largest borough in the city of New York. The borough is home to not one, but two airports, a baseball stadium, a zoo, the US open, beaches, dozens of museums, hundreds of public parks, hundreds of historic landmarks, thousands of chic stores, and thousands of restaurants featuring fare from all of the diverse cultures that make Queens great.
The romantic allure of Manhattan and Brooklyn overshadows the charm of Queens. However, there's a high likelihood that any local you encounter has either grown up in Queens or has family that lives in Queens.
New Yorkers live in Queens because of the diversity, community, food, shopping, affordability, outdoor spaces, entertainment, and convenience.
Navigating Queens
Queens is a large borough with a lot to offer. Still, some neighborhoods are primarily residential and have amenities suited for full-time residents instead of tourists or thrill seekers. Parts of Queens like Maspeth and College Point are charming because they're quiet.
If a quiet stroll through a neighborhood with beautiful homes sounds like a good time to you, visit Malba or Kew Garden Hills.
Queens Parts
Different parts of Queens offer different attractions. Northwestern Queens is home to popular tourist destinations like Long Island City and Astoria.
Long Island City offers respectable nightlife, skyline views of Manhattan, and well-connected bike paths that are ideal for exploring all of the breweries popping up in the neighborhood. Long Island City is also home to Socrates Sculpture Park and the Noguchi Museum, home to artworks of the late Japanese American artist Isamu Noguchi.
Astoria is a historically charming neighborhood known for its food and walkability. Astoria is also home to the Museum of the Moving Image and Astoria Park. Astoria has a perfect mix of small businesses, big attractions, city lifestyle, and residential solace that makes the neighborhood a prime location for people looking to move to Queens.
Areas of Queens
Every Queens neighborhood has something to offer visitors.
Northwestern Queens is home to nightlife and skyline views. Southeastern Queens is home to the infamous Rockaway Beach. Central and Near eastern Queens is home to delicious food and the idyllic Flushing Meadows Corona Park, home of the Unisphere from the 1964 World Fair and the Queens Museum.
Far eastern Queens is home to residential neighborhoods like Jamaica and cozy parks.
For visitors with limited time in Queens, the 7 train paired with a Citi bike rental is your best bet for navigating the borough's most coveted attractions.
About Queens
If you're considering moving in Queens, you're in luck. There are many cash home buyers in Queens itself! For more facts about Queens, visit NYGOV.
Facts About Queens
The area known as Queens used to include Nassau county, now considered a part of Long Island.
The Flushing Remonstrance, a document protecting religious rights, was signed in Queens and is considered a precursor to the protections in the bill of rights.
Queens was home to much of the quartering imposed by the British crown before and during the revolutionary war.
Queens was home to the 1939 and 1964 New York World's Fair
Because of its landmass, Queens is home to the second largest population of all the boroughs but has the second lowest population density.
COVID-19 Restrictions in Queens
Queens features the same COVID-19 restrictions as the rest of New York City. Here is a brief list of COVID-19 Restrictions in Queens that you should be aware of before visiting:
As of September 7th, masks are optional on public transit.
Proof of vaccination may be required for entry into indoor entertainment spaces. Some businesses may require proof of vaccination, masks, or both.
International travelers are no longer required to show proof of a negative COVID-19 test upon arrival in NYC.
Testing for and vaccination against COVID-19 is free for all residents of New York City. Visitors and non-residents may also qualify for free testing or vaccination.
For more complete information about COVID-19 restrictions, please visit NYCGO.
Top Things to do in Queens
Some of the best things to do in Queens are free or relatively inexpensive. Some of the iconic attractions do cost money but are well worth your dollar. Below are eleven things to do on a weekend in Queens. Visit Leave a Key's blog for fun things to do in NYC.
Things to do in Queens on the Weekend
The New York Hall of Science: Science museum with interactive exhibits, making it one of the best things to do in Queens with kids.
MoMA PS 1: Large contemporary art museum
Noguchi Museum: Museum dedicated to Japanese American artist Isamu Noguchi
Botanical Garden: Large garden with hundreds of flower species
USTA National Tennis Center: Home of the US Open
Louis Armstrong House Museum: The late musician's home
Rockaway Beach: The beach made famous by The Ramones (better than Coney Island)
Museum of the Moving Image: Museum dedicated to the history of cinema
Alley Pond Park: Natural getaway from the city with salt marshes
Gantry Plaza State Park: Modern waterfront plaza with panorama skyline views
Jamaica Bay Wildlife Refuge: Wildlife refuge with numerous plant and bird species
What to do in Queens on a Saturday
During the day, I recommend renting a Citi Bike to explore the Northwestern waterfront.
You can't go wrong starting your day along Hunter's Point South Park. The park is immaculately landscaped and features clean architectural lines.
From Hunter's Point, you can bike south toward Brooklyn or north toward Astoria.
If you're visiting during the summer, pick up a local newspaper for a list of upcoming events.
Fun Things to do in Queens for the Weekend
If biking around sounds too intense for your vacation, don't worry. There are plenty of other entertainment options in Queens.
If you enjoy art, visit the Isamu Noguchi Museum in LIC. If you enjoy sports, catch a ball game at Citi Field. If you love food, head to Jackson Heights for an overwhelming number of diverse restaurant options.
Things to do in Queens on July 4th Weekend
A day trip to Rockaway Beach is the thing to do on the July 4th weekend. Pack your shades, sunscreen, and snacks, and catch the A train out to Rockaway Beach.
Fair warning, Far Rockaway Beach will be packed during the 4th. If crowds aren't your thing (or beaches) steer clear. For everyone else, the chance to experience the beach made famous by the Ramones is enough of a selling point, plus there is a live fireworks show, a boardwalk, bike trails, sporting facilities, and fresh seafood nearby.
There will be a lot of traffic on the fourth, stay safe and organize transportation to and from the beach in advance.
What is there to Do in Queens for Free Today?
Some of the best things to do in Queens are free. You can admire the Midtown Manhattan skyline from the LIC or Astoria waterfront, visit the world-renowned Flushing Meadows Park in Corona that rivals central park, or take a walk through Flushing's impressive Chinatown.
You can also score free admission to several venues, museums, and events depending on the time of year. Check the event calendars of places like the Queens Botanical Garden, Queens Museum, and Queens Zoo for specials.
Shopping in Queens
No vacation would be complete without a shopping spree. Try the Queens Center or the Shops at Grand Avenue for traditional box store shopping.
For a more eclectic shopping experience, consider visiting Lockwood. Lockwood has four locations across Queens, each with a unique collection of furniture, toys, antiques, and collectibles.
If you're looking to spruce up your wardrobe, consider visiting Ditmars Boulevard, Steinway Street, and Broadway in Astoria.
If you enjoy the hunt for a good outfit, consider visiting one of Queen's many thrift stores. For a diehard thrifting experience, visit the Goodwill NYNJ Outlet Store & Donation Center in Sunnyside. Pro Tip: Get there early.
Partying in Queens
You don't need to go into Manhattan for a night out or live music. Northwestern Queens has plenty of restaurants, bars, clubs, and venues for a memorable night out on the town.
Party life in Queens lives in LIC and Astoria. Steinway Street in Astoria is the main street for nightlife in Queens.
Be aware that the clubbing scene in Queens is lacking. If clubbing is your thing, I suggest looking into a Latin dance bar like Deseos Lounge, where the vibes will center on dancing instead of expensive booze and electronic remixes of songs from the 2000s.
If the mention of nightclubs sent you running, there are plenty of laid-back party options in LIC. LIC has a great selection of beer halls and wine tasting rooms where you can casually mingle with friends over a microbrew or an eclectic variety of wine.
Coffee Shops in Queens
If the mention of nightclubs sent you running, there are plenty of laid-back party options in LIC. LIC has a great selection of beer halls and wine tasting rooms where you can casually mingle with friends over a microbrew or an eclectic variety of wines.
Kinship Coffee, 23-92 21st St, Queens, NY 11105
This coffee shop features a calm, tranquil cafe space with warm woods and plenty of plants. However, the charm of this Queens coffee shop is its proximity to Astoria Park. Grab your favorite coffee and saunter over to the park for world-class people-watching.
The Barn Coffee Shop, 26-08 Hoyt Ave S, Queens, NY 11102
If you're looking for something more substantial than a pastry and coffee, consider visiting The Barn Coffee Shop in Astoria.
Astoria Coffee, 30-04 30th St, Queens, NY 11102
It's always better to buy locally. Astoria Coffee is a local coffee shop where locals come to share a conversation. If you want to immerse yourself in the culture of Queens, stop by for a drip at Astoria Coffee.
Deploy Coffee, 47-40 Center Blvd, Queens, NY 11109
Deploy Coffee is a coffee cart business that parks outside Gantry Plaza State Park. What could be better than enjoying a cold, sweet iced coffee on the lush grass of the park as you watch the waves of the east river lap against the shore?
The Deli on the Corner, everywhere
No, the Deli on the Corner isn't the name of a store (Although maybe it should be?). I am talking about the deli with yellowed advertisements in their windows. Yes, the one that advertises beer, groceries, and cigarettes. Pro tip: order like a local and ask for your coffee "regular".
Best Lunchtime Spots in Queens
You can't visit Queens without trying the food. Lunchtime is the perfect opportunity to explore all of the cuisines available in Queens.
Beija Flor
A Brazilian restaurant with an upbeat vibe and Brazilian fare. The perfect place for a bite on a hot and humid summer day.
Elias Corner
It's mandatory to try Greek fare when in Astoria. The neighborhood is home to many great Greek restaurants, but I recommend Elias Corner for an authentic experience.
Luna's Kitchen & Bar
Queens is all about community. Luna's Kitchen & Bar lives up to the legacy of the borough with a friendly atmosphere and a no-frills, delicious menu. Luna's also features a great happy hour.
Empanadas Cafe
A short jaunt from Flushing Meadows Park is Empanadas Cafe; a great place to grab an authentic empanada packed with fresh ingredients and bold flavor.
Gyu-Kaku Japanese BBQ
A casual and modern BBQ spot featuring succulent meats and traditional Japanese dishes.
Conclusion
With all the food, shopping, and entertainment options available in Queens, I'm positive you'll find something that suits your tastes. If you need to sell a house fast in New York, you may want to consider Queens as your destination move.
In the city that never sleeps, Queens is ready to enrich your life with entertainment, food, and fun.