When purchasing a home, the possibility of falling behind on mortgage payments usually is an afterthought. Sometimes, circumstances change, like a job loss, divorce, medical problems, or an accident that causes you to fall behind on your mortgage payments. When that happens, it can be a scary feeling fueled by phone calls and notices that you're past due. For many people selling their biggest asset, their house, usually puts them in a better financial position and avoids foreclosure. But you may be wondering, can you sell a home in pre-foreclosure in New York? And what are some ways to sell quickly since the clock is ticking? Below we'll cover all you need to know about pre-foreclosure and what the selling process looks like so you can get to a better financial situation ASAP!
How To Sell A House In Preforeclosure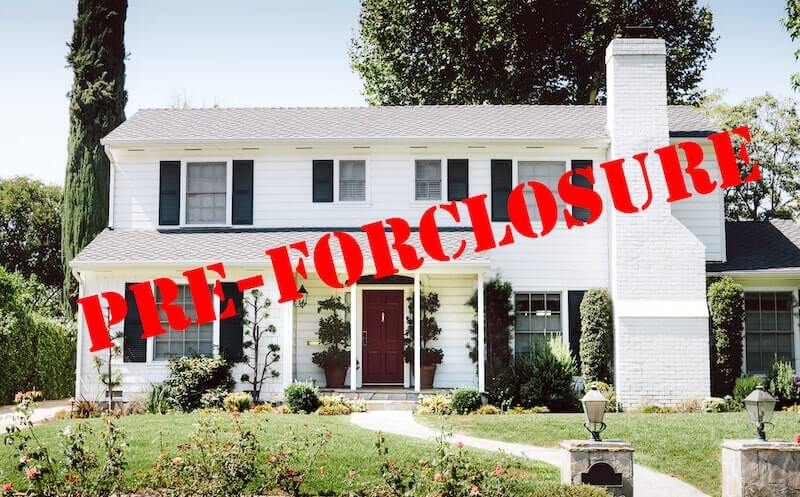 What is Preforeclosure?
First, you're probably wondering what pre-foreclosure means? Technically it's the period of time after you fall behind on your mortgage payments and before a foreclosure officially starts. People also refer to pre-foreclosure as the period before a foreclosure sale.
However you want to define it, during this preforeclosure time, your loan provider can charge various fees, like late payment charges and inspection fees. But in most cases, they are to send you information on ways to avoid foreclosure and send you a preforeclosure notice referred to as a "breach letter'.
Can You Sell a House in Preforeclosure?
Yes, you can! If you're in the midst of preforeclosure, you do have the opportunity to sell your house up until the property is sold at auction in a Sheriff's Sale by the mortgage company.
During preforeclosure, the homeowner can sell the property, refinance, still make all outstanding payments, negotiate a loan modification, or file bankruptcy.
Although you will be offered several options to avoid foreclosure, if you're unable to repay the loan because you simply lack the income, a loan modification may not be much help. And filing bankruptcy will significantly affect your credit. If there is equity in your property, selling the home and moving on may be the best option for you to avoid foreclosure and repay the debt obligation.
Stages of Foreclosure
If you default on your mortgage payments, the New York foreclosure process begins and will be handled in the judicial system. Below are the stages of foreclosure you should be aware of.
Stage 1: Multiple Payments are Missed
If you have continued to miss payments, your lender will contact you regarding your financial and legal obligation to pay back the loan. 120 days after the first missed payment, your lender can take legal action. New York is a judicial state, so you will have 120 days to pay back your overdue charges in full, or you can look into loss mitigation options.
Stage 2: Notice of Breach
Before issuing a foreclosure, New York law requires the lender or loan servicer to send a "Notice of Breach" letter to the borrower, giving them 30 days to pay back the balance of the missed payments. In addition to that, your lender will also give you a 90-Day Foreclosure Notice.
Stage 3: Foreclosure Loss Mitigation
Thirty days prior to your case going to court, you will enter into a loss mitigation period. Although it doesn't hurt to explore all options available during this timeframe, you still may find selling the house to be the best solution.
Stage 4: Filing of Lis Pendens
If you've missed more than three payments in a row, the lender will send you all the required legal notices and warning notes; after that, they will take your case to court. But before they can, they will need to issue a formal declaration with the county clerk. This is referred to as a "Lis Pendens" note and is the official first step in a New York foreclosure.
Once it is submitted, the Lis Pendens makes the foreclosure public knowledge. After sending the Lis Pendens, the servicer will then send you a Summons and Complaint notice which indicates the date and time you'll need to appear in court.
If you receive the summons in person, you have 20-days to respond. If it's sent by mail, you have 30-days. Make sure to respond as soon as you can. Not responding can have negative consequences.
Stage 5: The Settlement Conference
No more than 60-days after you acknowledge receipt of the Summons and Complaint notice, you will need to attend a court-managed settlement conference. This is when it would be wise to have a foreclosure attorney to assist you through the process.
Stage 6: The Judgement
If you decide not to respond to your Summons and Complaint Notice, this will push your case to court. Or if you weren't able to find a solution with your lender at the settlement conference.
The case will go before the judge, and your lender will file a summary judgment. This is where they ask the court to rule in their favor and expedite the foreclosure. If the court approves a summary judgment, you will lose the case. If the court does not approve it, your case then goes to trial.
If you were to lose the trial or summary judgment, you'll need to prepare for the foreclosure because the court will approve your property's sale date next.
Reinstatement
Before you get too discouraged, not all is lost at this point; you can make a defaulted loan current again by making all overdue mortgage payments, including additional fees.
Stage 7: The Foreclosure Auction
In New York, the foreclosed property will go up for sale in a public auction, usually at the county courthouse. If the house sells for less than the outstanding mortgage debt, it is called a deficiency judgment. Under New York state law, the lender can contact you to collect the difference.
Some states provide a redemption period after the foreclosure sale, which allows you to buy back the home. However, New York doesn't offer a redemption period for foreclosure homeowners after the sale.
Stage 8: Eviction
After the foreclosure sale, you will have to vacate the home within ten days after receiving a request to leave from the new owner.
When is it Too Late to Stop Foreclosure?
You will be able to stop foreclosure up until the home goes to auction. Until then you should be able to sell the property and satisfy the outstanding loan.
The Selling Process
Now that you understand the stages of foreclosure, you'll definitely want to get a move on selling your house if that's the way you want to proceed.
Since you're on a deadline, and the sooner you sell, the sooner you get this stressful situation behind you, you're probably thinking "I need to sell my house fast in New York". The selling process can be a bit of a challenge and unpredictable, especially trying to sell during the coronavirus. So figuring out a plan to sell your house quickly will be extremely important to avoid foreclosure.
The selling process will include:
Hiring an agent or selling by owner
Figuring out how much your home is worth
Making repairs and renovations
Cleaning, decluttering, staging
Scheduling showings and open houses
Negotiating and accepting a suitable offer
Inspections and buyer contingencies
Closing and moving out
How Long Does it Take to Sell a House in New York?
The average days on market in New York for a house to receive an offer is 154 days which doesn't include the average 30-60 day escrow period. So being able to sell officially could take 184-214 days. Being in the midst of foreclosure, sitting around waiting for an offer can be extremely stressful.
Consider Selling As-Is to a Homebuyer
Selling to a "we buy houses" homebuyer would be ideal in this pre-foreclosure period. Homebuyers are cash investors that can purchase your home in as-is condition, saving you thousands of dollars on repairs and renovations. They can also make you a cash offer for your house within 24-hours and close within as little as 5-days or longer if need be.
Another advantage to selling to companies that buy houses in Suffolk County and other New York counties is that there is no need to list with an agent, meaning no commissions, fees, or hidden costs.
Leave The Key Homebuyers is a local real estate investment company specializing in making the sale of your home fast and easy. If you're in the midst of pre-foreclosure, consider selling your house as-is to Leave The Key Homebuyers instead of dealing with the hassle, expenses, and months of the uncertainty of selling the traditional way.
Final Thoughts
Selling your house as-is in foreclosure is a great way to stop the process and set yourself up, better financially. Loan modification, refinancing, filing bankruptcy, or proceeding with foreclosure, may not be the best option for you. Having a bankruptcy or foreclosure on your credit history can have negative consequences, however, though more challenging, it is still possible to buy a house after bankruptcy or foreclosure. And if you were to stay and work something out financially, you may have to make drastic changes to your monthly income and spending budget. Whatever you decide to do, just make sure you notify your lender of your plans and how you intend to pay off the loan. 
Since there is a way to sell your house fast, without repairs and paying expensive agent commissions, you may want to consider this your best option to avoid foreclosure. If you're interested in working with a local homebuyer, contact Leave The Key Homebuyers to start their easy home buying process today!
The material and information in this article are for general information purposes only. You should not rely upon the material or information within this article as a basis for making any business, legal or financial decisions. Be advised to seek the advice of a New York attorney regarding your foreclosure situation if you have any questions or want to learn more about New York foreclosure laws.