Property in New York, specifically NYC, is perhaps the most prime area in the U.S. for real estate. Owning a piece of this coveted city could be looked at as an excellent investment. But the impact of COVID-19 affected the residential real estate market, causing property prices to plummet, specifically in the luxury real estate market. However, with a new year and more control of the virus, real estate is starting to rebound. The market is again seeing prime real estate prices and the most expensive houses and condo sales in the U.S., bringing the city that never sleeps back to life once again. Below, we'll share a short overview of the New York real estate market, the prime real estate prices in NYC, and some of the most expensive home sales to show you how the market is rebounding.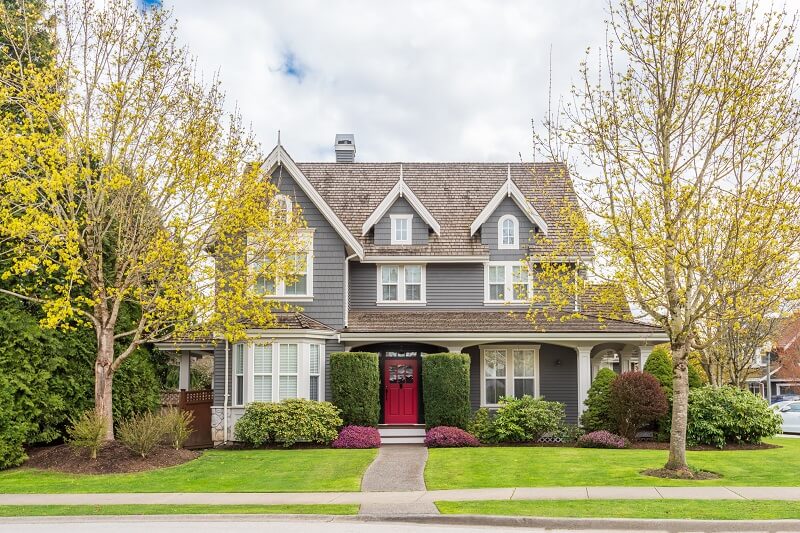 Overview of the New York Real Estate Market
Surely you're aware that New York City is among the nation's most competitive and expensive housing markets. But it has also been among the hardest hit by the COVID-19 pandemic, experiencing the worst job losses among the major metro areas. Although New York has been recovering from the economic impacts of the pandemic, property prices are still significantly less compared to where they were last year, just before the pandemic hit the city.
Related Article: Sell My House Now Or Wait?
Most buyers aren't paying sellers' asking prices because technically, NYC is a buyer's market, meaning inventory is high compared to the number of potential buyers. This has caused sellers to drop their prices to compensate and attract buyers. So if you plan to sell a house soon to offset a lower listing price, you may want to look into selling your house without a realtor. That way, you can save on pricy realtor commissions that impact the amount you walk away with.
But overall, in Q1 of 2021, New York performed well, producing favorable results.
Prime Real Estate Prices in New York
The median sales price in New York has gone from $260,000 in April 2020 to $370,000 in April 2021, increasing 42.3%. Furthermore, this marks 11 consecutive months of increasing median sales prices.
The NYC real estate market is currently experiencing a buyer's market, which means there are roughly more active homes for sale than buyers. The supply of residential housing is outpacing the demand. Ultimately with few available buyers, that means fewer offers and longer days on the market.
So, if you're in the process of selling your New York home but haven't had any offers, you can
always contact a sell my house fast New York company like Leave The Key Home Buyers and sell within 7-days.
The Most Expensive Home Sale in N.Y.
New York is ranked third in the most expensive city to own and has one of the highest prices per square foot in the mainland U.S., according to Move.org. Below is a list of the 20 most expensive home sales in New York City currently on the market.
1. 635 W 42nd St, New York, NY 10036
Located in a Manhattan luxury landmark, the Atelier, this stunning 15,000 square foot space is full of opportunities. Currently, the property consists of two individual units on the 44th and 45th floors with tenants residing there. However, the tenants can vacate to create a unique combination of the two units into one spectacular city oasis. Already the property includes river views, concierge services, floor-to-ceiling windows, and skylight windows. Each unit features stainless steel Bosch appliances (dishwasher, stove, microwave, and W/D) and Sub Zero (Refrigeration), white oak flooring, granite countertops in the kitchens, marble bathrooms, walk-in closets, with white oak and glass pantries. Besides your living arrangements, the building includes great amenities and some fantastic buyer incentives.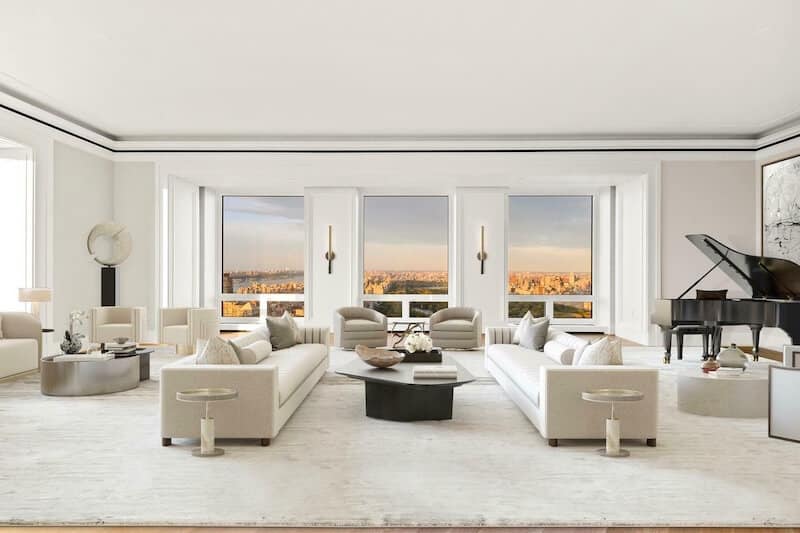 Located: 635 W 42nd St, New York, NY 10036
Price: $85,000,000
Sq Ft: 15,0000
Beds: 10
Baths: 11
2. Penthouse At 2 Park Pl, New York, NY 10007
Located at The Woolworth Tower Residences is the Pinnacle Penthouse, developed by Alchemy Properties. The property is considered "one of the last great unclaimed spaces in New York City" and is available to be claimed and celebrated. The Penthouse reaches 727 feet high and is a five-story home encompassing 9,680 square feet of interior space as well as a private 408 square foot observatory terrace. Other exquisite highlights include 125 windows, 24-foot ceilings, and an in-residence private elevator. You can customize this magnificent home with floor plans from either Thierry W. Despont or David Hotson. This blank canvas of architectural history is ready to be transformed into a masterpiece.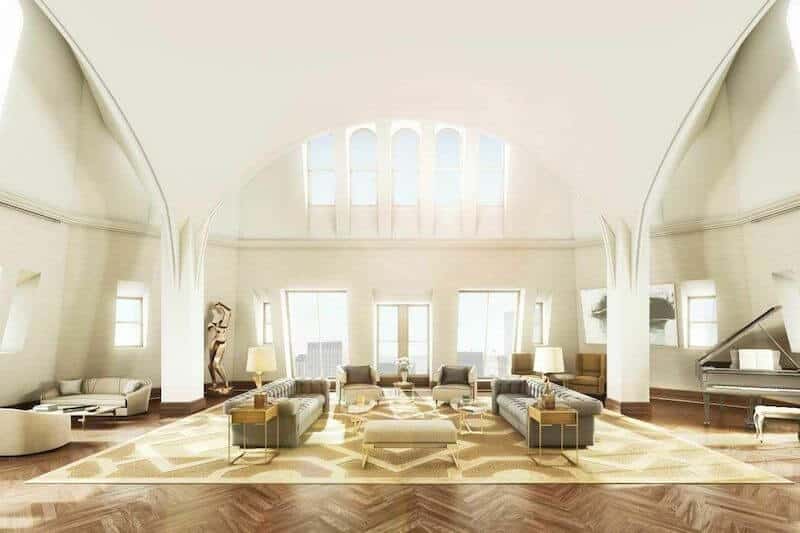 Located: 2 Park Pl, Pinnacle Penthouse, New York, NY 10007
Price: $79,000,000
Sq Ft: 9,680
3. 432 Park Ave, New York, NY 10022
This full-floor Penthouse perched over 1,100 feet in the air with panoramic 360-degree views will take your breath away. Situated on the 82nd floor at 432 Park Avenue is a space entirely reimagined by one of London's most sought-after design houses. The residence features 5 bedrooms, 2 master bathrooms, 4 on-suite guest bathrooms, 2 powder rooms, 2 offices, 2 dressing rooms, a media room, an oversized eat-in gourmet chef's kitchen, and a large 1,100 square foot Great Room. The sprawling full-floor home features soaring 12'6″ ceilings, 10'x10′ windows, white oak flooring, and window seating throughout. This 8,000 square foot space is also controlled by state-of-the-art media, climate, and security systems.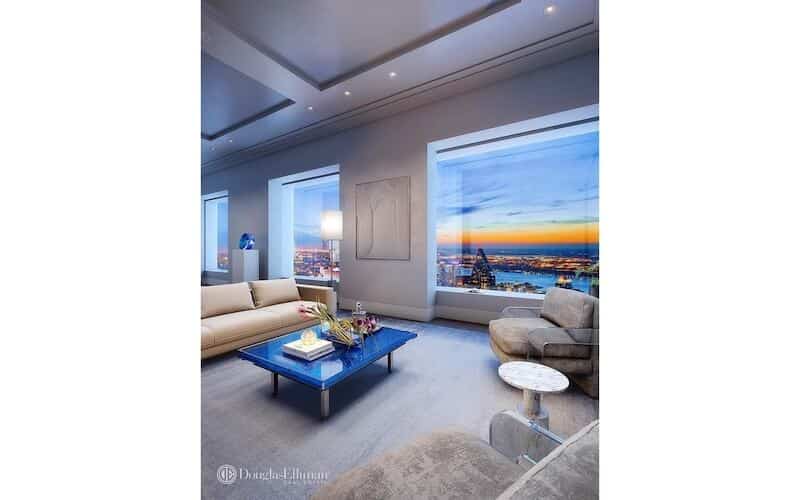 Located: 432 Park Ave Unit 82FL, New York, NY 10022
Price: $79,000,000
Sq Ft: 8,000
Beds: 5
Baths 6.5
4. 111 W 57th St, New York, NY 10019
Want a property with a spectacular view? Triplex Penthouse 72 is perfectly centered overlooking the iconic city skyline of Central Park to the north and river-to-river over Manhattan to the south. Besides the picturesque sights, the property boasts 7,130 square feet of finished interior space with 4 bedrooms and 5 and a half bathrooms. The Penthouse also includes a 1,367 square foot loggia that offers open-air entertaining. The home is richly decorated with custom finishes, including marble and onyx bathrooms, appliances by Gaggenau, a private elevator, and so much more.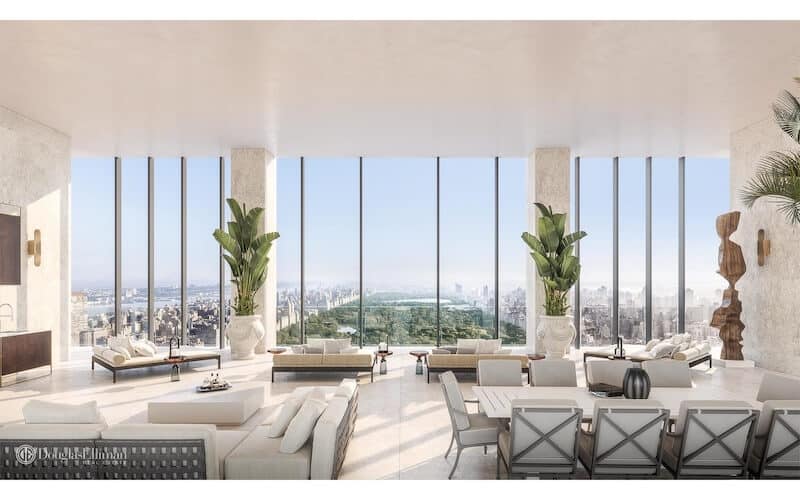 Location: 111 W 57th St Ph 72, New York, NY 10019
Price: $66,000,000
Sq Ft: 7,130
Beds: 4
Baths: 5.5
5. 53 W 53rd St, Ph 78, New York, NY 10019
Sparling over the entire 78th and 79th floor is Penthouse 78 that stands atop Jean Nouvel's iconic crystalline tower. This 7,455 square feet home has four bedrooms, three and a half bathrooms, and site lines of the north, south, east, and west that include views of Central Park, the Hudson River, East River, city skylines, and more. The property sets the stage for Thierry Despont's masterfully conceived interiors and contains beautiful finishes.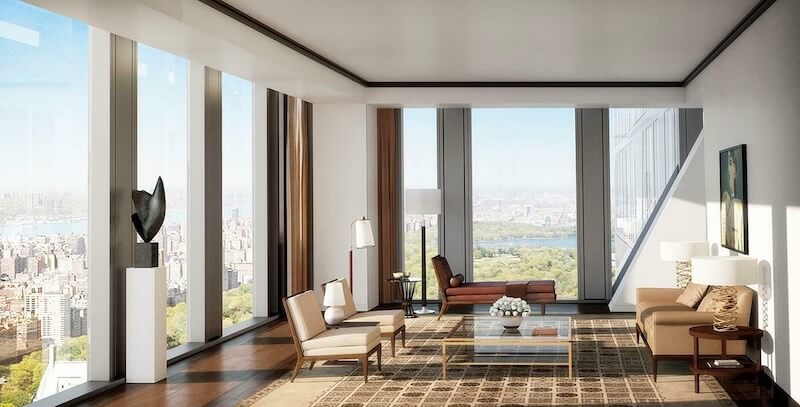 Location: 53 W 53rd St, Ph 78, New York, NY 10019
Price: 64,730,000
Sq Ft: 7,455
Beds: 3
Baths 3.5
6. 25 Columbus Cir Ph 80, New York, NY 10019
This breathtaking penthouse residence, situated on the top floor of the South Tower at the Time Warner Center, is for sale for the first time. This 8,274 square feet apartment is a rare combination of grand space, incredible light, dramatic views, and excellence in design and execution. The level of custom finishes throughout is unparalleled, beginning with the private elevator entrance. The home features 5 bedrooms and 6.5 bathrooms and a media room, library, fireplaces, and staff room with an ensuite bathroom. One of the bedrooms is currently a home gym, and another is configured as a golf simulator. The apartment is fully wired for technology, including central A/C and heating zones, Crestron system, security system, touch panels in every room which manages lighting, temperature, and electronic window shades. The condominium is located in the prestigious Time Warner Center and has several amenities for homeowners to enjoy.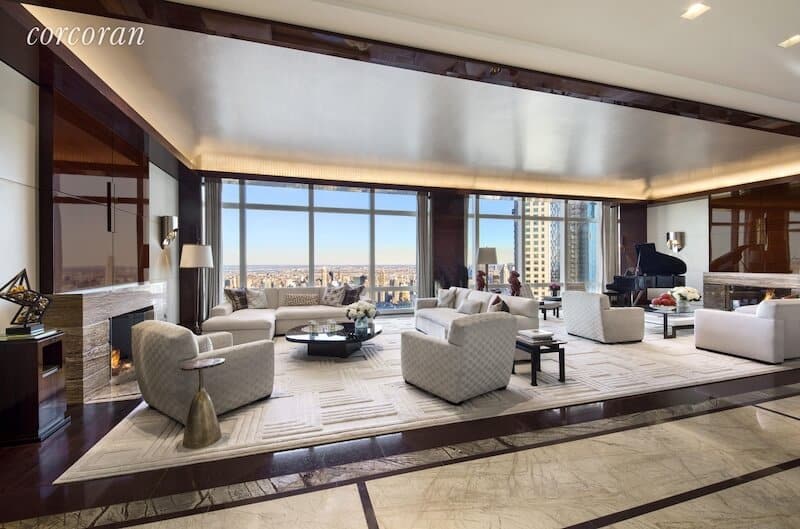 Location: 25 Columbus Cir Ph 80, New York, NY 10019
Price: 62,500,000
Sq Ft: 8,274
Beds: 5
Baths: 6.5
7. 35 Hudson Yards, New York, NY 10001
Perched on the 90th floor of Hudson Yards is this full-floor five-bedroom Penthouse with 360-degree river and city views with a private terrace. This 10,171 square feet residence is referred to as the "compound in the sky" and has left no details overlooked. Besides offering 5 bedrooms, there is also a private library office, a home gym, and a media room. Each room is both unique and spectacular and will ensure this Penthouse is your flexible home for generations to come. In addition, the residents will have access to 22,000 square feet of luxurious private amenities within this spectacular development.
Location: 35 Hudson Yards Ph 90,New York, NY 10001
Price: $59,000,000
Sq Ft: 10,171
Beds: 5
Baths: 7.5
8. 15 Central Park W, New York, NY 10023
The perfectly finished living space is located in the pinnacle of the Tower section of 15 Central Park West is approx. 4,739 square feet and is currently configured as a three-bedroom plus library/fourth bedroom. Every room in the residence offers spectacular views of Manhattan – Central Park, the downtown skyline, and Hudson River – all four exposures through floor-to-ceiling windows and French doors. There are two large entertaining terraces on 2 sides of the residence, each over 800 square feet. A private landing with custom glass paneling leads into the home, where you are immediately taken in by the breathtaking and expansive views.
Location: 15 Central Park W Ph 43, New York NY 10023
Price: $57,500,000
Sq Ft: 4,739
Beds: 3
Baths: 4.5
9. 70 W 45th St, New York, NY 10036
Elevated and extraordinary, this ultra-private, palatial palace soars above Midtown Manhattan. Capturing the true cascading essence of open concept, sprawling three and a half floors offering over 8,200 square feet of pure elegance, a powerful potential, and tasteful luxury. This future home offers an estate feel set in the sky amongst the clouds enriched by the ever-changing, 360-degree unobstructed Manhattan skyline views. The possibilities are endless to create your perfect vision in this spectacular space.
Location: 70 W 45th St, New York, NY 10036
Price: $50,000,000
Sq Ft: 8,200
10. 995 Fifth Ave, New York, NY 10028
This stunning 6 bedroom Penthouse Duplex has spectacular terraces, epic NYC views, and great light. Perched high atop the Stanhope, this sun-drenched residence boasts tremendous garden-like terraces laid out by the brilliant landscape designer, Madison Cox. Within the dwelling, the dining room has a cozy wood-burning fireplace, a welcoming breakfast area that appears to cantilever out over the Park and terrace, while the elegant corner living room overlooks the Reservoir. There is also a warm wood-paneled library with a bay window. As you move upstairs, there is a lovely study nestled amidst the environs of another massive terrace. Ideal for entertaining, the home is also perfectly suited to a lifestyle with family and guests. The private quarters consist of 5 very private bedrooms, and each suite is impeccably appointed with a marble bathroom and fabulous closets.
Location: 995 Fifth Ave, New York, NY 10028
Price: $50,000,000
Sq Ft: 6,891
Beds: 6
Baths: 7
11. 56 Leonard St, New York, NY 10013
Own a residence among the New York City skyline in one of the most breathtaking Penthouses ever offered. Located atop the iconic Herzog & de Meuron designed 56 Leonard, this trophy duplex features 7,779 interior square feet and three exquisite terraces totaling 1,252 exterior square feet. From its unrivaled vantage point at the absolute top of the building, 360-degree vistas unfold at your feet and stretch across the harbor, Manhattan, Brooklyn, and beyond. Towering 19-foot ceilings and soaring double-height windows accentuate the bright airiness of the home, while Appalachian white oak and premium stone pave the floors. Designer kitchen, grand dining, living areas, and tranquil bedrooms strategically placed down a long gallery for optimal privacy come with this unique residence.
Location: 56 Leonard St – Ph 60/61, New York, NY 10013
Price: $49,995,000
Sq Ft: 7,779
Beds: 5
Baths: 5.5
12. 551 W 21st St, New York, NY 10011
This incredible space is being offered as a White Box with several unique floor plans to choose from. You can create anything up to a 5-bedroom residence atop this renowned 551 West 21st Street building. The entertainment-friendly home features room for expansive living and dining, an eat-in kitchen, a library, and a den. Even a double-sided fireplace and separate laundry room can be accommodated easily. This stunning property boasts impressive ceiling heights reaching 17 ft, and structural slab heights up to 19½ft. In addition to the approximately 6,398 square feet interior, there are over 4,579 square feet of exterior space.
Location: 551 W 21st St Ph, New York, NY 10011
Price: $49,995,000
Sq Ft: 6,398
13. 220 Central Park S, New York, NY 10019
Located in New York City's premier residential building, this property is one of only two of its kind. It offers exquisite four bedrooms, 5 1/2 bathroom duplex with about 5,000 square feet. Located at the ideal height and with the best sightline within the building, there are breathtaking views from enormous, picturesque windows in every room. This magnificent unit is brand new, never lived in, and new to the market.
Location: 220 Central Park S Unit 54/55A, New York, NY 10019
Price: $49,500,000
Sq Ft: 4,814
Beds: 4
Baths: 5
14. Unit at 50 Central Park S, New York, NY 10019
The full-floor two-story Penthouse of the Ritz-Carlton, with its perfectly centered breathtaking views of Central Park, sits atop the most exclusive ten private residences of the infamous Billionaires Row of Manhattan. The fully soundproofed residence offers an astonishing over 700 square feet Central Park South terrace, a grand ballroom, 40+ oversized windows and panoramic views, two limestone gas fireplaces, two private landings for the elevators, a large primary suite, chef's kitchen, dining room with striking views, two additional guest bedrooms, and the utmost privacy. This condo is currently utilized as a 3 Bedrooms and 3.5 Baths home, however, it was planned initially for 5 Bedrooms and 4.5 Baths, it can be easily converted back as per approved architectural plans.
Location:50 Central Park S Ph 34/35, New York, NY 10019
Price: $49,000,000
Sq Ft: 5,623
Beds: 3
Baths: 3.5
15. 15 Central Park W Ph 41, New York, NY 10023
Located at 15 Central Park West is the crown Penthouse, a 4,024 square foot residence that occupies the entire northern half of the 41st floor. The home offers over 65 feet of Central Park frontage with interiors reimagined by the world-renowned designer Tony Ingrao. The incredible three-bedroom, three-and-a-half-bathroom Penthouse encapsulates spectacular views of Central Park, Hudson River, and the Manhattan skyline through its grand array of colossal windows. The home's warm interiors create a seamless atmosphere throughout the residence with exotic woods, onyx, and marbles. The unit is fully automated for audio and video, lighting, shades, and temperature.
Location: 15 Central Park W Ph 41, New York, NY 10023
Price: $48,000,000
Sq Ft: 4,024
Beds: 4
Baths: 3
16. 53 W 53rd St #64, New York, NY 10019
Occupying the entire 64th floor at 53 West 53, this lovely residence features four bedrooms, four-and-a-half bathrooms, and north-, south-, east-, and west-facing exposures. Gracious proportions and ceilings ranging up to approximately 11 feet set the awe-inspiring stage for world-renowned designer Thierry Despont's masterfully conceived interiors. Bespoke detailing typically reserved for privately commissioned homes abounds, while a rich yet soft palette of museum-quality finishes imbues each space with both modern glamour and timeless elegance. No detail has been overlooked in this 6,617 square feet residence.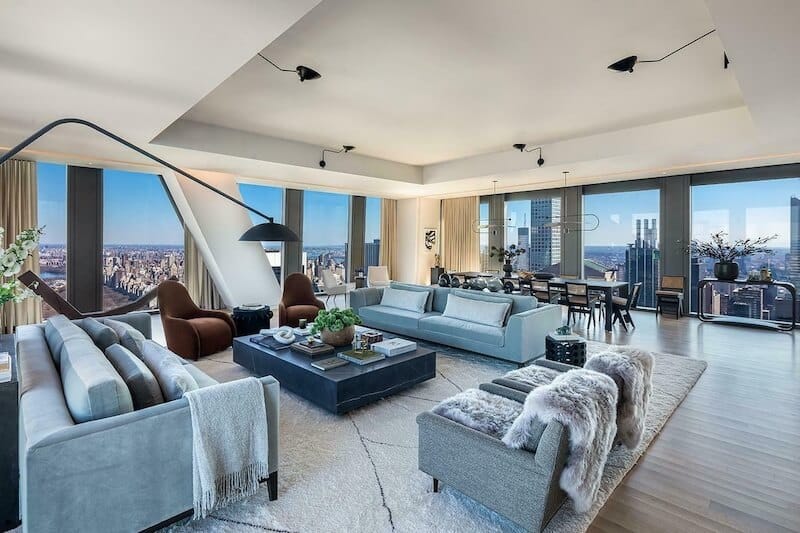 Location: 53 W 53rd St #64, New York, NY 10019
Price: $46,505,000
Sq Ft: 6,617
Beds: 4
Baths: 4.5
17.157 W 57th St #87, New York, NY 10022
Step out of a private elevator landing and enter this sprawling full-floor, 4 bedrooms, 5 and a half bathroom residence through an inviting foyer that opens onto a comfortable living-dining room. The great room features ceilings of approximately 11'8 and 57 ft' of exceptional views of Central Park through floor-to-ceiling windows. From the great room, see sights of the Hudson River, past the George Washington Bridge and to the west, and the East River to the Atlantic Ocean and beyond. Hardwood floors, custom door hardware, central HVAC system, custom-designed perimeter heating, and electrical pathways provided for motorized window shades complete this fantastic home. Heralded as New York's most luxurious residence, One57 defines the ultimate in luxury living.
Location: 157 W 57th St #87, New York, NY 10022
Price: $44,000,000
Sq Ft: 6,234
Beds: 4
Baths: 5.5
18. 293 Lafayette St Ph -1, New York, NY 10012
Penthouse I is an extraordinary private residence that offers 7,241 square feet interior and 5,158 square feet of exterior living space. The home includes 5 Bedrooms, 7.5 Baths, a library, a gym, a home theater, a wine cellar, and stunning landscaped private terraces with a yoga lawn, putting green, a spa tub, and a wet bar. An unparalleled residence, masterfully custom-designed by Jose Ramirez with no detail unrecognized with the finest quality custom finishes throughout.
Location: 293 Lafayette St Ph -1, New York, NY 10012
Price: $42,500,000
Sq Ft: 7,241
Beds: 5
Baths: 7.5
19.157 E 57th St #81, New York, NY 10022
Towering high above Midtown, spanning the entire 81st floor, this penthouse residence at the iconic One57 condominium tower is a masterpiece of luxury and design. Offered for those with uncompromising taste, this 4 bedroom, 4.5 baths exudes elegance with the finest fit & finish and dimensions of grand proportion. Upscale details abound throughout, including museum-grade lighting, abundant wall space for art, soft-close pocket doors for uninterrupted walls & pathways, concealed motorized solar & blackout shades, heated stone bathroom floors, a Smart Home which includes a Crestron system for lighting, A.V., shades, security & HVAC control, even a safe room with ballistic board lining the walls & door. This space has it all and more.
Location: 157 E 57th St #81, New York, NY 10022
Price: $42,000,000
Sq Ft: 6,230
Beds: 4
Baths: 4.5
20.555 W End Ave, New York, NY 10024
Unlike any other property in New York City, the Penthouse at 555 West End Avenue is a spectacular combination of the Terrace Penthouse and the Solarium Penthouse. Offering over 3,100 square feet of outdoor space and over 8,400 square feet on two full floors of indoor space, there's nothing you could want that the Penthouse doesn't deliver. This house-like home offers dynamic spaces for various uses, including relaxing, dining, and even exercising outdoors! Sun-flooded in every direction, the lower (seventh floor) level of the duplex offers six bedrooms, all en suite. With its combination of outdoor space, private entries, and elegant design that balances the bones of pre-war areas with the finishes of new construction, this Penthouse encapsulates precisely what the buyer in search of a one-of-a-kind home is seeking.
Location: 555 W End Ave Ph, New York, NY 10024
Price: $42,000,000
Sq Ft: 8,429
Beds: 6
Baths: 6.5
Conclusion:
Now is a great time to buy a property in New York since there is plenty of inventory available, and prices are still significantly lower since the real estate market hasn't completely rebounded yet. However, if you're hoping to sell a house in New York, it may prove to be a bit more challenging. But the good news is, companies that buy houses in Nassau County would be highly interested in purchasing your property if you need to sell quickly. Leave The Key Home Buyers is an investor that is always in the market to buy real estate in New York, including Long Island, Queens, and Brooklyn. So if you're looking for a "We buy homes Suffolk County" company, contact Leave The Key Home Buyers today for an offer on your New York property.