Understanding the Concept of Selling a House by Owner (FSBO)
In the New York real estate market, opting for a "for sale by owner" strategy to sell your house poses a variety of opportunities and challenges. The concept of selling a house by owner, often referred to as "FSBO" (For Sale by Owner), revolves around homeowners choosing to sell their home without the assistance of a real estate agent. This direct-to-buyer approach can potentially save sellers from losing a significant portion of the sale price to agent commissions. Particularly in a market like New York, where the housing prices are high and the commissions add up very quickly, FSBO can be an appealing avenue for home sellers who are willing to spend a bit more time and effort in exchange for higher returns. However, if not done properly, selling your own home can end up costing you more money than you save. In this article, we'll cover everything you need to know in order to sell a house by owner in New York.
Table of Contents
Preparing Your House for Sale By Owner
The journey from deciding to sell your home without a realtor to handing the keys over to the new buyer involves meticulous preparation. The adage, 'first impressions last,' is critical when selling a house, whether selling with or without a realtor. Emphasizing curb appeal is crucial as the first impression your house makes can significantly influence a buyer's perception and, ultimately, their decision to buy.
A well-organized, decluttered, and appealingly staged home speaks volumes about your maintenance and can uplift the perceived value of your home. The aura, cleanliness, and overall aesthetic of your home should showcase a home that's welcoming and homely. Ensure all spaces are decluttered, personal effects are removed, and every corner is spotless. Aroma plays a subtle yet significant role – consider light fragrances, perhaps through baked goods or fresh flowers, to induce a warm and inviting atmosphere.
Moreover, addressing necessary repairs and improvements not only will help boost the sale price and make your home more competitive on the open market but also head off potential issues that may arise during the inspection phase.
How to Price and Market Your Property When Selling Without a Realtor
Venturing into the New York real estate market, especially for an FSBO seller, requires a clear understanding of the current market trends and conditions. To effectively sell a house by owner in New York, conducting a comprehensive market analysis is important to determine the right list price for your property. When selling your home by owner, you have to wear multiple hats, including setting the sales price and developing the marketing strategy for your home.
Setting a Competitive Price
Pricing your home correctly is one of the most important parts of selling FSBO, and comes with its risks. Pricing the home too high will prevent buyers from making offers on your property, and pricing the home too low will leave money on the table. In order to determine an appropriate list price, it is important to research comparable properties ("comps") and be realistic about how your home compares with the others on the market. Employing tools like Zillow for preliminary research and diving deep into the Multiple Listing Service (MLS) data (even if you opt to sell without listing on it) will give you a clearer picture of the going rates for comparable properties. It is important to remember not to get too attached and emotional about your property, it is critical to think objectively in order to truly come up with a reasonable list price for your home that neither short-sells your property nor deters potential buyers by overpricing the home.
Crafting an Appealing Listing Without a Realtor
A compelling listing combines factual data with a narrative that hooks the buyer, offering not just a house for sale but a potential home where a buyer can build memories with their family. Ensure your listing accentuates unique features, recent upgrades, proximity to amenities, and other enticing details about the property and locality.
Quality photographs are equally, if not more, critical in the selling FSBO process. High-resolution images, captured with plenty of natural light, that highlight the spaciousness, functionality, and charm of your home can speak volumes more than words. If there is one area where you may want to spend money, consider hiring a professional photographer to capture the essence of your home and display it in the most positive light so that your property doesn't just become another house for sale but stands out in the crowded New York real estate market.
For Sale by Owner Marketing Strategies
Once the price has been set, getting the eyeballs of potential buyers on your property becomes the next goal. In an era that is digitally interconnected, adopting online strategies is key. Opting to list your home on various property listing websites, especially those that are widely acknowledged like FSBO sites and others like Zillow, will significantly boost your property's visibility to a wide array of online home buyers. However, do not discount the power of traditional methods; signage, particularly in front of your home and any other in high-traffic areas of your town, can attract local buyers or those who explore neighborhoods in person. Many FSBO homes are sold by neighbors and word of mouth.
Social media too wields a powerful tool in your FSBO selling journey, where visually appealing photographs of your home for sale and compelling descriptions can be shared, re-shared, and viewed by many. Here, the influence of community groups and local forums on platforms like Facebook or Nextdoor should not be underestimated, providing a place to showcase your property to those with an inherent interest in the locality. Look for local buy & sell and other real estate-related groups on these social media platforms and don't shy away from sharing your property.
While technically not FSBO, you may also consider using a flat-fee MLS listing as part of your FSBO marketing strategy. These flat-fee services allow you to publish your home on MLS for a few hundred dollars, without paying a commission to a listing agent. You'll handle all the phone calls from interested buyers and buyer's agents directly.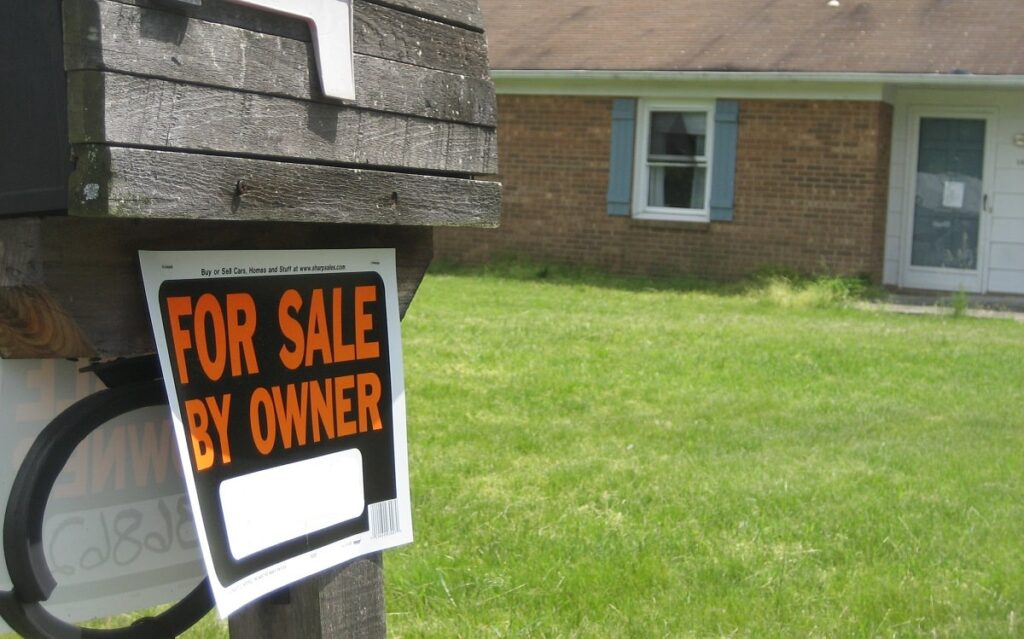 Managing Open Houses, Negotiations & Contracts When FSBO
When managing a house for sale by owner there are a lot of activities that need to be performed in order to find a buyer and get the deal closed. Normally this is where a real estate agent handles a lot of the heavy lifting, but you'll be wearing that hat when choosing to sell without a realtor. There will be an attorney to assist you with certain legal aspects, but showings and negotiations will be all on you.
Scheduling and Conducting Open Houses or Private Showings
In the realm of FSBO, the open house is your chance to WOW buyers directly, without the intermediary of an agent. Planning is paramount – from choosing times that cater to your target demographic (like weekends for family homes) to ensuring your home is showroom-ready, each detail matters. An open house not only saves you the hassle of multiple private showings but also stimulates a sense of competition among buyers when they see others eyeing the same property. In order to help promote this competition, you have to strike a careful balance between having too many open houses which will disperse the crowd, and too few showings that potential buyers won't be able to attend.
For private showings, flexibility in accommodating buyers' schedules can enhance their experience and perception of your home. Ensure a neat, clutter-free, and ambient environment that allows them to envision their life within those walls. These private showings are a great time for you to bond with potential buyers and try to make them comfortable in the home and in dealing with you.
Managing Negotiations and Offers
As an FSBO seller, you are in direct dialogue with buyers, and hence, negotiation becomes a personal and strategic endeavor. As you segue into the final phases of selling, managing negotiations requires both emotional and strategic intelligence. Be prepared to navigate through counter-offers, possible requests for repairs post-inspection, and potential buyer contingencies regarding financing or their property sale. Your ability to manage these diplomatically and strategically, possibly with legal advice, will determine the smoothness of your sale
Also, be prepared for offers that might be below your list price, don't get offended, and have a clear yet flexible bottom line. It is suggested to create a document or spreadsheet to keep track of contact information and interactions with potential buyers about any offers or comments as is crucial to avoid any future discrepancies.
Navigating Inspections and the Closing Process
In New York, your attorney will handle clearing the file for closing. However, you will still be the main point of contact throughout the process. Once you accept an offer the buyer will then likely proceed with an inspection. After this inspection, there will be some negotiations about what needs to be fixed, and if they are looking for any credits to their purchase price. You'll have to weigh whether it is better for you to address the items, offer a credit, or try pushing back on their punch list altogether. Depending on the level of interest and offers you've received on the property, you may want to be more or less aggressive with your negotiations.
Once the inspection is completed and you go into contract, most buyers will also typically require access to the home in order to complete their appraisal and qualify for a mortgage. The final access to the home will come typically within 24-48 hours prior to the closing, where you will coordinate a walkthrough with the buyer to demonstrate that the home is being delivered in the same type of condition that the buyer was expecting.
Handling the Legal Requirements
Choosing to sell a house by owner in New York is not only about showcasing your home but also about managing the behind-the-scenes processes that are required for a successful sale without an agent. The complex legalities and paperwork, especially in a state like New York, demands keen attention and adherence to ensure a smooth, lawful transition of ownership from seller to buyer. Fortunately, New York is an attorney state, so you'll have an attorney hired to represent you with the more complex parts of the process.
When you opt to sell without a real estate agent, understanding and complying with the legal obligations becomes a personal responsibility. New York State law necessitates sellers to comply with specific disclosure requirements, providing the buyer with a detailed account of the home's condition, history, and any potential issues. Your real estate attorney (and it's advisable to hire a professional one) will guide you through creating a comprehensive seller's disclosure statement that adheres to the state's legal prerequisites, ensuring you're transparent and compliant, and thereby safeguarding against potential future legal repercussions.
The list of documents needed to sell a house by owner is extensive. From the aforementioned disclosure statement to the sales contract, deed, bill of sale, and more, each document must be crafted and examined. However, particularly in New York, where property laws can be complex, it's prudent to hire a real estate attorney to guide you through the necessary paperwork to sell your home by owner, ensuring every document is legally sound and protects you properly.
Frequently Asked Questions When Selling a House Without a Realtor
Q: Do I still need to hire a real estate attorney?
A: New York is an attorney state which means that an attorney will handle the closing. It is customary for the seller's attorney to prepare the first draft of the contract and when selling without a realtor, it would be extra recommended to choose a reputable attorney that you trust.
Q: Are there platforms to list my FSBO home other than Zillow?
A: Yes, besides Zillow, numerous platforms cater to FSBO listings, such as ForSaleByOwner.com, Craigslist, FSBO.com, and social media marketplaces. Also, you may want to consider listing with a flat fee brokerage where, for a few hundred dollars, you can have your home listed on MLS. Selecting a few strategic platforms that cater to your target buyer demographic can enhance your listing's visibility.
Q: Will I save money by opting for FSBO, and how much can I potentially save?
A: Selling FSBO allows you to bypass realtor commissions, which can be substantial. You'll save on the percentage typically allocated to the seller's and buyer's agents, which generally totals around 5% – 6%. However, consider other potential costs like marketing expenses, attorney fees, and possibly a fee to list your home on the MLS.
Additionally, and most importantly, you need to determine if you think that you'll be able to get the same sale price with or without an agent. If you expect that you may get a lower sales price selling on your own, some of the commission savings will be offset by the lower sales price.
Q: Do I need to list FSBO in order to sell to a cash home buyer?
A: When selling to a cash home buyer in New York, you can skip the entire process described in this article. Instead of determining a list price and getting your house showroom-ready for open houses, you can sell your home with a simple phone call in its current condition. If this is of interest, please contact us for a no-obligation cash offer before going through the process of an FSBO sale.
Conclusion – Is Selling a House By Owner Right for You?
Stepping into the world of FSBO (For Sale by Owner) to sell your house by owner in New York invites both opportunities and challenges. This guide aims to shed light on the process of FSBO so that you can learn how to sell your home in a way that best suits your needs and capabilities.
While there may seem like a clear financial benefit to listing your home for sale without a realtor, the reality is that the numbers are hard to compare. While you save on commissions, would a realtor have been able to get a higher sales price for your home that would potentially offset any commissions paid – you'll never know. If you want to sell and are considering going down the route of selling by owner, make sure you consider the commitment that you are undertaking, the challenges that will demand your time and attention, as well as sometimes an emotional toll, especially during negotiations and legal navigations. Nevertheless, with planning, marketing, savvy negotiation skills, and a good real estate attorney, you can successfully sell your house without an agent in New York.
However, if you have decided that listing your home for sale by owner is more effort than you want to undertake, you can opt to avoid commissions by selling to a cash home buyer like Leave The Key Homebuyers. When selling to a cash home buyer, you won't pay any real estate commissions and you'll be able to sell your homes without showings or even cleaning out the home. Please reach out to us at 631-388-7771 if you are interested in a no-obligation offer on your house.