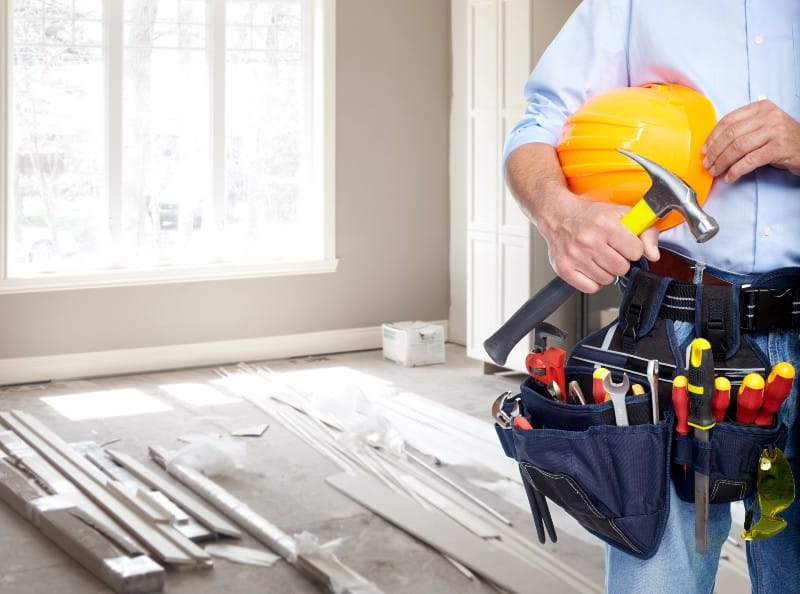 You have decided to begin the home selling process. In this seller's market, you thought about the sale price, decluttered, and took a good look at the home's exterior. You've done everything you can to ensure it will be in good shape for potential buyers.
You might now be wondering if the state of your home is good enough to attract buyers. Even though you may have lived with a broken handrail or a chipped counter, will potential buyers be turned off by these flaws?
Many homeowners want to sell their homes for as much money as possible. The best way to do that is by making improvements and upgrading before putting a house on the market. Most of the time, this will bring in more money than if you didn't do any work before putting it on the market with a realtor or other sales professional.
To help you get the most out of the sale, we will review five things you should fix before selling your house.
What to Repair Before Selling Your House
You don't have to be a real estate agent or an expert in home improvement to know the value of home repairs before putting it on the market. Thorough pre-sale inspection results can help you determine whether or not your house has any significant flaws that could deter potential purchasers or cause a lower appraisal.
Discussing the findings of the inspection report with your real estate agent will allow you to focus on the most pressing issues.
Before taking on a pre-sale inspection, look at this list of major repairs, minor ones, cosmetic fixes that aren't worth it, and things that you shouldn't bother fixing.
Major House Repairs
Major house repairs can be expensive and time-consuming, but they're necessary before putting your house on the market. These include things like repairing foundation issues, roof damage and broken pipes.
According to Realtor.com, these repairs can add up to thousands of dollars in costs—but can also increase potential buyers' interest in your home because they know it's structurally sound.
The following major house repairs are the most important ones to address before putting your house on the market.
1. Electrical and GFCI
Electrical issues are more complicated and can potentially be dangerous. Hiring an electrician or having one come out for a home inspection is best. They will look at the wiring and ensure it is up to code, inspect all outlets, switches and lighting fixtures, and any appliances you have in your home.
Replacement of wire nuts, frayed wiring, and broken light switches are examples of low-cost, basic repairs, whereas rewiring a whole house or upgrading a circuit breaker are examples of more involved, more expensive projects.
GFCI outlets protect from electrical shock and can be identified by the reset button on the front. If your home is older than 15 or has never had a GFCI installed, you should consider installing them, especially in the bathroom and kitchen.
2. Plumbing and Water Damage
Homes with plumbing problems and water damage can be challenging to sell. The average buyer will not purchase a home they believe needs major repairs, so addressing these issues is essential before putting your property on the market.
Fixing a minor problem is as simple as ordering new washers for a dripping faucet or a wax ring for a broken toilet.
3. HVAC
HVAC, heating, ventilation, and AC systems keep your home comfortable. If you're experiencing issues with your HVAC system, such as no cooling or heating in certain rooms, have a home inspection by a professional.
Fortunately, you may not need a new HVAC system just because the one you have isn't functioning correctly or effectively. You might be able to have it repaired instead by a trained expert.
Consider purchasing a smart thermostat like Nest or Ecobee and having it installed by a professional. A smart thermostat can be an appealing option for homebuyers interested in saving money on heating and cooling costs.
4. Roof
Some problems that can come from an old roof are leaks in the attic, poor ventilation (which can cause paint to bubble and mold to grow inside the house), and high energy costs.
A new roof can help to prevent these issues, but it's important to note that a new roof is not an inexpensive fix. If your roof is in poor condition or noticeably older than your neighbors, you might want to replace it before selling your home.
5. Foundation
If your home's foundation is cracked or leaning, it can significantly deter potential buyers. If you plan to sell your home within the next year or two, you might consider investing in foundation repairs. Foundation cracks are often an indication that there is a more severe issue with the house's support system.
Bonus: Smoke detectors and carbon monoxide detectors
Working fire and carbon monoxide detection devices is a primary concern for any home inspectors and valuers. Carbon monoxide detectors are mandated in all but a small number of states, while smoke detectors are required everywhere. Be familiar with the regulations in your area regarding the placement of detectors, or consult a real estate professional.
Did you know we buy houses Queens? Learn about the advantages of selling a house by owner or how to find cash home buyers in New York.
Minor House Repairs
Minor house repairs don't significantly impact the overall value of your property but are still worth doing when you have time and money available. Minor repairs can make a difference in the way your house looks. These inexpensive repairs you should do yourself can be done with the help of family members or friends who are handy with tools.
Kitchen
Your home's kitchen need not be a showcase of cutting-edge technology. However, it needs a deep cleaning and decluttering of countertops to make your home look neat and presentable. If your kitchen needs some upgrades, you can make it look better by making a few intelligent repairs and cosmetic changes that won't cost more than a few hundred dollars.
Avoid costly and time-consuming kitchen renovations by focusing on aesthetic touches and updating light fixtures.
Bathroom
Likewise, replacing old caulk around tubs or sinks that have started to peel off can make your bathroom look new. If you have dripping fixtures or clogged drains that need attention, now's the time to take care of them.
Replacing broken tiles and cleaning grout are inexpensive fixes that will make your bathroom look fresh and clean. Updating the vanity lights or bathroom mirror can also make a big difference in the overall look of your bathroom.
Landscaping
Your yard also needs some attention before putting your home on the market – think about landscaping or even just pulling weeds as part of an overall clean-up project for areas around your house that could use sprucing up. The value of having a well-cared-for home can't be overstated. Keep your lawn mowed, prune trees regularly, and power wash walkways to boost curb appeal.
Cosmetic House Repairs
Cosmetic house repairs improve your home's curb appeal without significantly affecting its value.
Paint
An easy and low-cost approach to giving your home a new look is a fresh coat of paint in a neutral color. Keeping the interior bright and neutral is recommended not to overpower the other characteristics and to attract the largest possible market.
Front Door
The front door is the first thing a potential buyer sees. An easy return on investment and a good first impression start with a new paint job. Even an updated lock can give you an edge in the real estate market.
Technology
Innovative home technology is a significant selling point. A smart home has all the latest technology to make living easier, like voice-activated speakers and apps that control lights and temperature. If your home has these features, you should highlight them in your listing.
Things to Not Waste Time On Fixing In Your House
As you're preparing your house for sale, some renovations are not worth the cost if they don't add value to your home. Here are some things that you should not fix when selling a house.
Carpet: Like wallpaper, carpet color is a very individual choice. If it's dirty or stained, go ahead and clean it. Otherwise, leave the carpet alone. It's not worth the time and expense of replacing it.
Appliances: If a machine works fine, don't waste money replacing appliances with new ones. If a kitchen or bathroom appliance is broken, replace it. Otherwise, leave them as-is.
Furniture: If you have to throw out old furniture because it's broken or stained, go ahead. Don't buy new furniture for your house because new homeowners will bring their own.
Hardwood Floors: If you have hardwood floors, consider leaving them as-is. While it is possible to refinish wood floors, it can be costly and time-consuming.
Repainting: You may want to make a statement with some bright paint colors but do so sparingly and only when it's budget-friendly.
Driveway Cracks: Driveway and walkway cracks are minor problems. These may be easy enough to fix later if needed, but they aren't worth fixing during selling, so don't worry about fixing them.
Conclusion
As a seller, you want to ensure your home is in the best condition possible. If there are obvious problems, like holes in the walls or leaking pipes, fix them so you can sell at a higher price. If there are minor problems like cracks in your driveway or walkway, leave them alone because they won't affect the value of your home.
You might be wondering how hard to sell a house in NY. We can help you sell a house fast NYC.