Whether you live in Suffolk County, NY, or you're about to travel there, there is always something to do in this great New York area. Home to Huntington, Long Island, The Hamptons, Fire Island, and Montauk, there is plenty to do and see. Besides the beaches, there are beautiful houses to explore, restaurants to try, and museums to check out. Below we've created a list of the 15 best things to do in Suffolk County, NY, for you to either enjoy with friends or to plan a fun outing for the family.
15 Best Things To Do In Suffolk County, NY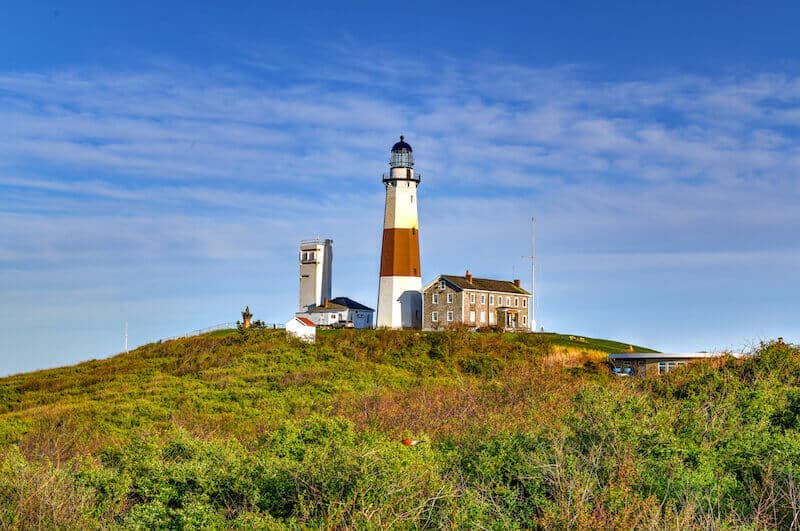 History of Suffolk County, New York
If you didn't already know, Suffolk County is the largest of Long Island's four counties and was named by early European settlers after the county of Suffolk in England. It is also the 10th largest island in the country, bordered by the Atlantic Ocean on the south and the Long Island Sound on the North. Besides being accessed by car or plane, the oldest railroad, the Long Island railroad, still commutes from Manhattan to Montauk every day and is the busiest commuter railroad in North America. Many famous families built sparling estates here during the 1900 hundreds even the Long Island Gold coast was made famous as the backdrop to F. Scott Fitzgerald's classic novel, The Great Gatsby. Narrowing down a list of the 15 best things to do in Suffolk County, NY, was hard when there are so many neat attractions and rich history here to explore. Hopefully, this list inspires you to discover more about Suffolk county and get out and experience all there is to offer its guests or residents.
Best Things To Do In Suffolk County
On the top of the list of best things to do in Suffolk, NY, is a tour of Oheka Castle. Also referred to as Long Island's castle, this sprawling estate was built in the middle of a 443-acre plot of land situated on the highest point on Long Island in Cold Spring Harbor.
The estimated cost to build at the time was $11 million or $158 million in today's currency. When this French-style Chateau was constructed, it was the second-largest private residence built in the USA and still is to this day. During the roaring twenties, the owner Otto Kahn used the 109,000-square-foot, 127- room estate as a summer house for lavish parties that hosted royal guests, heads of state, and Hollywood movie stars.
Unfortunately, after Mr. Kahn's death, ownership of the estate changed hands several times, each time taking its toll on the estate's condition. Lucky, in 1984 a developer, Gary Melius, purchased the castle and the remaining 23-acres and began restoring the beautiful estate with help from architects, historians, and researchers. Years later, after completing the $40 million renovation project, the Oheka Castle is listed on the National Register of historic places and is a member of several historical groups.
The Oheka Castle is now a hotel and estate and features guided mansion tours and a restaurant. The guided tour takes you through public areas of the estate and gardens, followed by refreshments of coffee or tea and a variety of Castle-made cookies from the pastry kitchen. Or if you prefer to get lunch after your tour, you can always visit the OHK bar and restaurant.
Website: Oheka Castle
Up next on the list of 15 best things to do in Suffolk County, NY, is Montauk Point Lighthouse. Located at the farthest point east of Long Island is the historic Montauk Point Lighthouse. This historic lighthouse was commissioned by George Washington himself and was completed in 1797. Besides being the oldest lighthouse in New York, it also became a symbol of hope for millions of immigrants of the free world beyond. During WWII, the lighthouse became a strategic fire control station for armed forces. Today, the lighthouse is an attraction for sightseers looking for amazing views of the Atlantic Ocean and to see the seals that gather on the shore below. The grounds are dog friendly and offer walking trails around the building and to the rocky beach. There is a museum located in the Keepers house built in 1860, and you can climb to the top of the lighthouse for panoramic views.
Website: Montauk Lighthouse
The next best thing to do in Suffolk County, NY, is something for the whole family to participate in. Plan a visit to the Atlantis-themed Long Island Aquarium, home to one of the largest living coral displays in the Western Hemisphere. Besides clownfish, sea horses, electric eels, and octopus, they also have butterflies, bugs, reptiles, and marmosets in their indoor exhibits. In the outdoor displays, you can find otters, penguins, sea lions, and gators, and so much more! Visiting the Long Island Aquarium is a great way for kids to learn more about wildlife. The aquarium also has other unique experiences like staying the night and sleeping with the fishes, or if you're feeling really adventurous, they offer shark dives.
Website: Long Island Aquarium
People say this 6.5-mile-long beach with sugary white sand and great waves is the most beautiful beach on Long Island during the summer. The boardwalk is open to walk or bike, and you can play miniature golf and basketball if you'd rather not lay on the beach or go for a swim. The boardwalk cafe is close by, where you can get something to eat or drink while you're enjoying a family beach day. It is advised to arrive early to find a good spot on the beach before it gets crowded or to come after sunset to enjoy the beach to yourself. You can also catch events during the summer here, like the Memorial Day Bethpage Air Show with the Navy Blue Angels or a free concert at Northwell Health outdoor arena. Within the state park, you can also visit the Nature Center located on the barrier island. The kids will love to discover bone cove where they can dig up whale bones, view a shipwreck, and see a butterfly garden.
Jones Beach State Park is a great place to visit during the summer, but for other fun options of things to do during the winter on Long Island, check out these ideas by clicking here.
Website: Jone Beach State Park
Visit this beautiful estate and step into the world of The Great Gatsby. This Gold Coast estate was the former property of John S. and Margarita Grace Phipps and is listed on the National Register of Historic Places. The estate consists of 160 acres featuring a main house called Westbury house, sweeping lawns, water fountains, rose gardens, lakes, and serene ponds. Book a tour of this beautiful mansion and stroll through its gorgeous gardens while you're there. Old Westbury Gardens also features concerts and special events during the warmer months on the main lawn. One of the most popular events to try to attend is Dog Days, which is hosted in the spring and fall. This fun-filled outing is for dog owners and garden lovers to enjoy hiking, vendors, and themed-entertainment while visiting this beautiful estate.
Website: Old Westbury Gardens
Visit these enchanting beaches and tiny villages along this narrow barrier island that parallels Long Island on the South Shore and the westernmost tip starting at the popular Robert Moses State Park and separated by the Great South Bay. If you begin at the Robert Moses Beach, you can take a nature trail to Smith Point Visitor Center and the Fire Island Lighthouse. To really get the full experience, you can stay overnight either by renting a beach house or staying at the campground at Watch Hill; just make sure to book early. While you're there, explore the Sunken Forest and take a relaxing walk on the elevated boardwalk under the canopy of a maritime holly forest. Remember this is a car-free island and the Fire Island National Seashore's 26 miles can be accessed by ferry or boat from Sayville, Patchogue, and Bay Shore.
Website: Fire Island
Sagamore Hill National Historic Site
Don't forget to plan a visit to the home referred to as the "Summer White House" located on the North Shore. This former estate was home to the 26th President, Theodore Roosevelt, and is open to visitors year-round. While you're there, take a guided tour of the 23-room Victorian mansion that is filled with game trophies or the Audubon Center. Also, make sure to walk the trail to the Long Island Sound, following the same path the president would take with his furry friends. Sagamore Hill is listed on the National Historic Places registry and U.S. National Parks Service. Every year, you can catch educational programs and events, including a free Independence Day celebration.
Website: Sagamore Hill National Historic Site
For a fun outing, stroll, or bike, the 2.2-mile boardwalk that was rebuilt after Hurricane Sandy. Grab something to eat at the food trucks that gather here or cool off with some ice cream or frozen yogurt. While you're there, you may catch one of the free concert series during the summer. Or if you'd like to learn how to paddleboard or surf, Skudin Surf Long Beach is located close by, where you or the kids can take private lessons.
Website: Skudin Surf
Visit this magnificent 216-acre park that overlooks the Long Island Sound and features three castles like mansions and several dog-friendly, wooded hiking trails. The estate features Hempstead House, Castle Gould, and Falaise. Falaise is home to paintings from the Renaissance and antiques from the 16th century.
Hempstead House is a 40 room Tudor -style mansion that features a rose garden and terrace with lovely Long Island Sound views. Besides visiting the homes located here, Sand Point Preserve holds several events, including yoga classes and a Halloween Ball. This is a great place to bring a picnic lunch to and let your doggies have fun playing in the water close by.
Website: Sand Point Preserve
Vanderbilt Museum and Planetarium
Another property located on the North Shore is the Eagle's Nest, a 43-acre estate built in the Spanish-Revival style, turned museums and Planetarium. This mansion was home to the prestigious Vanderbilt family and houses their vast collection of wildlife specimens from their many overseas travels. The property also includes a seaplane hangar, a boathouse, a curator's cottage, and of course, beautiful gardens.
Besides touring this impressive residence, visit the Charles and Helen Reichert Planetarium, which shows full-dome films, live star talks, laser shows, and concerts. There is also a rooftop observatory, open to the public on Friday nights (weather permitting), where guests can see the night sky through a 16-inch Meade reflecting telescope, guided by an astronomy educator.
Website: Vanderbilt Museum
Coe Hall and Planting Fields
Continuing with another Long Island estate is the former home to a Standard oil heiress and insurance magnate. This mansion was built in the Tudor Revival style and still maintains its 1920's elegance. Take a tour inside to get the full experience and to see priceless antiques, original furnishings, artwork, and handcrafted details. This historic home is surrounded by 409- acre grounds known as Planting Fields and is included in the National Register of Historic Places. Plant-enthusiasts will love the lush rolling lawns, blooming flowers, formal gardens, and greenhouses.
Coe Hall and Planting Fields also host annual events like an Arbor Day festival full of fun activities, kids events like scavenger hunts, book readings, as well as, arts and crafts. And on Friday evenings in the summer, they host outdoor concerts featuring jazz, blues, and swing music called "Music in the Garden."
Website: Planting Fields Foundation
Nassau County Museum of Art
Next up on the list of best things to do in Suffolk County, NY, is the Nassau County Museum of Art. This museum is located on the grounds of the former estate of Henry Clay Frick. The mansion-turned museum was built in the Georgian style and has permanent and rotating exhibits by famous artists like Moses Soyer, Auguste Rodin, Pierre Bonnard, Roy Lichtenstein, Edouard Vuillard, and many others. The art museum also has an outdoor sculpture garden with works by Calder, Botero, and more. You can also take strolls through the 145 acres after visiting the gallery. Furthermore, the Nassau County Museum of Art has fun kids activities, art classes, workshops like scarf painting, and flower fleeting.
Website: Nassau County Museum of Art
The Cradle of Aviation Museum
This museum is a fun experience for all the air and space enthusiasts. The museum houses a permanent and changing collection of the history of aviation. Check out the air and spacecraft displays like biplanes, lunar landing modules, and hands-on exhibits like a cockpit you can climb into.
The museum also has an IMAX Dome surround-screen theater, showcasing virtual experiences and films about air and space exploration.
Website: The Cradle of Aviation Museum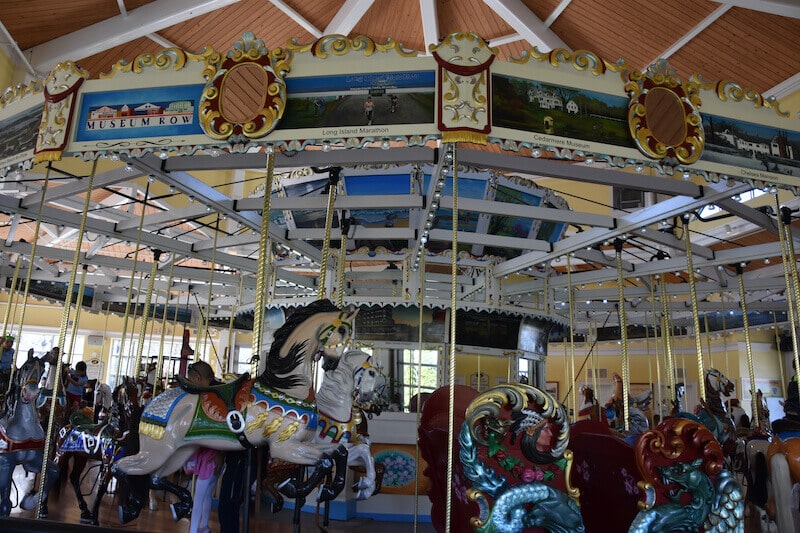 After you visit the Cradle of Aviation Museum on Museum Row, see this historic carousel close by. This 100-year-old piece of history features 41 horses and a lion and has recently been restored to its former glory. Kids will love taking a ride on this carousel or celebrating their birthday here with their friends.
Website: Nunley's Carousel
To round off this list of best things to do in Suffolk County, NY, plan a visit to Del Vino Vineyard. This beautiful vineyard is located on the rolling hills of Northport, Long Island's Gold Coast and is family-owned and operated. Reservations are required but are worth booking a visit. Enjoy tasting the wine while you're there or one of the four craft beers from New York they offer. Their tapas menu pairs perfectly with their fine wine selection too. And while you're there, enjoy the live music and events that Del Vino offers its guests. It is a great place to go for a date night or to meet up with friends.
Website: Del Vino Vineyard
Conclusion:
It's hard to compile a list of the best things to do in Suffolk County, NY, when there are so many. Hopefully, this list will inspire you to get out of the house and enjoy all that Suffolk County has to offer.
One reason people are unable to get out and enjoy all these fun activities is that they are dealing with ongoing housing issues. Maybe you're trying to move, are in preforeclosure, or are going through a divorce and would like to put the property up for sale; whatever you may be going through, dealing with the hassle and expenses of selling a house can be stressful. An easier way to handle all that and sell your house quickly in Suffolk County would be to work with a local home buyer like Leave the Key Homebuyers.
→What is your home worth? Check out these top 5 free home value estimators by clicking here.
Homebuyers are different from traditional buyers because they pay in cash, don't charge realtor commissions, and pay closing costs. You would be able to sell your home within 5 days and choose a closing date that aligns with your schedule. Selling your home to Leave the Key Homebuyers is really the easiest and quickest way to sell a house in Long Island and get you on your way to enjoy all these fun activities Suffolk County has to offer.
To get a cash offer without the hassle of listing, click here.