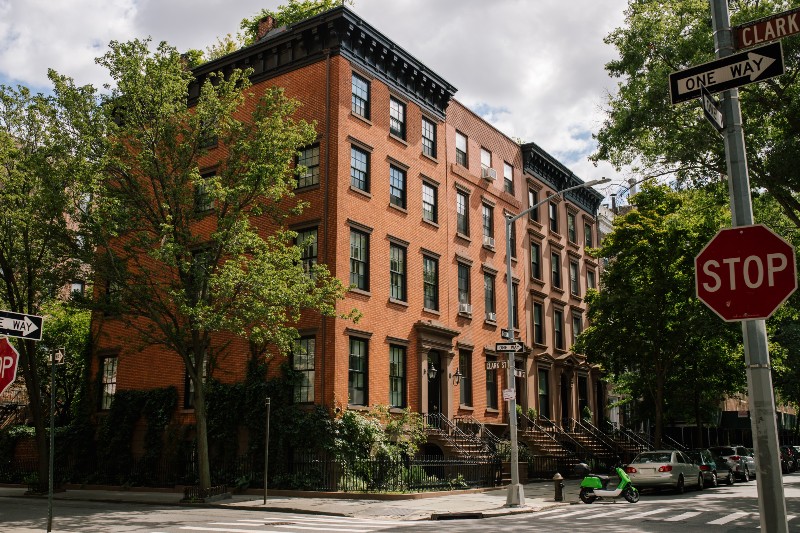 If your home is underwater, selling it can be difficult. NYC is a city hit by underwater homes, leaving many homeowners in a tough predicament, as buyers typically don't want anything to do with negative equity homes.
Fortunately, there are options if you have a house underwater in Brooklyn, Queens, Manhattan, the Bronx, Long Island, or anywhere else in NYC. Here's what you need to know about selling an underwater home in New York City.
Can You Sell a House That's Underwater in Brooklyn?
When we say a house is underwater, it doesn't mean that it has a flooded basement or experienced water damage. Instead, an underwater home refers to a home that is worth less than the mortgage payments you owe on it.
For example, let's say that the value of the home is just $300,000. However, you owe $350,000 on your mortgage loan. Since the sale price is lower than the mortgage, you have negative equity, another name for an underwater home.
Check out Investopedia's article on underwater mortgage defined for more information.
You may wonder how negative equity can happen in the first place. Typically, it occurs when the borrower takes out a loan on a house in an area that later experiences a decline. Home prices go down in the area, leaving homeowners to pay monthly mortgage payments higher than what they can sell their homes for.
If you notice that your area is experiencing a decline, read our article on selling your home in a declining market to avoid letting your house get underwater.
It could also happen if there is a housing market bubble burst, a recession, or another global event (like the Covid-19 pandemic) that causes home prices to drop quickly.
Fortunately, you can still sell an underwater home and avoid foreclosure, but you need to be smart about it. This article will discuss several ways people in New York or New Jersey can deal with underwater homes.
What You Need To Know About Selling a House That's Underwater
Selling an underwater house won't be easy. After all, who wants to buy a home with a mortgage that costs more than the house's market value? However, it is possible.
First, though, ask yourself if you really need to sell your home. Of course, if you can't pay your mortgage, staying in your house won't be an option. Nevertheless, there are ways you may be able to afford your mortgage.
For example, you might get a second job or make lifestyle changes and budget costs, so you have more money left for your monthly mortgage payments. Perhaps you'll ask a friend or family member to help you or give you a loan, or your spouse could take on a job if they are not working.
If none of those options work, consider selling your home instead. Check out our article How to Sell a House Underwater in Queens [Tips & Advice] for more information.
Tips for Selling a House Underwater in Brooklyn
If your house in Brooklyn is underwater, don't panic. Resist the temptation to price your home at a value higher than what it's really worth. Buyers can tell when sellers overprice a house. Instead, use one of the following methods to sell your underwater home in Brooklyn.
The Strategic Short Sale
A short sale is when you sell the home for its current value – less than the mortgage itself. If you provide your lender with a letter of hardship detailing your financial situation and why you can't afford to pay your mortgage, they may allow you to do this.
We call it a short sale because the loan amount is short at the close of escrow. It does NOT refer to the time it will take to complete the sale. Be aware that a short sale takes much longer than a regular house sale.
That's because there is much more paperwork to take care of and legal guidelines to follow. Furthermore, it can take longer to find a buyer willing to buy a home on a short sale, as you must disclose that information when you list the house.
Depending on your financial situation and any other assets you have, the lender may forgive the remainder of your loan or part of it.
Underwater Mortgages
If your mortgage is underwater, one option is to stay in the home and keep paying your mortgage. You never know. The housing market may improve, and the price of your home may rise again.
Your lender may also offer a loan modification or forbearance option. With forbearance, your lender may agree for you to stop paying your monthly payments for the time being until you find a new job or improve your overall financial situation.
They may also be able to modify your loan and approve you for lower monthly payments to make it easier for you to pay your bills.
Transferring Died in Lieu To Avoid Foreclosure
Another option is voluntarily walking away from your home and transferring the deed to the lender to avoid foreclosure. There are several benefits of going down this route.
First, you can avoid responsibility for the loan altogether. The lender can forgive the remaining balance, so you won't have to pay the difference.
Furthermore, you will avoid the foreclosure process, which is complicated, drawn-out, and emotionally traumatic. Having someone evict you from your home is never fun, so if there is no other option, you might want to preemptively transfer the deed to the lender with a deed in lieu of foreclosure.
You'll come to an agreement with your lender about the specific details, such as when you will vacate the home. The lender may even agree to lease the house to you for a particular period, so you have a place to live and don't need to leave immediately. You may even be eligible for relocation assistance from your lender.
However, this option should be a last resort – when you have exhausted all other options. While it won't damage your credit score as much as a foreclosure would, it will still hurt your score in the long run. Furthermore, you must be prepared to give up your home, so try other options first.
Refinancing Your Mortgage
Another option is refinancing your mortgage. To be fair, that's not easy when your house is underwater, but it's also not impossible.
Unfortunately, both Freddie Mac and Fannie Mae have paused their Enhanced Relief Refinance Mortgage and High LTV Refinance Option loans for houses that are underwater.
However, if you have an FHA loan, you may be eligible for an FHA Streamline Refinance. It requires limited credit documentation and underwriting, but you must be current on your FHA mortgage. You don't qualify if you are delinquent. This type of loan doesn't require a home appraisal, which is why it's an option even for underwater homes.
You may also be eligible for a USDA Streamline Refinance, which requires no home appraisal, making it a good option for people with no equity. It also doesn't require income documentation. You must already have a USDA loan, and you must see if your lender will allow you to refinance with a new loan with lower interest rates.
It can take just a few weeks to get approval for this loan, but that's only because of your prior USDA loan approval.
How To Sell a House Underwater in Brooklyn
It's possible to sell a house underwater in New York. One option is selling your home and covering the difference with your savings or a personal loan. However, an even better option is selling to a cash buyer.
Cash buyers and home flippers may be willing to take on the rest of your mortgage. That will depend on factors such as your home's potential and their outlook for the real estate market in your specific area.
Real estate investors might, for example, be willing to buy your home as-is and pay off a few dozen thousand dollars if they expect a high return from selling your home in 10 or 20 years. House flippers can also renovate your home, make improvements and additions, and flip it for a lot more than the current mortgage balance.
Selling to a cash buyer might be the best option if your house is underwater and you don't qualify for a refinance. Unlike a short sale, selling to a cash buyer actually takes a short time.
Cash buyers buy homes facing foreclosure all the time. They also buy homes that have significant damage and require extensive repairs. You can get cash for your home in as little as a few weeks, and you will also get rid of your current mortgage headache.
Conclusion
We buy houses New York, including homes that are facing foreclosure. If your underwater home is causing you significant stress, get in touch with us. If you qualify, we will offer you a fair price and then close on your schedule without any hassle or headaches.