Selling your house with unpermitted work or open permits in New York poses some additional challenges and strategies, but it is not impossible. This article will explain the permit process in New York, when you need permits, how to check if your home has the proper permits, and how you can sell your home with permit issues in New York.
Table of Contents
What Are Building Permits and Why Do You Need Them?
Building permits are the local municipality's way of ensuring that your house complies with local standards during and after a project that alters the property. This is done to ensure that the property meets minimum safety standards and will be less likely to cause injury to anyone once the project is completed. During a permitted project, the local code official will come out to inspect that the work being done is "to code" and in accordance with the plans that were submitted as part of the permit application. Depending on the scope of the project, these mandatory inspections may occur just once or multiple times throughout the project.
Obtaining permits is important for a number of reasons. First of all, you are probably not an expert in framing, electrical, plumbing, etc. so it helps to keep the tradespeople doing the work accountable. Secondly, when it comes time to sell your house, unpermitted work has the potential to wreck the sale with buyers who don't know if the work was done properly and lenders who may decline to finance the property if it is not up to code – this can greatly impact the value of the property as we'll discuss later on. Lastly, when avoiding permits, you run the risk of having to remove or re-do the work in order to obtain the proper permits in the future.
What Types of Projects Require a Building Permit?
Exactly what projects need a permit is up to the local building department of the town or village that you live in. To show you how wide-reaching permit requirements are, you can look at the Town of Oyster Bay Building Division for a list of projects that generally require permits. You'll want to check with your local building department before undertaking a project, but you'll typically need a building permit for items that could potential make the home unsafe, for example:
Adding, moving, or removing walls
Electrical work (excluding minor repairs)
Plumbing work (excluding minor repairs)
Building or replacing a deck
Installing a large fence
Adding an inground or above ground swimming pool
Erecting a shed
Removing or demolishing any structure
Changing the use of an area (i.e. converting a garage to living space)
Creating an accessory apartment
Cutting new holes for doors, windows and skylights (and even enlarging the existing openings)
Some examples of projects that you likely don't need a permit include (but you should still check):
Painting & trim
Replacing flooring or carpet
Kitchen countertops
Replacing windows & siding
Landscaping (aside from retaining walls)
Why Do Some People Avoid Getting Permits in New York?
There are a couple of reasons that homeowners will forgo permits and proceed with unpermitted work. In New York, particularly on Long Island, the permit process can be very time-consuming. If you are looking to do a more significant renovation, depending on the town, it often takes multiple months for plans to be approved, delaying the project. Especially since COVID, the turnaround time for many Long Island building departments has been extended significantly.
Additionally, filing for permits comes with numerous extra costs. You have to pay for filing the permit itself, you may need to pay for architectural drawings, and lastly, depending on the improvement, it may raise your annual taxes which are already extremely expensive on Long Island.
What is an Expired or Open Permit?
An open permit means that a permit was pulled to start the project but that it was never closed out. Open permits can pose the same problems as doing work without permits. In fact, in many cases, having open permits can be worse because it means that the municipality is aware that there was a project that was never completed properly. This typically happens for a few different reasons.
The project may have been canceled or never performed and the town was not notified.
The work could have been done, but it failed an inspection, therefore additional work and a subsequent inspection was required to close the permit and this was never performed.
The work was completed but the inspector was never called in for a final inspection.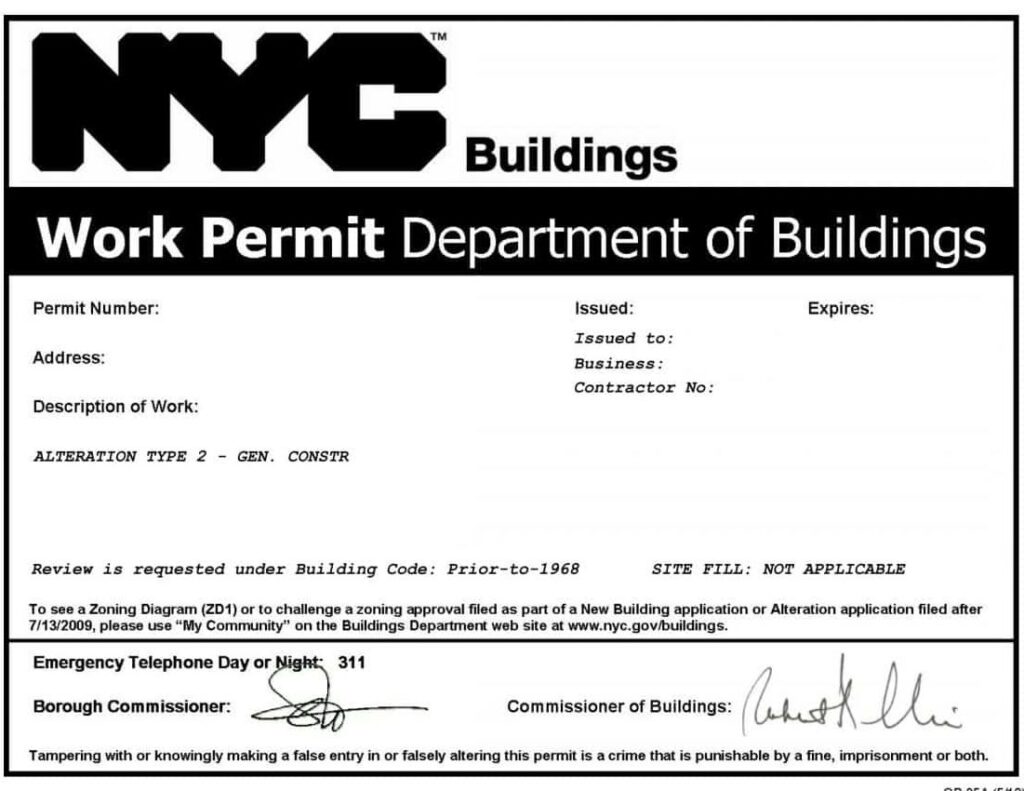 How Do I Know If My House Has Open Permits or Has Unpermitted Work?
In order to determine if your property or a property you are looking to buy has any open permits, you can submit a FOIL request with your local municipality. As part of New York law called the Freedom of Information Law (FOIL), these municipalities are required to release to you this public information upon request. Each municipality has a different process for submitting a FOIL request, which you should be able to figure out how to perform online, and some charge minor fees (typically under $25 + per page printing fees) to produce this report. What you want to ask for is whether there are any open permits and if there is a certificate of occupancy (C/O) on the property. The certificate of occupancy certifies a building's compliance with building codes and indicates that it is suitable for occupancy. This report may take up to 3 weeks to receive and should inform you whether there are any open permits or specific issues of concern.
However, this will not tell you the whole story as the municipality doesn't know about any unpermitted work that may have been done. For example, if you added a bathroom to your home without permits, when you FOIL your property, there will be no information about an unpermitted bathroom since the municipality would have no way of knowing that project had been performed. In this case, you'll want to look at the provided materials to see if they describe the current condition of the house. Here you'll have to do a little more digging and look at the property description, survey, and floor plan to help you determine if there may have been any unpermitted additions to the property, if walls have been moved, decks added, etc.
How Can I Sell A House with Unpermitted Work or Open Permits in New York?
If you are aware that you have permit issues on your property, you have a few different options when it comes to how you can sell a house with unpermitted work. The option that is best for you depends exactly on what you are looking to achieve, so we'll compare the pros and cons of each option below.
Rectify the Situation by Getting Retroactive Permits or Closing Open Permits
The most obvious option, when faced with selling a house with permit issues, is to rectify the issues before you sell the home. However, the specific unpermitted work in question will determine how much time and money this will take. For example, turning a converted garage back into a garage will likely cost under $10,000 and take a couple of weeks. Whereas, if you have an unpermitted second story, this isn't likely to be something that can be undone too easily. In this case, you'll have to work with the town to hopefully get the addition legalized. The best-case scenario in a situation like this would be that the inspector would have you remove sheetrock to ensure that things like insulation, plumbing, electrical, and structural supports are up to code. If all the work was done properly, then you may be able to get the work approved. However, there is no requirement or guarantee that they will approve anything – the worst-case scenario is always that the inspector may make you remove something, which in the case of a second floor or addition, for example, would be a monumental undertaking.
✔️ Pros: Will get you the highest sale price. Will reduce the chances of a buyer falling through
❌ Cons: There are no guarantees that your work will be approved, you may have to remove it. You will have to manage the process, coordinate contractors and inspectors, and live through additional construction in your home. Removing the unpermitted improvements may negatively impact the value of the home.
Sell Your Home with a Realtor (Warning Below)
If you are selling a house with permit issues that you've decided you don't want to fix yourself, there is nothing stopping you from listing the house with a realtor on MLS and trying to sell the traditional way. You should of course disclose this information to your real estate agent as this will help them price the house appropriately – you can expect the house to be priced lower due to account for these issues.
However, the most important thing for you to know if you choose to go this route is that you need to be prepared for your prospective buyers to fall through at multiple different stages in the process. You'll have buyers that will make offers and then back out after they have an inspector assess the condition of the property and whether the unpermitted work is up to code. You'll have buyers that will back out (or ask for additional discounts) when unpermitted work or open permits are found when they pull the title. Lastly, you'll have buyers back out when their lender or insurance carrier declines to underwrite the property if work is not done properly and up to code.
✔️ Pros: You won't have to worry about fixing anything.
❌ Cons: You will be taking a discount on the property by selling with permit issues in addition to an average real estate commission of 6% in New York. Uncertain timeline of when you will find the perfect buyer. May have a lot of "false starts" with buyers falling through at various stages of the process forcing you to start over.
Sell Your Home to a Cash Buyer As-Is
Your quickest and easiest option is always going to sell to a local cash buyer like Leave The Key Homebuyers. These companies that buy houses in New York for a living are going to rehab the property anyway and will be getting permits for this renovation. Since they are typically doing a large construction project, rectifying any open or unpermitted work is often much easier for them than it would be to do it yourself.
When selling to an investor, you can sell the property completely as-is and you can be assured the deal won't fall through as long as you choose the right type of cash home buyer. These buyers will waive their right to a formal inspection and mortgage contingency which are typically where the sale with a retail buyer will go south. Knowing that the deal will go through on the timeline of your choice can free you up to make plans to move or buy another home without fear of a buyer backing out at the last minute. Additionally, when selling to a professional home buyer, you won't have to further discount your home by paying real estate commissions which are often up to 6% in New York.
✔️ Pros: You won't have to worry about fixing anything. You will have certainty that the property will sell for the agreed-upon price. You'll be able to close on the timeline of your choosing rather than waiting for the perfect buyer willing to take the property with permit issues. There will be no real estate commissions that further reduce the price.
❌ Cons: May not walk away with the most money.
We can help you sell a house with unpermitted work or other permit issues in New York!
Contact us today for a no-obligation, as-is, cash offer! 631-388-7771