What Is There To Do In New York This Winter?
New York City isn't the kind of place that shuts down in the winter. In fact, it's one of the most exciting times of the year in the Big Apple. When holiday displays line the streets and events take over whole neighborhoods, NYC truly becomes a winter wonderland and you'll want to know where to go to take advantage of all the fun. Here is a list of things to do in New York this winter in 2020.
Bryant Park Winter Village
If you're going to head into Midtown on a cold, winter night, one of the best ways to make it worthwhile is to visit the Winter Village at Bryant Park. The main attraction for many is the 17,000-square-foot outdoor ice skating rink (bring skates if you can as they cost $20 to rent). However, there's also a ton of eateries, shops, and pop-ups for you to peruse when you're back on solid ground. One special treat is The Lodge, a pop-up restaurant overlooking the rink with its own indoor beer garden. Keep an eye out for concerts, special events, and kids programming here as well.
New York Botanical Garden Holiday Train Show
Even if you've never been one to appreciate model trains, you'll still be blown away by the craftsmanship and entertainment value found at this holiday train show. You'll marvel at amazing recreations of New York City's most iconic buildings and sights. There are 175 miniature versions of landmarks, such as the Statue of Liberty, the Brooklyn Bridge and Yankee Stadium. As for the trains, there's over a half-mile of track that runs through everything. This year's show is especially inspired by Central Park so you can expect mini versions of places like Belvedere Castle. There are also performances, concerts, poetry readings, and kids' activities.
Gingerbread Lane
Between November and January in the New York Hall of Science, you'll find Gingerbread Lane, the largest gingerbread village in the world. They're looking to keep that title for a seventh consecutive year so expect it to be audacious and delicious. Chef Jon Lovitch designs and constructs all of the gingerbread houses with edible gingerbread, candy, and icing. This year's version will include various shops with fun names such as 8 Maids a Milking Dairy and Milk Bar, 6 Geese a Laying Brunch Café, 5 Golden Rings Jewelry Store, and Deck the Halls Holiday Decorating Service.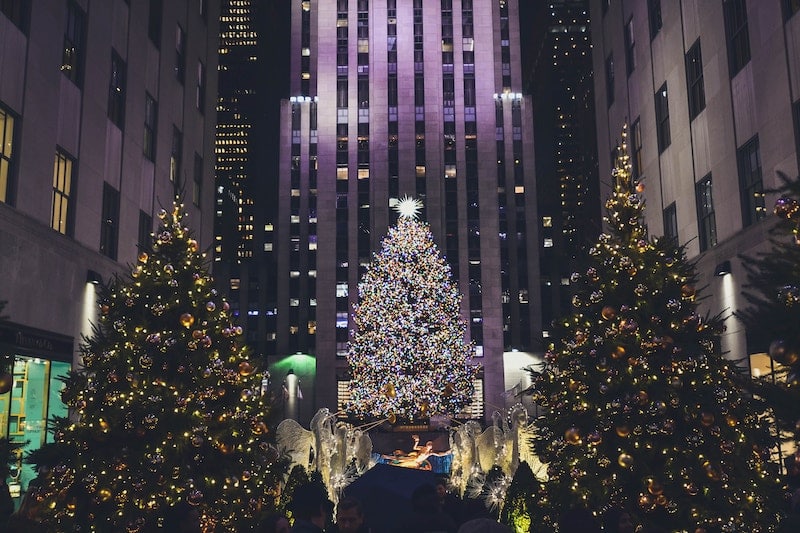 Rockefeller Center Tree Lighting
If you were in New York City during the holidays and you didn't stop by Rockefeller Center to see the giant tree all lit up, were you really there? This year's tree will be alit on December 4 in Rockefeller Plaza. While it will be broadcast live on TV, there's something magical about being there to watch it happen. If you're lucky you might be able to get a spot on the ice skating rink as well. Keep an eye out for the NBC Today show anchors and many performers and singers there to provide live entertainment.
Holiday Lights at the Bronx Zoo
Holiday Lights at the Bronx Zoo takes a night at the zoo to a whole new level. It's not just about having the lights strung up on trees and poles. There will be animal lanterns, animated sculptures, and colorful designs all throughout the park. The six-week event also includes holiday-themed music, ice-carving demonstrations, caroling, and train rides.  Not to mention it's a cool way to experience the zoo and see your favorite animals in a new light.
Origami Holiday Tree
Everyone always talks about the tree at Rockefeller Plaza, but there's another tree in NYC worth visiting. The American Museum of Natural History's annual Origami Holiday Tree. Featuring over 800 folded-paper works, this exhibit is created by international origami artists throughout the year and finished just in time for the holidays. This year's theme for the 13-foot tree is "T. rex and Friends: History in the Making", featuring models inspired by the Museum's special exhibition T. rex: The Ultimate Predator.
The Butterfly Conservatory
Located at The American Museum of Natural History, The Butterfly Conservatory is an annual exhibition featuring over 500 flying butterflies and tropical plants that you can roam amongst. The exhibition includes butterflies from three different families of species, all of whom flutter and fly through the lush flowers and vegetation in 80-degree temperatures (making it a nice place to get warm as well). Imagine just sitting here and letting these amazing creatures fly all around you as you take some time to appreciate nature even in the cold of winter.
Winter's Eve at Lincoln Square
The neighborhood surrounding Lincoln Square serves as the backdrop for NYC's biggest one-night holiday festival. This year's event on December 2 is the 20th anniversary of this newer but no less memorable New York tradition. It begins with a tree-lighting in Dante Park before musical acts and entertainers rock the night away. You'll also find plenty of street performers, food stands from some of the top restaurants in the neighborhood, and fun activities that the whole family can enjoy.
Christmas Lights Tour of Dyker Heights
If you're going to take one bus tour in NY this holiday season, make it this one. A Slice of Brooklyn runs this tour of the famous Dyker Heights Christmas lights each year. It's a big deal as over 1000,000 descend on this Brooklyn enclave to see all of the amazing decorations. Pace yourself on this three-and-a-half-hour drive where you'll not only get to marvel at the displays but also learn a bit of history and information about the homeowners.
Times Square Ball Drop
Is it touristy to head for Times Square on New Year's Eve to watch the ball drop? Maybe, but that doesn't mean it can't be fun. It's a pretty cool place to be to usher in 2020 and a chance to enjoy some music and unique performances from some of the top acts in the world. Make sure you get there early because street closures begin in the early afternoon. The best spots are often taken by 3:00 p.m., so get ready to find your spot and stay put. If you bring a bunch of friends with you, you can make a lot of memories before the ball even drops.
We hope you've enjoyed this guide on what to do this winter in New York. Winter is a wonderful time of year and the New York winters are especially beautiful. If you own a home that needs work this winter, it may not be such a great season. There are plenty of things that could go wrong with a home with a leaking roof, heating that needs repairs, and foundations that might need work. If you're facing any of these problems and want to sell your house fast in New York, give us a call to avoid the hassle of making those repairs this winter.