Are you moving out of New York state and unsure what to do? Moving out of a house and into a new one can be a stressful and time-consuming process even if you're moving across the street. But to pull up stakes and move to another state, that adds an enormous layer of questions, concerns, and unknowns that can be hard to handle, even for seasoned home sellers.
The ideal scenario would be to sell your house as you're moving out and then use that money to fund the purchase of your new house, but the decisions and transactions that need to line up for that to happen can make it pretty hard, especially if you're selling on the housing market. Not to mention you might be under a time crunch and haven't been able to research the new place you're moving to and know what you're looking for. What your budget affords you in New York might not be the case elsewhere.
One way to avoid a lot of the hassle is to sell your New York house as-is to Leave the Key Homebuyers. We'll work with you to buy your house on your schedule and put cash in your hands when you need it, making the timeline a whole lot simpler and easier. But if you're considering a market sale, here are some tips to sell your house in New York when moving out of state.
Tips to Sell Your House When Moving Out Of State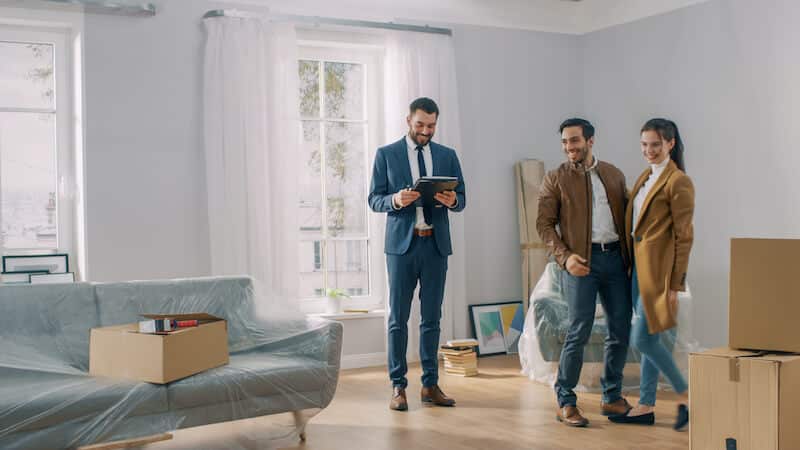 Sort Out Your Move ASAP
One of the first things you can take care of when you know you're moving out of state is to start the process of sorting out your move immediately. The sooner you're able to pick a long-distance mover and start planning to pack and ship everything, the better. If this move has to happen really fast, you're going to want to spend the money to work with professionals. If you do it yourself, you're not likely to move as fast or efficiently as they can. It can be a very costly part of the process but it's going to save you a lot of headaches.
Reach out to a few different moving companies and ask to speak with a representative. Interview them like you're doing a job interview (because that's basically what it is for them). Ask them about liability coverage if they break your belongings or something is damaged in the move. And make sure you check their license with the U.S. Department of Transportation to make sure they're above board.
Hire the Right Real Estate Representative
The problem with selling your house with a real estate agent is that they're going to take a big commission fee out of the sale price. It's usually around five or six percent, which can add up even if you're not selling your house for a huge amount of money. For example, if you sell your house for $150,000, they're going to get between $7,500 and $9,000, which is a lot of money. Depending on how much was left on your mortgage or whatever other payments you have to make, that can take a massive bite out of any leftover profits. You can always avoid these fees by selling your house directly to a cash buyer.
But if you're going to work with a real estate agent, at least do your homework and find out with experience handling situations like yours. Use the data you can find on MLS sites like Redfin or Zillow to see how fast certain real estate agents sell a house that is similar to yours. You want to find an agent who understands what the local New York housing market looks like right now and how to position your house for a quick sale. You also want an agent who knows how to attract the right kind of buyers so you're not wasting your time or money.
The Price is Right
If you're moving out of state and trying to sell your New York house fast on the open market, there is no decision more important than pricing your house correctly out of the gate. Your agent will have prepared a comparative market analysis that gives you a sense of what similar homes have listed at and eventually sold for. It will take into account your location, commuting factors, sales data, the size of your house, and other data points to determine how you should price your house.
It's so important to price your house correctly when you list it. If you price it too high, you're going to scare off potential buyers while it sits on the market for months. If you price it too low you're going to make buyers wonder what's wrong and they might also stay away. You want to price it right in that sweet spot where you don't have to deal with reductions and you get enough offers where you can start serious negotiations quickly. You don't want to have to deal with any of this after you move.
Declutter & Clean
You're trying to sell your house fast so you can move and get on with your life, right? Then you need to make an amazing first impression. So if you've got a buyer coming to see your house, whether it's an open house or just popping in, it's critical that you clean up and declutter the home. No one wants to see a house for sale and then have to step over old newspaper stacks and avoid piles of clothing just to see what it's like.
More than just cleaning up, decluttering removes all of the memorabilia and tchotchkes that cover up all the great things buyers are looking for. Space, fixtures, livability, and possibilities. They don't want you to see your life, they want to see their life. And even the Consumer Reports National Research Center recognizes the value of decluttering, which they say can boost your asking price by as much as five percent.
Bring in the Pros
If the name of the game is selling your house fast so you can move to another state, then you might want to be willing to spend a little extra money to make it easier. One way to do that is to hire professional cleaners. Especially if you hate cleaning, pros will be able to do a much better job than you can and they'll help identify any problem areas you might not have considered. Think of all the rooms and spaces that need to be cleaned and whether or not a deep cleaning is necessary (probably, for making a market sale). Professional cleaners know how to make the place sparkle and it's some peace of mind for you to focus on other things.
Sell Your House As-Is
Trying to sell your New York house while moving out of state can be a real hassle, especially if you're trying to do it on the open market. Not to mention all the costs involved with cleaning, prepping, marketing, and paying real estate commissions. Another alternative is selling your NY house as-is to a cash buyer like Leave the Keys Homebuyers. We buy houses like yours fast and we pay cash for them. That means you don't have to worry about upfront costs, real estate commission fees, and wondering when you'll eventually get the money for your home sale.
Within days of contacting us, we'll make you a fair offer. If you accept, you tell us when you want to close. And we'll put cash in your hands for your New York house ASAP, often within a few days.
Contact us today to get your no-obligation offer!