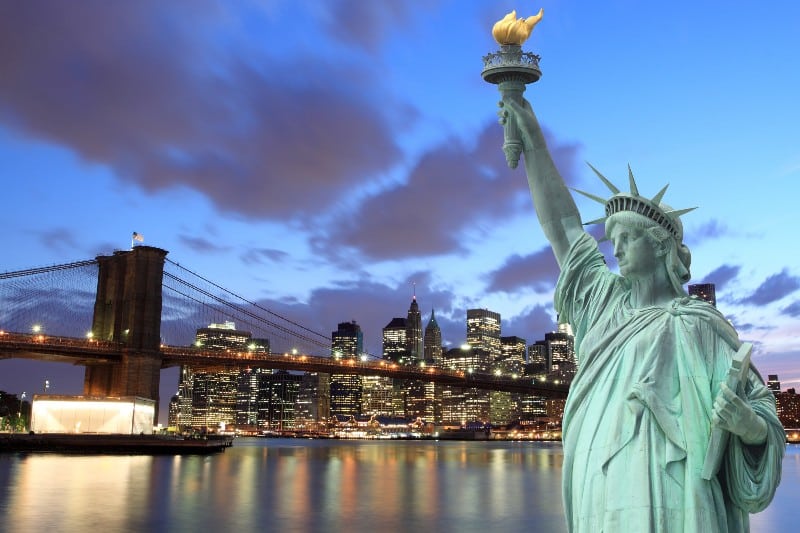 Brooklyn is one of the most popular neighborhoods in New York City. With its charming boutiques, beautiful brownstones, and vibrant nightlife, it's no wonder why young professionals flock there from Manhattan and the Bronx.
But with all this popularity comes a price—high rent costs and an influx of new residents can lead to overcrowding and the potential for increased crime rates. So is Brooklyn safe to live in? Here's what you need to know.
Is Brooklyn a Safe City To Live In?
Today, Brooklyn is a much safer place than it used to be. But crime is still 91% higher than everywhere in New York. In Brooklyn, 838 crimes occur per square mile, impacting one in every 47 people.
However, it's vital to remember that a city's increased population directly affects the crime rate there.
Brooklyn is the most populous of the five boroughs of New York City. It has a population of over 2.74 million people and an area encompassing over 70 square miles. If each borough were a separate city, Brooklyn would be the third most populous in the United States, behind only Los Angeles and Chicago.
In addition to its size, Brooklyn is one of the most diverse places in the United States. Over 46% of its population comprises members of a racial or ethnic minority group. Places like Bushwick, Crown Heights, and Williamsburg are particularly vibrant, with diverse communities and cultures.
Brooklyn Crime Rate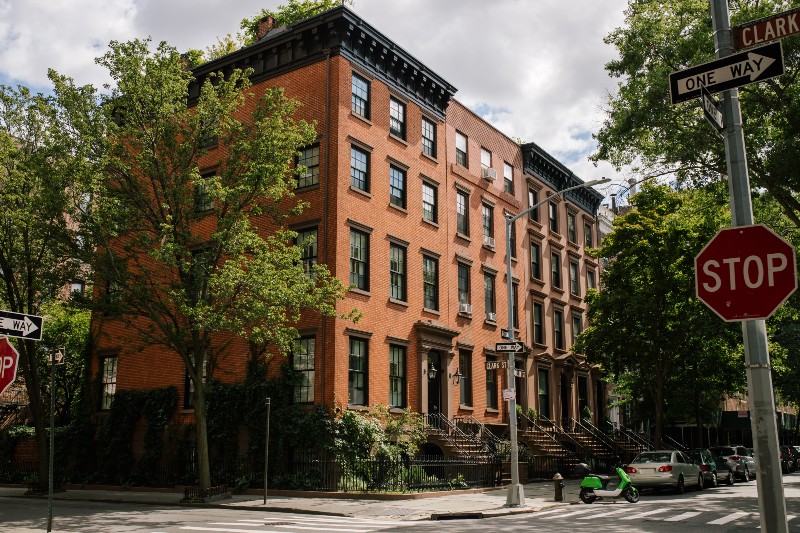 While being close to work and school may be a common factor in choosing the best neighborhood, cash home buyers in New York might have other concerns to consider.
We ranked the six Brooklyn areas with the lowest rates of crime, with an emphasis on non-violent crimes on the Brooklyn neighborhood map.
Prospect Heights
Rents in Prospect Heights are among the lowest in the borough, making it an attractive alternative to the Bronx or Staten Island for young families. And with a crime rate that's 71% less than the U.S. average, it's one of the safest places to live in all of New York.
In addition to low-priced homes, you'll likely discover cafes, bars, and businesses that won't break the bank. The proximity to Park Slope means residents of the nearby suburbs can readily take advantage of the neighborhood's urban vibe.
Kensington
One of the most diverse areas in NYC, Kensington is also one of the safest neighborhoods in Brooklyn. It has consistently ranked first in the borough's best safety rankings. Kensington is one of the most peaceful areas in Brooklyn, with just 1,176 residents.
Although its crime rates are much lower than the average for New York at 86%, its real estate prices are significantly higher at 316%.
Kensington is located in central Brooklyn, close to Prospect Park South and Coney Island Avenue. Thanks to its historic Victorian architecture and peaceful streets, Kensington adds beauty to its overall appeal as a pleasant place to live.
Brooklyn Heights
Brooklyn Heights, formerly Brooklyn Village, is a small, friendly community. Most of its inhabitants have resided in the area for many decades, making it one of the oldest suburbs in the United States.
Consider Brooklyn Heights if you're searching for a quiet neighborhood to raise a family. Its crime rate is lower than the city's average, with just 21 non-violent offenses per 1,000 people, compared to the city as a whole.
Historic buildings, several places of worship, and art galleries have made Brooklyn Heights famous. Indeed, it is well-regarded by young creatives because of its "little village in the center of a huge metropolis" atmosphere.
Bay Ridge
When considering the question, "is Brooklyn safe to live in?" Bay Ridge often pops up as an answer. It's adjacent to Upper Bay and Midwood and is one of the safest areas because of its well-lit streets, easy access to public transit, and welcoming, close-knit community. Bay Ridge is a popular place to live because of its short commute to the Financial District in New York City.
Compared to the rest of Brooklyn, Bay Ridge has one of the lowest crime rates, with 5.9 cases of non-violent crime per 1,000 people.
The neighborhood's waterfront location makes it ideal for a wide variety of eating, entertainment, and relaxation options. Bay Ridge also benefits from the breathtaking scenery of the Verrazano-Narrows Bridge, while there are numerous stylish eateries along the waterfront.
Park Slope
Park Slope's row houses, safe streets, and friendly locals contribute to the neighborhood's relaxed vibe, making it ideal for hipsters, professionals, and students. There are about 12 non-violent crimes for every 1,000 residents, which is about 40% fewer than the national average.
This part of Brooklyn is a safe place that offers its residents lots of fun things to do in Brooklyn. Besides Prospect Park Zoo, Park Slope features beautiful outdoor areas, including Washington Park and Prospect Park. Union Hall is an excellent introduction to the neighborhood's vibrant nightlife.
DUMBO
"DUMBO" is an abbreviation for "Down Under the Manhattan Bridge Overpass." It is the Brooklyn neighborhood with the fewest people living in it, and it is close to downtown Brooklyn and Vinegar Hill. Its size is slowly changing as gentrification takes over and more businesses and entrepreneurs move in. An average of 29 property crimes per 1000 residents happens there yearly.
The growing number of tech companies with headquarters in the area has played a role in DUMBO becoming safer and more secure. In addition, young artists have made the neighborhood their home.
Due to that artistic community, DUMBO often hosts cultural events like music festivals and art shows. However, there is a downside: DUMBO is now one of the most affluent areas in Brooklyn, with a cost of living that reflects that status.
Carroll Gardens
Carroll Garden has long cultivated a reputation as a prime example of what safe neighborhoods look like. Trendy coffee shops and green spaces fill this space south of the Brooklyn Bridge near Boerum Hill. Although 25,576 people live in Carroll Gardens, it does not seem overcrowded.
To say that this location is rich in cultural possibilities would be an understatement. The shops in Carroll Gardens are a nice change from the chain stores and tourist traps in Midtown Manhattan. You'll find a wide range of handmade goods, gourmet foods, and unique gifts.
With a rate of 270 violent crimes and 1687 property crimes per 100,000 residents, family-friendly Carroll Gardens is among the least dangerous areas of the borough.
Brooklyn Crimes by Type
The New York crime map gives you an overview of what crimes are most common in Brooklyn and which areas have higher rates for specific offenses.
Compared to all of New York, Brooklyn's crime rate is 89% greater than the state average. It is estimated that 1 in 52 people in Brooklyn may become victims of a violent crime or property crime this year. Compared to other American cities, crime rates in Brooklyn are pretty high.
You can separate crimes into two categories: violent crimes (such as murder, rape, assault, and robbery) and property crimes (such as burglary, theft, or motor vehicle theft).
Brooklyn has a far higher violent crime rate than the national average. One in every 184 residents in Brooklyn is a victim of some violent crime. This amounts to 5 cases for every 1000 people.
The rate of property crime in Brooklyn is 14.0 per 1,000 residents. Compared to all other American localities of whatever population size, this puts Brooklyn at an above-average risk of being a property crime victim. Statistically, one in every 72 people in Brooklyn will become a victim of one of these crimes.
Local Responses in Brooklyn
In a poll of Brooklyn residents, 50% felt "pretty safe" and said that, although they're aware of crime in their area, they didn't feel personally impacted by it. Another 23% said they felt "very safe" and didn't recognize crime was an issue in Brooklyn.
About a third of Brooklynites are aware of and affected by crime in their neighborhood and have a variety of responses to it.
Some people choose to stay away from areas of high crime. They may move elsewhere or even change jobs if they work in a setting with a high rate of crime.
Other residents will try to be more vigilant of their surroundings and take steps to protect themselves. A few might decide to volunteer for programs that help reduce crime and violence.
Many have seen a vast reduction in crime after creating organizations like the Brownsville Safety Alliance, which offers community resources to reduce violence, or the Brownsville Think Tank, which provides mentorship and stabilizes social networks.
Conclusion
Is Brooklyn safe to live in? Finding somewhere secure in Brooklyn may seem like a tall order, but if you put in the time and effort required, you should be able to sell a house fast in Queens or get the apartment of your dreams. After all, we buy houses Brooklyn residents know are high-quality and ready to meet people's needs.
To help you identify the most secure parts of Brooklyn, check for things like neighborhood warmth, the upkeep of houses, crime statistics, and a sense of safety in public spaces. Look for well-lit streets, a spotless borough park and open spaces, and a reliable public transportation system to ensure you find somewhere to settle down safely.