Are you looking to sell a house fast in Long Island? Would you like to avoid paying real estate commission fees and dealing with agents as well? You can accomplish both goals, so long as you know what all your options are. The open market is always changing and evolving based on various factors, including housing inventory, buyer demand, the economy, and other factors such as the pandemic. Depending on when you list your home you might find yourself in a buyer's market or a seller's market, which can drastically change your strategy. That's especially true if you decide to sell your house by owner. 
There's a simple way to sell your house by owner fast and that's to sell directly to a local cash buyer like Leave the Key Homebuyers. But if you're looking for ways to sell your house fast by owner on Long Island on the housing market, consider these tips to make sure you don't end up right back where you started. 
Sell A House Fast By Owner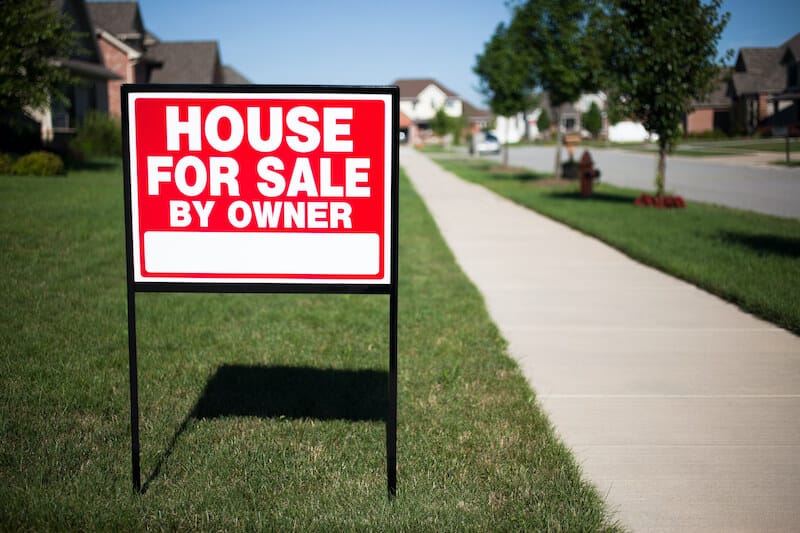 What Does "For Sale By Owner" Mean?
Before we dig into how to sell your Long Island house fast on your own, let's make sure we're clear on what that means. A "For Sale By Owner" (FSBO) sale is when a homeowner decides to list their property by themselves without working with a real estate agent or Realtor. The obvious reason to go this route is to avoid paying real estate agent fees. In theory, that means you're going to keep the thousands of dollars your agent would get from the final sale price (often 5-6% of the total). 
There is a big consideration to going FSBO, however. Since you don't hire a real estate agent, it falls on you to handle every aspect of the home sale. You'll want to ask yourself a few questions before you commit to this kind of market sale. Do you know how to price your house effectively? Do you know the right way to market your house? Are you comfortable hosting open houses and walk-throughs? Can you be firm in negotiations? Do you know when to say yes or feel comfortable walking away from a sale? 
It's true that, on paper, you could save some money by not hiring a real estate agent to help sell your Long Island house fast, the data says that FSBO sales tend to generate lower sale prices in general, so you might end up missing out on that money anyway. Plus, the buyer's agent still gets their cut of the fee, which comes out of the sale price, and you'll have to negotiate that.  
Assess the House & Make Repairs
If you decide to push forward and sell your Long Island house by owner on the open market, you'll need to do everything you can to make your home stand out. Long Island home buyers have options and they'll pass on a house in bad condition because there's likely another house nearby in better condition. You don't want yours to be the house people pass by. Whatever work needs to be done inside the home, you need to consider doing it, big and small. Every little bit helps and can make a big difference when trying to sell your house fast.
The flip side is that repair costs can start rising very quickly, especially if you find some big problems to deal with. You may have to make some tough choices about what's worth fixing and what will just have to wait. 
Consider Curb Appeal
Long Island home sellers focus on how to make the interior of their house look better but might not be thinking enough about the "curb appeal" aspect. Regardless of all the renovations you've done inside the home, if a buyer pulls up and doesn't like what they see outside, they'll probably just keep on driving. 
The more people who stop to take a closer look, the more likely you'll sell the house fast. So make sure you take a look at your property through the eyes of a potential buyer and figure out what changes will make them linger. Paint anything that needs it, mow the lawn, and improve the landscaping. You want buyers to pass by your house, do a doubletake, and feel compelled to stop and look around. 
Market Your House Online
These days, you can't just list your Long Island house and hope for the best. You have to make sure you get noticed, especially if you want to sell your house fast. Even if you're selling the house FSBO, you'll want to post it on a listing service like the MLS. Make sure you've got plenty of great-looking photos that really pop. You may want to hire a home stager to come in and make your home look appealing to the widest possible audience. You'll also likely want a professional photographer to come in and really highlight the best angles and rooms around the house.
Don't be afraid to post flyers all over town on bulletin boards, community centers, and anywhere else that allows it. There are certainly a lot of costs involved with this kind of marketing but if you want to sell your Long Island house fast on the open market you're going to have to spend some money to make it happen.
Drop Your Price
If you're concerned that you won't be able to sell your house by owner fast, the easiest way to improve your chances is to drop the price. If you really want to sell your Long Island house fast, figure out what the current market value is and price the home a little bit below that. It's going to cut into your potential profits and lessen the chance you'll keep the extra money you might have saved by not working with a real estate agent but at least it will give you a chance to sell the home quickly. 
Sell Your House As-Is for Cash
Taking a look at all the things you need to do to sell a house by owner fast on the Long Island housing market and it's a wonder anyone is able to do it. The costs, time involved, and energy needed is enough to make anyone pull their hair out. Even under the best of circumstances and if you do everything above correctly, you still might not be able to sell your house fast on the housing market. You just never know and you never have any guarantees on the open market, especially if you're going it alone without a real estate agent. 
There is a solution that guarantees you'll be able to sell your Long Island house by owner and sell it fast. You can sell your house as-is for cash to Leave the Keys Homebuyers. We buy houses on Long Island for cash and we buy them in any condition. Whether your house needs extensive repairs, hasn't been cleaned, or is caught up in financial issues, we will buy your house from you and we will give you cash for it. 
The process is simple. Just contact Leave the Key Homebuyers today and let us know your situation. We'll reach out ASAP and ask for some information or schedule a property tour. Once we have everything we need we'll crunch the numbers and make you a fair offer. If you accept the offer, we can close on the sale on your schedule, often in a matter of days. Then, we'll give you cash and you get to walk away from the house. It's that simple. 
Contact us today for a no-obligation cash offer!