If you are looking to buy a home and you are struggling to beat out the competition in a hot housing market, if you have the means to do so, you may want to consider trying to buy a house for cash. A cash offer is more attractive to the seller, will help your offer stand out from the crowd, and you may even be able to get your offer accepted with a lower price when making a cash offer.
What Does It Mean to Buy a House for Cash?
When you hear about buying a house for cash, it doesn't actually mean you show up to the closing with a briefcase of money. In fact, most real estate contracts will specifically state that the buyer isn't allowed to pay with more than $1,000 in cash since receiving large sums of cash poses its own challenges (security, depositing it, IRS, etc.).
What it really means to buy a house for cash is that your offer is not contingent upon approval from a mortgage lender. The residential sales contracts typically used in New York have a section that specifies that the contract can be canceled and the buyer's deposit refunded if they are unable to obtain financing. So when you make a cash offer on a home, this section is waived and you won't be able to back out for that reason. When making a cash offer, you are still allowed to apply for financing to purchase the property, however, failing to obtain this financing is no excuse for canceling the contract without losing your deposit.
Why Do Sellers Prefer a Cash Offer?
Sellers like it when buyers make a cash offer because it comes with a level of certainty that an offer with a financing contingency lacks. The mortgage for the prospective buyer can fall through for a number of reasons which leaves the seller starting over from square one. Here are just some reasons that the lender may deny a mortgage:
The appraisal came back too low
There are issues with the property such as permit issues (i.e. illegal apartment or living space), deferred maintenance on critical repairs, etc.
The buyer lost or changed their job
The buyer has taken on more debt or their credit score has dropped significantly
As you can see, all of these issues can come up at any point during the sales process and a traditional buyer will be able to walk away from the deal. However, when a buyer makes a cash offer without contingencies, none of these issues will kill the deal.
Why You Might Want to Make a Cash Offer to Buy a House?
As a buyer, there are a few reasons why you may want to make a cash offer to buy a house. The first of which is to beat out the competition. In a seller's market where buyers are having a tough time getting their offers accepted, as we discussed earlier, the cash offer is an attractive "cherry on top" of your offer.
Another reason why you may want to buy a house for cash is that it may end up saving you some money. While this might sound counterintuitive, the highest offer doesn't always win and get to buy the property. This is because sellers look at the offer in its entirety and therefore because cash offers are more attractive to the seller, cash offers are often accepted even though they aren't the highest priced offer.
Aside from possibly saving money by getting a lower offer accepted, there are additional expenses that come with obtaining a mortgage. There are fees that can add up to quite a large sum of money. You'll have to pay for the bank's appraisal, you may have to pay the lender "points" as part of your closing, in addition to paying for the lawyer that represents and other miscellaneous fees. However, the fees don't end there, in New York (Nassau and Suffolk Counties) in particular, the fees for recording a mortgage are very high, and you can expect to pay thousands of dollars to the county to record the mortgage. Of course, when you buy a house for cash, you can avoid all these fees.
Lastly, if you are in a rush, buying a house for cash is going to be the quickest way to close on a property. Buying a house with a mortgage typically takes 45-60 days to go through the whole mortgage approval process and get to the closing. Whereas when buying a house for cash, you can close as soon as you have clear title to the property which can be in as little as 1-2 weeks.
The Process of Buying a House for Cash
1. Get the Cash Proof of Funds
Similar to the way Steve Martin described how "You Can Be A Millionaire," the first part of buying a house for cash is having enough money. This money must also be liquid, meaning that it is in savings, checking, and money market accounts as opposed to other non-liquid accounts such as investments (i.e. stocks, bonds, mutual funds) and life insurance which will not qualify.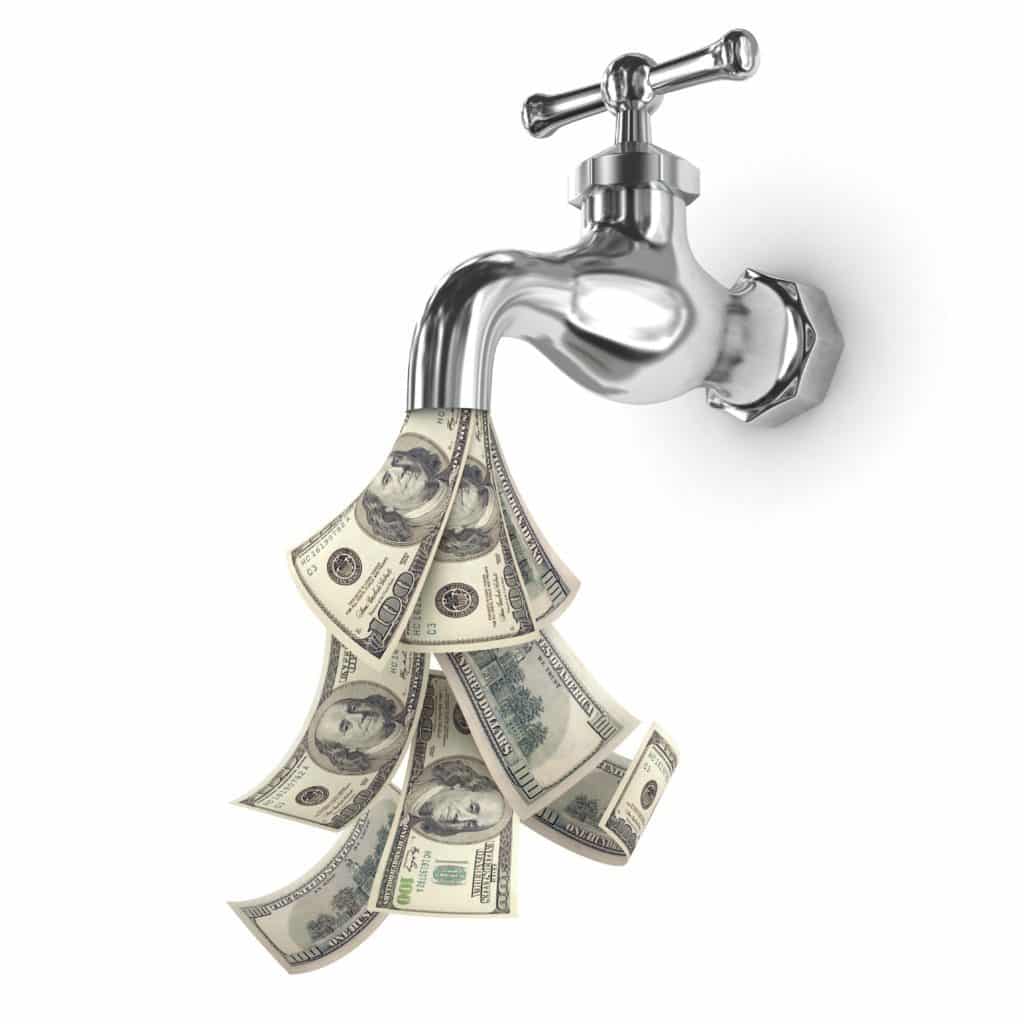 When you submit a cash offer to the seller you will include proof of funds which can be in the form of account statements or a letter from your bank that specifies how much liquid funds you have available.
2. Make a Cash Offer
Once you've already identified the property you want to buy, now it's time to make your offer. When buying a house for cash, you still have the choice on whether you want to waive the inspection and appraisal contingencies which would allow you to back out of you find issues with the home or if it doesn't appraise. But as mentioned earlier, the more contingencies you waive, the more attractive your offer is to the seller, but the higher risk you are taking on.
You will submit your offer (likely via your agent assuming you are using one) along with your proof of funds to demonstrate to the seller that you have the capability to close without obtaining a mortgage – whether you actually do or not is up to you.
3. Go Into Contract
If your offer is accepted, in New York, the seller's attorney will draft the contract for your attorney to review. Once all parties are in agreement, you will sign the contract and wire or send a check with your down payment to your attorney. The seller will then sign and you will be in full contract. From this point forward, the attornies will start the title search and prepare to close.
4. Prepare to Close
When obtaining a mortgage the bank will insist that the property is properly insured. However, if you are buying a house for cash, there will be no bank looking over your shoulder to make sure you've done everything properly. So it is important to contact an insurance company in order to obtain homeowner's insurance that will go into effect as soon as you close on the property. The last thing you want is for your new investment to be unprotected.
When the title is clear and the closing has been scheduled, you'll typically want to do a final walkthrough of the property 24-48 hours before closing to ensure the property was left in the condition you are expecting. If the seller was moving, did they remove all the furniture that was expected, did they leave the appliances that were expected, etc. This is your last chance to make sure the property is left in the condition specified in the contract.
5. Close on the Property
The day before closing you will wire all the funds to your attorney so they can clear in their account. At the closing, once everything is signed and squared away, your attorney will wire the funds or issue certified checks to the seller. Even though you opted to buy a house for cash in this scenario, the seller still leaves the closing with wired or certified funds just like they would if you had gotten a mortgage.
How Do We Know So Much About Buying a House for Cash?
In our business, we have purchased hundreds of homes for cash (not literal cash as mentioned earlier) and do this on a weekly basis. While we sometimes opt for financing or borrow money from a private lender, we mostly buy properties for cash. Even when we do choose to use a lender, we still go into the contract with a cash offer and have the ability to close for cash whether we obtain financing or not. Additionally, we waive all the contingencies that come with a traditional sale (inspection, appraisal, mortgage, etc.).
While real estate investors tout their ability to make "cash offers," what the sellers are really looking for is for a buyer who is willing to waive the contingencies of a normal sale. The houses we typically buy for cash are typically motivated for a couple of common reasons – the seller is looking to sell quickly, the house has issues that will scare away most banks, the house has permit or certificate of occupancy issues, or they simply want to sign the contract and have the certainty that the deal will go through.
If you are looking to sell your home for cash, contact us for a no-obligation fair cash offer.