If you are ready to sell your house in Long Island or anywhere in the country, you could be in for a stressful time. While there is a lot of general data available on the time it will take to sell your home, there are too many variables to give an exact answer for any location.
The good news for homeowners is that real estate trends for 2022 continue to be a seller's market. With the shortage of affordable housing and significant delays in the supply chain affecting the new home construction industry, home values continue to rise. This means that you are likely to get a much better price on your home in Long Island than you may have been able to get just a few years ago.
On average, the house on the market in New York sells in 109 days. That means that it stays on the market for 69 days and then you have a closing of 35 days. While this is a longer period than the National average of 82 days, the difference can be accounted for by the price discrepancies. The national average house sale is just under $400,000, while in New York and Long Island the average is closer to $700,000. This puts N.Y. homes in a more select price range.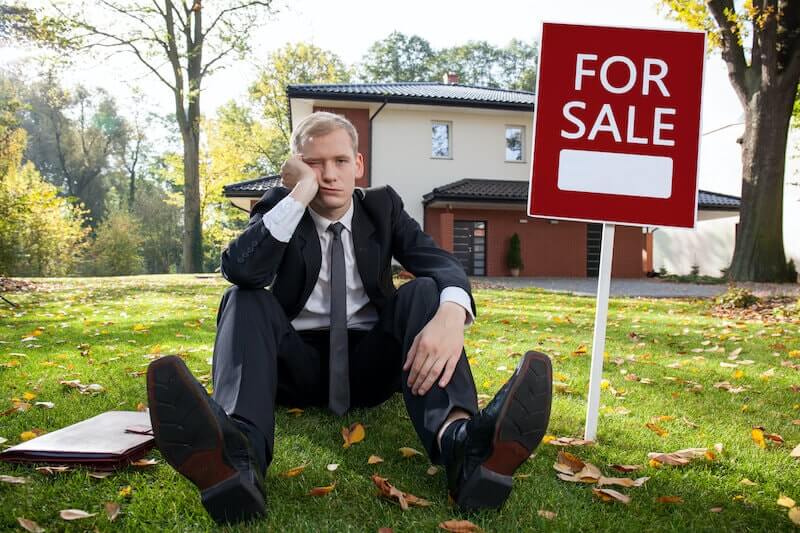 What Causes Longer Home Sales?
When a home is put on the market, the online listing will include the total number of days that the property has been on the market. In many cases, properties that have over 90 days on the market are more difficult to sell and entice buyers. One reason for this is that potential buyers begin to question if there are specific problems with a property that has been on the market long and try to avoid it.
There are many reasons that a home will sit on the market for longer than average. Those homes that are listed for 90 days or more are considered to be stale listings by real estate agents. It can be difficult for homeowners with a property on the market for too long to get a good selling price.
If you need to sell your home quickly, you may want to consider working with a real estate investor. These companies may advertise that "We buy homes New York", or "Cash home buyers Nassau County", and can help you with your property. Most cash sales close in less than one month.
Let's take a closer look at some of the main reasons why a house will sit on the market for too long.
Pricing
The most common reason that a house will sit on the market for too long is the pricing. Homeowners that set their price above the local comparable properties may have a hard time bringing in a buyer.
Stubborn Seller
Homeowners that dig their heels in and won't budge on the price or make other concessions to potential buyers often have their properties stay on the market for longer than average.
Hard Showings
It's a reality that some homes just don't show well. If the owners are unable or unwilling to do the necessary staging to improve their curb appeal, it may be difficult to draw interest from buyers.
Housing Market
The state of the housing market in your area will have a large impact on how quickly you sell your house. If there are a lot of other comparable houses on the market, you may sell your home slower than if there were more limited opportunities.
Poor Condition
Most potential buyers claim that they want to see houses that they can envision themselves living in. If a home is in poor condition and needs multiple repairs or renovations, the extra costs can scare away many buyers. If you need to sell your home in "as is" condition you may want to work with companies that buy houses in Long Island.
What Is the Current Market Situation?
Last year saw a dramatic increase in demand for entry to mid-level housing. With more families needing housing than ever before, the markets were heavily influenced by the 2020 pandemic and the economic crisis that has followed into 2022. With supply chain issues and labor shortages, the new home construction industry has also taken a huge hit. These factors have created a market that is short on properties and bumped up the prices.
Homeowners that are considering selling in 2022 have the advantage of a seller's market. For those that are in need of housing, the rising prices and shrinking availability can put huge pressure on the affordability of buying a home.
The forecast for 2022 is that interest rates will rise which might discourage some buyers. However, there are also calls for increased wages that will help to offset the expense of higher tax rates. The fiscal predictions in the housing market estimate that home values could rise nearly 20% more than in 2020. For many buyers, this creates a problem of sustainable home budgeting.
What Is the Condition of Your Home?
The condition of your home can drastically affect the price that you will get when selling. Don't underestimate the power of curb appeal and the effectiveness of your showings. Buyers in today's markets are savvy enough to tour your home with an inspector's eye and are likely to spot every small thing that is wrong. Having your home in its best shape can definitely help you get a better price.
Before you sell your home, it is helpful to have a full assessment done on your property. This will give you a more unbiased look at what your home is truly worth in the current markets. Many homeowners have spent many years in their homes and have a certain affection for the property that can cloud their judgment about its market value.
Homes that need small repairs may not see much of a drop in their offers, but others that need major fixes like a new roof or furnace should not expect to get the highest offers. Potential buyers will be factoring in the cost on their end before they decide to put in an offer on any home that is not in good shape.
When you are listing your home, you need to do a bit of work to make sure that it is looking its best. Never underestimate the power of curb appeal. Most buyers claim that they have made their decision about a property before they ever walk in the front door. Some things that you can do to prepare your home for listing to help you get a better price include:
A fresh coat of paint inside and outside
Tidy your landscaping
Paint your garage door and front door
Powerwash your home
Clean out your gutters
Stage your rooms
Clear out clutter
Make all small repairs
Are You Using an Experienced Real Estate Agent?
While there are some advantages of selling a house by owner or to a cash buyer, many homeowners prefer to take advantage of the expertise of a professional real estate agent. If you aren't familiar with the real estate market or anything to do with selling a house, a real estate agent can be a great advocate to have on your side. Let's take a closer look at a few of the benefits of working with an experienced real estate agent:
Rapport With Other Agents
A real estate agent that has experience in the market is likely to have worked with many other buying agents. This relationship can be helpful in finding potential buyers and making a closing sale.
Market Knowledge
Professional real estate agents have intimate and extensive knowledge of the current markets.
Negotiation Skills
Experienced real estate agents have a lot of experience with negotiations and can help you to navigate the waters when you receive offers and how to get the best price for your property.
Can You Sell Your Home to a Cash Buyer?
If you are looking to sell your house in a hurry, you may want to consider working with an investor that will buy for cash. Many owners that are changing locations for their careers, going through a divorce, or bankruptcy have reason to get their house sold as quickly as possible. In most cases, selling for a cash offer is the fastest and easiest way to sell your home.
Working with a dealer that buyers homes for cash is fairly simple. A private investor will contact you to get the details about your home, then send someone to take a look at it in person. In just days, you will have a fair cash offer on your home. Even if your home is in disrepair or doesn't show well, you can get a cash offer. You will not need to do any expensive repairs when you deal with a cash home buyer. Cash home buyers will give you a price on your home as-is.
When you sell your house for cash, your deal can be done in just weeks instead of the months that it may take to sell it on the open market.
When Is the Best Time to Sell a Home?
Most homeowners want to know when is the best time to sell. While seasonality has a huge impact on your timing, each area has its own market peaks. In Long Island, most sellers choose to wait until the spring to put their homes on the market. Buyers tend to start their search for a new home in the early spring with the purchase going through mid-summer.
While it's not impossible to sell your home in the fall or the winter and there are some creative ways to sell a house, you can expect your listing to stay on the market a bit longer. Most families want to make their move final before the start of the new school year. Few buyers in the northwest are too interested in getting out in the snow and touring houses.
How Long Does It Take On Average to Sell a House in N.Y.?
There is no one definitive answer to when your home will sell once it is put on the market. If you choose to sell for cash, you may have a deal in less than a month. If you list at the wrong time of year or when the market is saturated with properties, it could take you more than 90 days to make your sale.
On average in New York, properties are staying on the market for 106 days. This includes the listing and closing times. While this is a bit longer than the national average due to the elevated listing prices in the state, it's not impossible to make your sale in less than 90 days. If you are listing your home on the market, take advantage of the skills of an experienced real estate agent to get you the right price for your home.