The circumstances of inheriting a house can be a sad time for you, and you're family. After making arrangements and reading the last will and testament, you may discover you are the estate's beneficiary and inherited a home. You're thinking about selling the inherited house but haven't been to the residence in years and have no idea what kind of conditions it's in. So you head over to take a look at the place and discover the property that you just inherited is full of stuff. The truth is you inherited a hoarder house. Deciding what to do next can be overwhelming. Should you remove all the items and repair the house or just try to sell the home? Below we go over the next steps you should take to fix or sell your inherited hoarder house in New York to help you decide which option is best for you.
Should You Fix Or Sell An Inherited Hoarder House?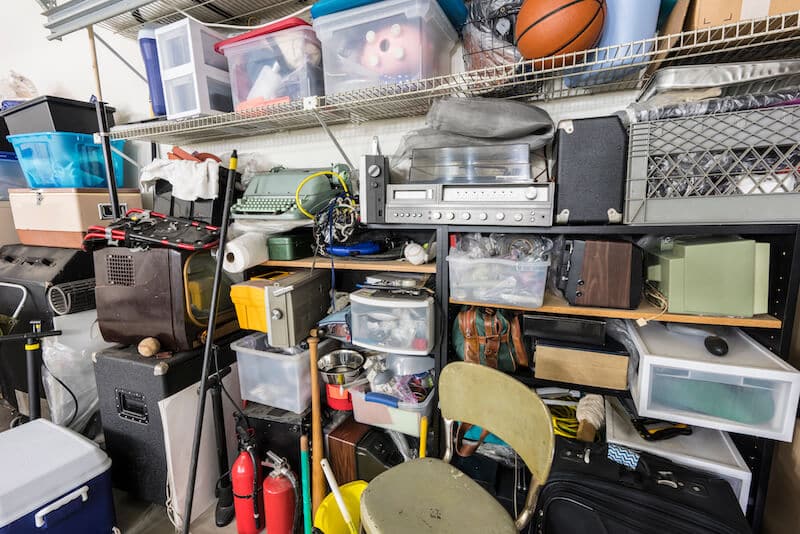 What is Hoarding?
Usually, when a family member is hoarding, it can go unnoticed for years and come as a big surprise to a family once they go into the home. Hoarding is a medical disorder declared by the American Psychiatric Association in 2013 and affects 2%-6% of the population – men usually more than women. Sadly, older age groups are often seen with this disorder, generally between 55 and 94.
The items being hoarded can be clothes, magazines, newspapers, stuffed animals, trash, pets, electronics, paper, and plastic bags, and so much more. A majority of items don't seem to have a purpose or monetary value but to a hoarder, holding onto those items has great importance.
Hoarding is a condition people are usually very embarrassed about, even to the point that no one has been to the person's house for years. They will even sacrifice their comforts to accommodate all the stuff, creating pathways through the home and only having minimal living space.
Once all that stuff piles up, it makes it harder to access certain parts of the house. Things in the home can start deteriorating quickly, and issues like pests, water leaks, and mold can go unnoticed. Plus, any extra money could be funding the hoarding problem, leaving very little to no money left to make any repairs. It's not uncommon for hoarders to live in houses with clogged drains, electrical issues, leaky roofs that create unsanitary living conditions, and fire hazards.
It can be a disheartening time to discover a loved one has been living in a hoarder house for years unbeknownst to any family members until inheriting the home. But before you get too overwhelmed, there are some ways to handle this situation you have found yourself; they may just include some hard work or a different selling strategy.
Steps to Prepare A Hoarder's House in New York
The first thought that comes to your mind is, "what would be the easiest way to sell this hoarder house?" For you, selling the property as-is would be ideal. That would take the burden off you to clean out the home and make improvements but selling a hoarder house in New York usually won't sell as-is. People will see the amount of work the house will need and the task of cleaning it out and likely pass on your listing. One option is to clean out and fix the hoarder home yourself to increase your chances of selling. This will be the most challenging option and most time-consuming. But if you and your family are willing to put in all the work, this is what the steps to preparing a hoarder house in New York would look like:
Clean it Out
Cleaning out a hoarder house is more involved than just removing items and throwing them away. Here are a few things to have on your cleaning checklist when getting started cleaning out the property.
Evaluate the property for any hazardous dangers before you start cleaning. If you encounter critical issues, you should consider calling a professional remediation company to address the problem. Unsafe conditions to be mindful of include:

Mold
Hazardous materials
Rotten waste
Sharp objects
Water leaks
Feces
Pest or animal infestation

Wear protective clothing, including an N95 mask or dust mask, hard hat, disposable gloves, protective footwear, or boots.
Remove all the junk from the house. You may want to hire a New York-based professional cleaning service specializing in hoarding situations if you feel overwhelmed. Calling a junk removal company and getting a dumpster would be helpful too. Any items you intend on saving, make sure to create a staging area to place those things to the side.
Start deep cleaning with heavy-duty cleaning supplies. You might need trash bags, boxes, bins, shovels, brooms, mops and buckets, dustpans, all-purpose disinfectant cleaners, bleaching clothes, and towels. Cleaning supplies can cost anywhere from $60- $400 depending on the size of the home and the extent of cleaning needed at the New York hoarder house. Usually, starting from the top and working down to the bottom is the best approach to clean. You can always hire a professional cleaner to ease the cleaning process, which can cost $100-$150 per person for 8 hours of deep cleaning.
Walk-thru the property and examine the interior for any repairs or maintenance items. This could include damaged flooring, moldy surfaces around plumbing fixtures, countertops, structural damage, and missing smoke detectors. This step will give you an idea of what type of repairs you're dealing with here.
When it comes to a hoarder house, people usually aren't looking for one to buy as-is. So it will be up to you to handle cleaning the entire house and yard of all the hoarded items. To accumulate a lot of stuff can take years, so you can imagine how long it may take you to clean out this space. Honestly, the process could take weeks or months to get the house into a condition that is ready to sell. And that's if you have extra time to dedicate to working on the place. You and your family members will need to figure out what stuff you want to keep or get rid of, and hiring a professional organizer and junk removal company would be helpful in your enormous task at hand. The average cost to clean a hoarder house is $600- $4,000+.
Make Necessary Repairs to the Property
Once all the cleaning is complete, and you've walked through the home's interior to get an idea of what fixes will need to be done around the house, it's time to confirm that with a home inspection. Some of the property issues can be obvious, but doing a simple scan may cause you to miss something. The best thing to do is hire a home inspector; that way, you know exactly what is going on with the residence inside and out. A buyer will request a home inspection anyway, so getting one done before will help you better understand what their home inspection could relieve. That way, you can get a jump on all the repairs that need to be made.
To hire a home inspector in New York costs between $400-$700 depending on the size of the inherited hoarder house.
It is not surprising while you're making repairs to discover further issues besides those listed in the home inspection. For instance, if you're replacing the baseboards, you may find signs of mold that a professional will need to treat. While removing the flooring, you notice structural issues. Prospective buyers are cautious about purchasing a home without repairs, and lenders are hesitant to finance a loan on a home that's not in good condition, so it will be necessary to make these renovations.
Once you have a list of repairs, reach out to multiple contractors to get several quotes to compare costs. Don't forget to find out if any of the renovations will require permits to complete. Some contractors might charge you less because they aren't accounting for getting permits for the job. Doing unpermitted work can be a money saver for you but can cause legal issues down the road. If you were to have unpermitted work done to the hoarder house and then sell the property and the next homeowner finds out, they can sue you. If you have unpermitted work done and during the buyer's home inspection, something is pointed out, you could be required to fix the issues again and request a permit to do it. Doing unpermitted work isn't worth the headache, no matter how much it could save you.
Update the Hoarder House to Modern Standards
Besides neglected home repairs, usually keeping the house up-to-date is an afterthought. The previous owner may have owned the house for decades, and then as the stuff piled up, it was hard to get around the residence. Appliances in the home may not work anymore. The drains could be clogged, the water heater and furnace may need to be replaced too. The outside of the house may be in a pretty bad condition, as well. The previous owner may not have replaced the rotting wood, the roof, or touched up paint in years. Thankfully, these things will be brought to your attention after your home inspection, but it will be your responsibility to fix and replace them. When it comes to selling an inherited hoarder house in New York, you will need to make several upgrades to modernize the home to help make it attractive to buyers.
To give you an idea of what some standard updates and fees would look like, here is a list of some typical renovation costs in New York.
Water Heater- repair $650, replace $1,500-$4,000.
Roof- repair $750- $1,100, replace $7,000-$9,000.
Foundation- repair $3,300- $6,000, replace: $20,000- $70,000.
Eclectic Issues: $300 for basic repairs, to rewire an entire house can cost up to $15,000.
Water Damage: average cost to fix $2,300.
Repair Pipes or Instal New Piping- ranges from $560 for a drainpipe to $2,500 for a sewer line repair.
Septic System: repair-$1,500 to replace $5,500.
Mold Removal- $2,400-$2,900.
Termite Damage: $540 to treat and to fix termite damage can cost on average $8,000.
When making updates to the hoarder house, make sure to hire professionals familiar with building codes; most of these improvements or repairs require permits. Check out your local New York county building codes for more information.
Decide How You're Going to Sell The Hoarder House
After all the cleaning, repairs, and improvements are made, it will be time to figure out what selling strategy you're going to use to sell the property. There are a few options you can use to sell.
Hire a local real estate agent
List for-sale-by-owner (FSBO)
Both options have their advantages and disadvantages; either one also doesn't guarantee a quick home sale. Other factors to consider are the time of year, and the current real estate market in New York, which can play a role in the success of a fast home sale.
Hire a Local Real Estate Agent
Say you decide to sell with a real estate agent, what would that look like? First, you need to make sure to do some research and come up with a list of realtors you feel comfortable working with. Make sure to find top-quality agents with experience, but that isn't too busy to make selling your house a priority. Once you figure out who you would like to list with, you will then sign a listing agreement that locks you into a 3-6 month contract to work with that agent. You will also agree to pay a commission of 5-6% to the realtor upon the sale of your home. Usually split between two agents, the buyer's and seller's agents. If you were to sell the inherited hoarder house for $450,000, you would be looking at paying $22,500-$27,000 (5-6% commission) in commissions. This is a big deal since you've already put so much money into getting the hoarder house into an even saleable condition. That doesn't go without saying; an agent does take care of all aspects of the home selling process, which is very helpful. But for some people, they don't see it being worth that amount of money. Instead, they choose to find another selling strategy and list it for sale by owner instead.
For Sale By Owner
Honestly, selling FSBO isn't as easy as it would seem. Make sure to do your research and learn how to sell a house by owner in New York if you haven't done it before. What you will soon find out is that selling on your own requires a lot of work. Everything a realtor usually handles will fall to you to take care of. You will be in charge of coming up with a competitive listing price, a marketing strategy, speaking to interested buyers and their agents, negotiating, answering questions, and hosting open houses, as well as lots of paperwork. And it may come as a surprise to find out if a buyer uses an agent to purchase your home, you may be paying for their agent's commission. The cost of their agent's commission is usually 2.5-3%. Using the same sale price listed above ($450,000), you would be looking at contributing $11,250 – $13,500 towards their commission. But you would still do all the work on your end.
You can still choose to use one of these options to sell your New York home, but it's just important details to keep in mind. If you'd like to find another strategy to sell your house, consider selling the hoarder house as-is to a cash investor instead.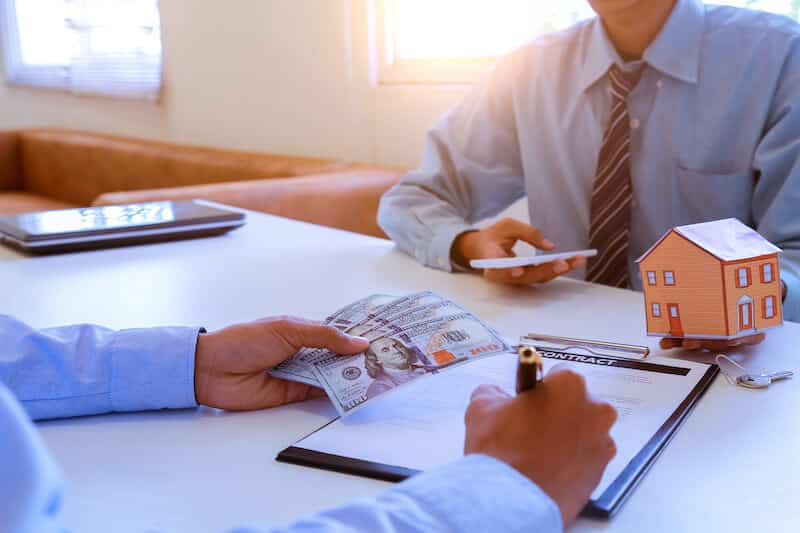 Sell The Hoarder House As-Is To A Cash Investor
If you feel overwhelmed with all the work involved and the financial strain of doing all these repairs, you are not alone. To sell an inherited hoarder house in New York will require you to remove all the hoarded items, clean, fix any issues, and make any updates to the home. Unfortunately, there is really no way around it.
If you try to sell the property as-is, you will likely discover that not many potential buyers are willing to take on a challenge like a hoarder house. It's not unusual for hoarder houses in New York to cost tens of thousands of dollars to repair, making them a difficult sell to an interested buyer.
Not to mention, getting the house ready will take a long time. Would you be able to wait until it's ready to sell financially? Or would you not be able to settle debts left by the estate? It may take months for the property to get to the point where you could even make improvements, let alone put it on the market to sell.
In truth, it might not make sense financially to spend the time, money, or energy cleaning up a hoarder house. It will take multiple hours of hard work in a property you're not planning on keeping.
Instead, another solution would be to find a local investor specializing in these types of housing restorations. You could sell the inherited hoarder house and get a cash offer. You won't need to spend thousands of dollars on repairs. Instead, you can walk away with cash and find a homebuyer to take care of the rest. You will also get money in your pocket faster than if you made all the necessary improvements and then list the house on the market.
Cash investors like Leave The Key Homebuyers are prepared to handle clean up, restoring, and even unanticipated issues a hoarder house in New York could have. At Leave The Key Homebuyers, we can offer you a quick solution to sell your inherited hoarder house.
We buy properties in any condition, with any challenge. Besides that, we do not charge agent commissions, services fees, or closing costs. We can make you an offer within 24 hours of you contacting us and can close in as little as 5 days, or if you need more time, we can work with your schedule and time frame.
Even after you go through the inherited house and decide what you would like to keep, feel free to leave it dirty with all the items; we'll handle the rest. There is no other way to sell your inherited hoarder house in New York so quickly and successfully than with Leave The Key Homebuyers. Save yourself the trouble and cost by getting a cash offer with Leave The Key Homebuyers today!
If you would like to get more information about how we can help and how we buy inherited hoarder houses in New York? Give us a call or visit our website for more details.
Don't get overwhelmed with the amount of stuff in the home or stressed by the costly repairs when you can easily sell the inherited hoarder house as-is to Leave The Key Homebuyers.