Do you know what your house is really worth? If you want to sell your house fast, you need to understand what it's real value is, not just to potential buyers but in the eyes of the housing market. Your house is usually your largest investment and most valuable asset and understanding it's true value will help inform so many decisions you make. Even if you just want to refinance or borrow against your house, the value is going to have a major impact on that.
So how do you determine your home's value? Truth be told, determining the value of a house can often be considered more of an art than a science or mathematical equation. Let's say that you decide you want to refinance your mortgage. The bank is going to ask for an appraisal of your house and the appraiser is going to use their expertise to provide a value that you can borrow against. But if you send ten appraisers out to consider the value of your house, you might get ten different values back. And if you want to sell your house fast and you hire a real estate agent, they are going to create a comparative home value based on other home sales in your neighborhood, which is going to be a different value altogether. What someone is willing to pay for your house doesn't always equal the "official" home value.
But if you want to start figuring out what the value of your house has been over the years, there are actually a number of real estate resources out there that can help you. It's important to note that these sites are giving you estimates and not legally binding in any way. If you want to sell your house, you can bypass all of this potential confusion by selling your house as-is to Leave the Key Homebuyers. But if you want to try to sell your house on the open market, here are some of the top free home value estimators to consider.
Know What Your Home Is Worth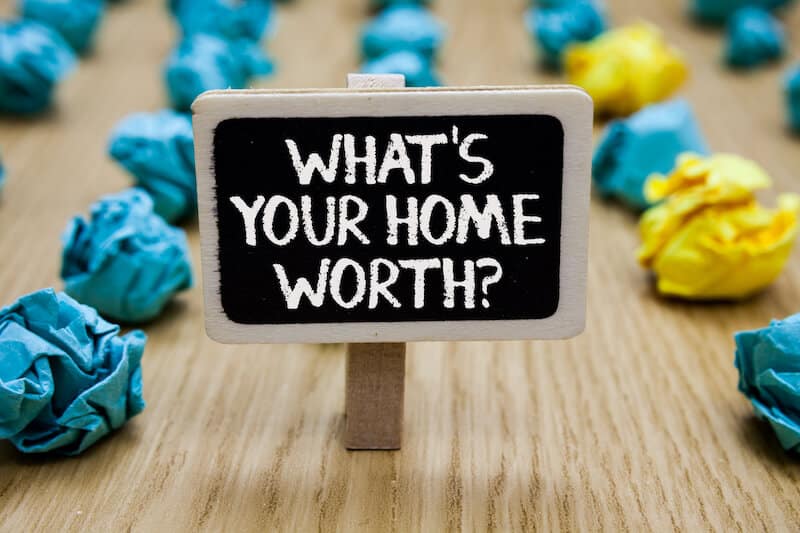 Why Is Your Home Value Important?
You might be thinking that it doesn't matter what your home value is if someone is willing to buy your house. But there are actually a lot of good reasons to be intimately aware of the value of your property. It's a critical part of your overall financial goals and decisions. Some of the many reasons your home value matters include:
Your Home's Investment Value. As the years go on, it stands to reason that your house will increase in value (barring any damage or extreme changes). So when the value of your house goes up, your own net worth goes up as well. If you sell your house at a later date, you will theoretically be making more money on your investment.
Your Borrowing Power: If you ever decide to borrow against the value of your house, it stands to reason that the higher the value, the more you can borrow. So if the value of your house goes up over time, you'll be able to enjoy a higher line of credit or home equity. That can come in handy if you decide to refinance and want to use the extra money to send your kids to college, buy a new car, or remodel the property.
It Affects Your Taxes: Property tax assessment value is an important factor to remember because you don't want to pay taxes on incorrect home values. That can get you into trouble with the IRS and you certainly don't want to draw their ire.
Your Home's Resale Value: If you are considering selling your house in the foreseeable future, the value is one of the most important things you need to know. The local housing market is going to fluctuate, but if you have a strong sense of your home's value then you can weather some storms and be more nimble with potential buyers.
It Affects Estate Planning: Being clear about your home's value can be critical if you're in a situation that involves estate planning or elder care planning. When you get into issues like inheritance and passing homes to generations, you want your information to be as correct as possible.
It Affects Homeowner's Insurance: Do you know if you have enough homeowner's insurance on your house? If you know the true value of your house, there won't be any problems if something occurs. The last thing you want is to find out you don't have enough insurance coverage because the home value was misunderstood.
The Top Free Home Value Estimators
There are lots of places where you can get a quick estimate of your home value. Leave the Keys can help you out very quickly as well. But if you're looking for online estimator tools, consider these ones:
Zillow: If you go to Zillow and type in your address, it will probably show you a "Zestimate" for your home. They also let you sign up and receive updates on your home's estimated value as it changes.
Redfin: They'll give you an estimate of your house's value when you enter the address into the search tool. Click the link for "See Home Estimate" and you'll see it. They also provide a breakdown of how they arrive at that estimate.
Realtor: Another site where you simply enter your home address in the search tool and then select "Home Value" in order to see their estimate. You can also sign up and "claim" your house on their site, which provides you with home value updates.
Real Estate ABC: This site may look simple but once you enter all the info it needs, it will not only provide you with your home's value but it will also provide you with as many as 30 comparative addresses for recently sold homes.
Eppraisal.com: Another site where you just enter your home address in the search bar and you'll get a home value estimate very quickly. Interestingly, they will also provide you with the Zillow Zestimate and there is often a bit of a difference.
Get Your Home Value From Leave the Keys Homebuyers
All of these resources will give you the basic information you're looking for when it comes to home values. But remember, if you were to proceed and work with any of them to sell your house, you'd have to pay a real estate commission fee on the sale price. That's a big chunk of change to give up, especially if you're in a financial bind.
Another option is to contact Leave the Keys Homebuyers. Once we have the information we need, we can give you a solid home value number backed up by data. Then, we can make you a fair offer to buy your house for cash. There's no obligation but if you accept we can then close on your terms, as fast as you want. No more worrying about appraisals, inspections, and other aspects of your home value. No need to concern yourself with repairs or cleanup either as we buy your house in its current condition. If you want to find out more about the true value of your house and how much cash you can get for it right now, contact us today!