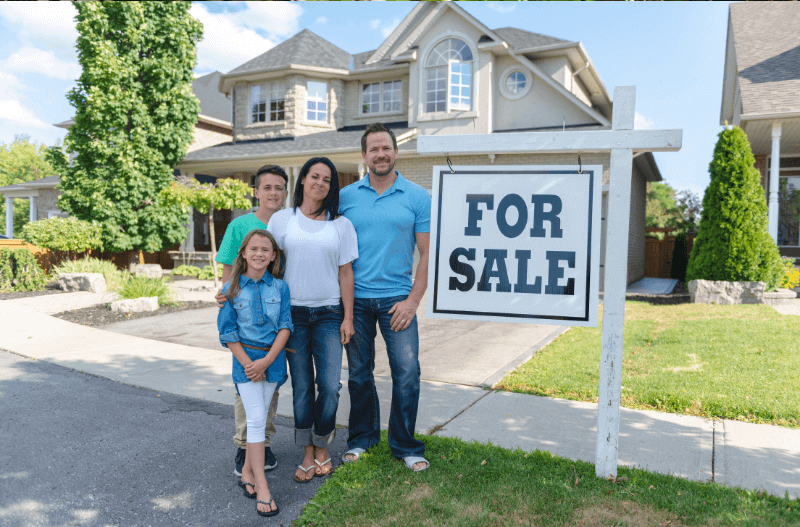 Trying to sell your home can be a tough time because you have to juggle so many aspects. You need to set a sale price and consider a home inspection.
You have to decide if you'll hire a real estate agent, which means you need to calculate the agent commission into your asking price.
Regardless of the housing market, you can find a way to sell a house fast in New York. There are several cheap ways you can sell a house, which usually ends up being the quickest option, too. Read on to learn a few ways to sell your house without stress.
Cheapest Way To Sell a House
Many homeowners find that it costs them money to sell a house, with the final cost often as high as 10% of your final sale price.
It's easy to see where the money goes when you consider the agent fees, like the real estate agent commission and costs associated with the buyer's agent.
You also need to spend time conducting research on market value from Zillow and recent home sales in your area. If you're in a seller's market, you can make money on a home sale, but it's not always the case.
Check out this list to find the cheapest way to sell your house:
Selling to a home-buying company
Selling to an investor
Selling to a cash home buyer
Selling to a home-buying company is one of the quickest ways to eliminate the stress of selling a home. They take the property as-is, so you don't have to sink money into upgrades and renovations.
There's no need for tasks like repainting the front door or landscaping to increase curb appeal. You can make more because you don't have to pay staging costs.
You can find this type of company anywhere. For example, we buy houses in Queens and know the area, which ensures you'll get a fair value offer for your home.
Selling a House to an Investor
Listing a home for sale by owner (FSBO) means you don't have to deal with a realtor, which means you get a bigger portion of the home sale price.
However, for FSBO homes, you'll have to do a lot of the work yourself, like determining the home value and doing everything a seller's agent would typically do.
You can sell to an investor instead of the next homeowner. This home sale means the buyer will most likely be the landlord and rent the property to make money from it.
Investors may also update the house and turn around to sell it to someone else. This process is flipping, and the investor makes a profit from their effort.
Finding investors to buy your house isn't hard—many will contact you after you list your house. Since they won't live in the house after they buy it, they don't care as much about its appearance.
They want to offer you the lowest price so they can put money into renovations and then sell it for a higher price, making the biggest potential profit.
Some investors may wait until your house stays on the market for a few months. At that point, they can offer a lower asking price, and you're more likely to take it. It may be frustrating to get less money for your house, but you should weigh the pros and cons.
If no one else has made an offer, you don't have any money. It's better to sell and make money than continue to wait.
It's cheap to sell to an investor because you don't need to update your kitchen or bathroom; they'll do that later if they want, ensuring it's the latest and greatest so they can sell it at a higher price.
Many investors buy in cash, but others may have financing ready so they can quickly buy your property before you get another offer. If you don't want an investor to rent out or flip your property, the next cheapest way to sell a house is by finding a cash home buyer.
Selling a House to a Cash Home Buyer
Some home buyers have cash on hand to buy a house at the listing price. They may use a realtor or incur attorney fees, but that's a flat fee they include in their budget. Those factors may impact their asking price, so you might get lower than what you intended.
Another type of cash buyer may offer the listing price but ask you to pay closing costs, so be open to the possibilities.
There are many cash home buyers in NYC, so you can get several options before committing to a sale.
The process of selling a house for cash isn't too different from a standard home sale, so you shouldn't worry about additional tasks to complete the deal.
The benefits of selling to a cash home buyer include less risk because you know the buyer has the money. You don't have to hope they get financing.
Many sellers lose a deal at the last minute because the buyer can't get the loan they intended. That situation means you wasted time and have to go through it all again with another buyer.
While a cash offer may be lower than your asking price, the lack of financing risk makes it a sure thing.
A cash offer on house is better because you get the money right away instead of waiting months for the paperwork to clear. The actual sale is faster, too, since you don't have to go through mortgage underwriting.
The process of using cash means there is less stress involved. You won't have to wait while the buyer goes through the mortgage and lender process, which costs time and money. You can work directly with the cash buyer instead of getting other agents and financial institutions involved.
If the buyer found your house on their own, and it was an FSBO home, you don't even have to deal with realtor fees, meaning the buyer can pay less in cash, and you'll still make money from the sale. Once you file the appropriate documents, you can sell a house for cash in just weeks.
Ways To Speed Up Your House Selling
These home-selling tips will help you find the fastest way to go, from searching for a listing agent to completing the home sale.
Be open to all types of potential buyers. You might think you want a family to buy your home so they'll love it like you did.
Turning down an investor might mean you pass on a sale. If you don't have time to stage the home and wait for interest, consider selling to a home-buying company so you're not responsible for a property you want to offload.
Consider being willing to take on some fees yourself. For example, you might offer to cover transfer taxes on a cash sale to sweeten the deal.
The buyer will not have to factor those costs into their budget, making them more eager to complete the sale since they get a deal in the process.
Setting the right price is crucial for selling your home fast. If you price it too high, no one will want to make an offer because the cost is more than the home's value.
However, pricing it too low means you'll lose out on potential profit. Always check local comps to ensure you set a balanced price that will generate interest without your house languishing on the market.
While you might feel tempted to do it all on your own, sometimes it's worth the commission fees to hire a top listing agent.
You won't have to do the legwork of preparing the house and finding buyers because the realtor will handle it all for you. They'll help set the right price and will field deals, simplifying the process.
Declutter the house to a certain degree unless you know you'll sell it as-is to a home-buying company or investor.
You don't need to repaint the interior or refinish the wood floors, but eliminating junk around the house will make it look nicer, making it appealing to potential buyers.
These tips give you an idea of how you can take steps to speed up the process of selling your home. However, every sale is different.
For example, you won't need to clean or hire a realtor if you plan to sell your property to a home-buying company. Even some investors don't care about the state of the house if they want to flip it for profit. Follow the tips that will benefit your sale.
Final Thoughts on the Cheapest Ways To Sell a House
Forget the hassle of needing to declutter for an open house! You can streamline the selling process regardless of the real estate market by selling to a home-buying company, an investor, or a cash buyer.
Use the tips above to eliminate the stress and get rid of your property in the cheapest way possible. If you need to sell a house fast in New York, give us a call. We're always looking to buy houses Queens residents want to sell without added expenses.