Don't let anyone tell you that Manhattan is the only place in New York for lots of family fun and things to do. In fact, you don't even have to leave Nassau County in order to find plenty of fun things to do with your day, whether you're looking for outdoor activities, great places to eat, the finest shopping centers around, cultural and artistic epicenters, and much more.
Nassau County encompasses all of western Long Island and borders Queens to the west and Suffolk County to the east. One of the most centralized counties for anyone commuting to and from New York City, it's an ideal place to raise a family and find an affordable place to call home in the area. And if you're considering buying or selling a house in Nassau County, consider giving us a call to see if we can help you. 
There's also so much happening here no matter the time of year. Between the sandy beaches, colonial history, rolling hills, and modern amenities, Nassau County has something to offer everyone. And just because the coronavirus has put a lot of activities on hold, that doesn't mean there still aren't opportunities for you to take advantage of now or plan for the near future. Whether you're a young professional, a family looking for fun, or seniors who want to stay active, let's take a look at the 15 best things to do and places to go in Nassau County, NY.
Here Are The Best Things To Do In Nassau County, NY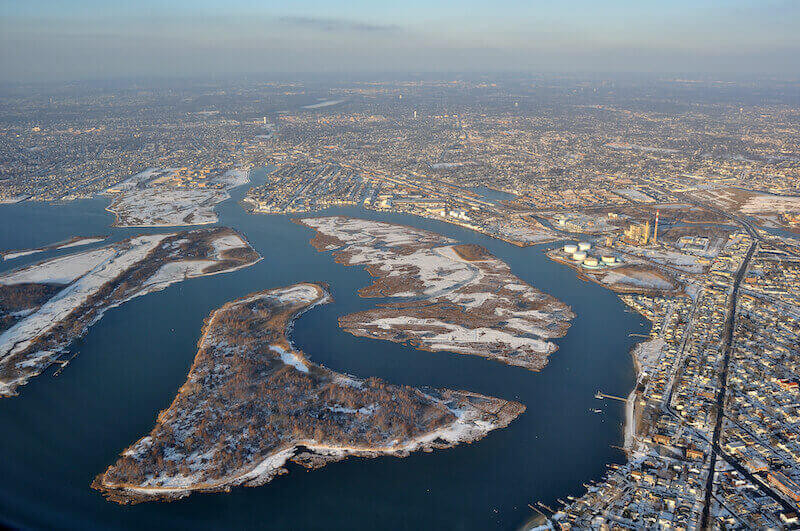 Outdoor and Fun Activities
Nassau County has so many fun, outdoor activities and places on Long Island to visit that you'll need to know about. From old battlefields to vintage mansions to family-friendly hot spots and nature trails, there is no shortage of spots to head outside and enjoy yourself. Let's take a closer look at some of them.
Jones Beach State Park
No visit to Nassau County or summer spent here is complete without a visit (or many visits) to Jones Beach. It's the most popular oceanfront destination on Long Island and with good reason. Found on the border of Nassau and Suffolk counties, Jones Beach stretches for 17 miles of sandy fun. There are around 350 homes found here, making it the least populated barrier beach on Long Island. Take a drive along Ocean Parkway to enjoy the sights and sounds as you run the entire length of the beach. Along with beach activities such as swimming, sunbathing, and surfing, you'll also find a marina, boardwalk, swimming pool, nature center, fishing piece, mini-golf, and amphitheater where big-name concerts are held every summer. 
Old Westbury Gardens
Those who want to experience some old-world charm right here on Long Island will want to visit Old Westbury Gardens, an opulent mansion originally built back in 1906. Featuring classic architecture from the English Caroline era, this estate is open to the public and also features beautiful grounds, forests, ponds, and a bevy of unique antiques. 
Sagamore Hill 
Another unique historical stop you'll want to make here is Sagamore Hill, once the home of President Theodore Roosevelt. Referred to as his "Summer White House," Roosevelt would host events and spend important time here in the years during and after his Presidency. It features 83 acres of nature and buildings to explore. 
Bailey Arboretum
A wonderful stop for families and guests of all ages is Bailey Arboretum, a 42-acre site full of gorgeous trees, shrubbery, and beautiful flowers. Once horticultural enthusiast Frank Bailey's estate, the accredited-arboretum also includes trails and gardens outside that you can peruse at your own leisure. 
Long Island Children's Museum
The kids won't want to miss all the fun available at the Long Island Children's Museum. Here they'll find 14 interactive exhibits as well as live theater, artistic spaces, and daily activities that will challenge and delight them. There's also an outdoor water play area for when it gets warmer out. 
Wine and Dine
If you're looking for places to get a great meal or find a refreshing beverage on a hot day, Nassau County has plenty of that to offer. Let's take a look at some of the best spots for food and drinks. 
Copperhill
Copperhill, located in Willston Park, is considered by many as one of the top restaurants in Nassau County. This modern American kitchen and taproom are all about upscale dining in a casual and comfortable environment. Located inside a 125-year-old Victorian farmhouse, it offers plenty of rustic charm to go with a sophisticated menu and an interior that feels very modern. There's also a porch dining room that's ideal for warm nights. 
Garden Social
If you're looking for something a little more down-to-earth, check out Garden Social, in East Meadow where you'll find American fare and a wide selection of beers inside a building full of rustic decor, reclaimed brick, and warehouse shelving. The outdoor beer garden is a great place to unwind and relax over a pot of mussels and beers. Inside, you'll find an upscale but approachable menu full of American classics and unique twists. 
Gatsby's Landing
Gatsby's Landing in Roslyn boasts an elegant ambiance and upscale service while diners get to appreciate a view overlooking Roslyn Pond. Their globally inspired menu also boasts plenty of New American cuisine made from seasonal ingredients often found nearby. A great spot for special occasions and memorable moments. 
Shopping and Malls
For those in Nassau County who are looking for the top spots for shops as well as the best places around town for gifts and glamour, you'll find plenty to choose from. Nassau County has a handful of malls and massive shopping centers to choose from, not to mention outlets and smaller retail centers where you can find a great deal. Check out these top picks. 
Broadway Commons
Broadway Commons is an ideal starting spot for shoppers on a budget. You'll find plenty of top stores around, including H&M, Children's Place, and Old Navy, and Macy's is the big anchor tenant found here. You'll also find a bowling alley and entertainment court to keep the kids busy. 
American Manhasset
American Manhasset is where to go when you're looking for something a little more upscale. This outdoor shopping center includes 60 retailers and 220,000 square feet of shopping space. There are beautiful gardens and sculptures to gawk at, or you can head inside to peruse the goods at Brooks Brothers, Gucci, Versace, Armani, and many other high-end shops. 
If you're not sure what you're looking for, head to Great Neck Plaza. You'll have over 250 shops and restaurants to choose from so you're bound to find something you like. Everything from art galleries to clothing stores to home furnishing to shoe repair can be found right here. 
Green Acres Mall
Green Acres Mall is another great spot for the shopper who wants to take their time to find what they want. You'll find over 200 stores here, including big ones such as Macy's, Best Buy, and BJ's as well as smaller retailers like Charlotte Russe, Express, The Children's Place, and more. There's also a Green Acres Kids Club that sponsors activities for little ones that can keep them busy while you make the rounds. 
Sunrise Mall
Sunrise Mall is a two-level shopping center featuring over 70 stores, many of which are well known. You'll find everything from Macy's, Sears, Dick's, and HomeGoods to American Eagle, Victoria's Secret, and Claire's. There are also quite a few dining options, including Dave & Buster's, Dunkin Donuts, and Sbarro.
Discover Arts & Culture
Looking to get a little culture? You can do that in Nassau County as well. The county is home to dozens of museums, art centers, and cultural centers. From South Shore to Hempstead and all over, you'll find plenty of cultural hot spots throughout the county. Here are some top picks!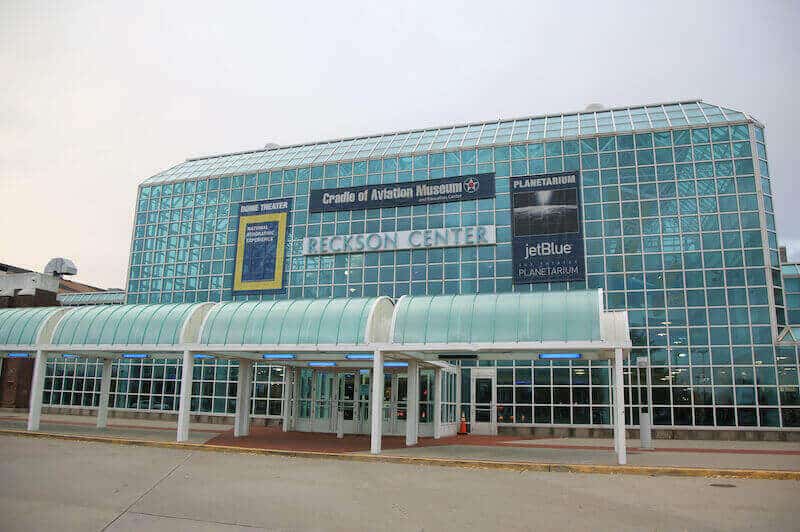 Cradle of Aviation Museum
The Cradle of Aviation Museum is dedicated to celebrating Long Island's important contributions to American aviation history. Along with the many exhibits and classic planes to see, there's also a planetarium and IMAX theater as well as educational programs to enjoy. 
Nassau County Museum of Art
The Nassau County Museum of Art is situated on the former Frick Estate, spanning 145 acres in Roslyn Harbor. Inside the main museum building, a three-story Georgian mansion, you'll find some of the most important pieces of art in the region. Don't be surprised to see exhibits featuring Picasso, Chagall, Goya, and others. Nassau County Museum of Art also includes the Sculpture Park, Formal Gardens, the Pinetum, ponds, woodlands, a restored trellis, rare trees, and walking trails.
African American Museum
Since 1970, the African American Museum & Center for Applied Art has been a place to showcase exhibits and works from local and national African-American artists. Located in Hempstead, it's home to many events throughout the year, including celebrations of Black History Month, as well as educational programs. The museum is also home to the African Atlantic Genealogy Society, Inc., which provides workshops and research opportunities for those who want to discover their past.
Watersports
While the South Shore is known for its beaches, the North Shore of Long Island is great for sailing and watersports with deep protected harbors. In the summer months, try something new like wakeboarding, waterskiing, and tubing and you'll be sure to have a great day on the water.