Need To Sell Your House Fast In Hempstead NY?
We buy houses in Hempstead in any condition for cash.
No repairs | No agents | No waiting | No worries




We Buy Houses In Hempstead NY
Sell Your Hosue Fast Without Real Estate Agent Fees Or Making Repairs. Find Out How Our Process Works Below.
We Are Leave The Key Homebuyers and we buy houses in Hempstead New York in any condition. We take a lot of pride in being ethical and honest in how we conduct business and we are always happy to answer all your questions in order for you to sell your house quickly. Whatever reason you need to sell your house in Hempstead, we want to help you. We'll buy your house as-is, so you don't even have to worry about calling a contractor to make repairs, cleaning service, or dealing with any middlemen like real estate agents. 
We buy houses for cash in Hempstead and can close on your schedule. We can close in as little as 7 days or as long as a few months if needed. You have the flexibility to sell your home in Hempstead on your terms, while still getting a fair price for your home.
We work with you to create an offer that makes sense for you and your family. We want to provide you with a fast and easy way to sell your house and avoid the hassles of listing and paying commissions. See how our home-buying process works below.
We are Larry and Jamell and we work together with our team to create the best offer for your Hempstead property.
How Do I Sell My House Fast In Hempstead NY?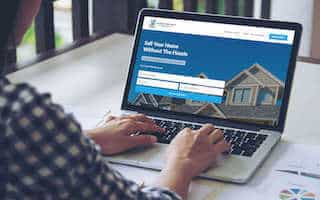 Call or submit your
information.
We review the details of your home
and set an appointment to meet
with you.
Meet with us at
your home.
We walk the property with you.
Once we view the property, we
present you with a fair cash offer.
We can close on your schedule,
whether you need a fast or slow
closing. Sell your house on your terms.
We Make Selling Your Hempstead Home Fast And Stress Free 
Selling your house in Queens doesn't have to be stressful. That's why when you sell to us, our process is fast and easy. We make sure you can sell your house fast and for a fair price. Find out how it works below.
"As-Is" Condition
We want to purchase your home regardless of it's condition and you'll never have to make any repairs. It doesn't matter if your home needs major remodeling or even a complete rebuild.
Sell Your House Quickly
We will make an offer within 24 hours of seeing your home. When we make an offer to buy your house, we can close on your schedule, in as little as 5 days.
No Agents or Fees
The traditional home selling process is awful. Agents parade dozens of buyers through your home and typically charge a 5% to 6% commission, adding up to thousands of dollars that you'll never see.
Sell Your House For Cash In Hemsptead
Selling your house on the real estate market can be stressful and time-consuming. Not only do you have to deal with real estate agents but you have to pay them a large commission fee for their services. You also have to open your house up for constant walk-throughs and open houses. You have to pay for major repairs, upgrades, and extensive cleanings to make the house market-ready. You might even have to pay for home staging, professional photography, and landscaping. And then when you actually negotiate with buyers you have to make concessions, driving down the price and money you'll get. To say nothing of all the closing costs. 
We want to make it easy for you and buy your house in its current condition for cash fast!
It's incredibly simple to sell your house, apartment, or condo in Hempstead for cash. Contact us today and we will take care of the whole process. We'll cut out any middlemen, make you a fair offer, and put cash in your hand so you can move forward with your life.
We Offer A Better Way To Sell Your Hempstead Home
Selling to Leave The Key Homebuyers
Competitive cash offer in 24 hours
No listing, prep work, or showings
Skip the repair work and deduct the costs
Choose any close date from 10-60 days
Risk of buyer financing fall-through
Hours of prep work and home showings
Manage repairs yourself
Uncertain closing timeline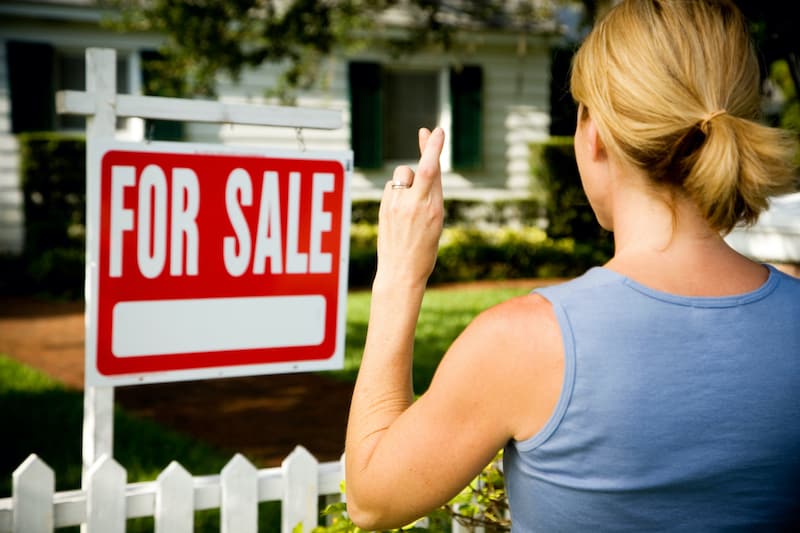 Avoid Realtor Fees And Commissions!
A lot of people think that you have to use a real estate agent in order to sell your house or that you have to list your house on the open market. That's not true! If you are considering selling your house in Hempstead and wondering if you need to work with a real estate agent, let us make you a fair cash offer before you sign any contracts.
Once you sign a contract, a real estate agent will lock you in for months, perhaps longer, with little recourse as your house sits on the market. You don't want to waste all that time and money when you could have gotten a no-obligation offer from us. We won't make you a lowball offer, we promise. We don't want to play games, we simply want to buy your house as-is for cash. If you decide not to take the offer, there will be no obligation. You simply don't have a good reason not to reach out to us today. 
We Can Buy Your House No Matter Your Reasons For Selling
We specialize in buying homes from sellers in a variety of different situations. Below are some of the most common situations that we encounter. We use our real estate and financial experience to find the best solution for every homeowner.
In Need of Repairs
Your house is a fixer-upper or in need of major repairs and you can't afford or just don't want to pay for repairs yourself.
Relocation
A new dream job popped up across the country and you need to sell your home to relocate.
Inheritance / Probate
You and the beneficiaries are looking to move on and sell an inherited property.
Foreclosure
If you are behind on payments, we can work with you to stop financial strain and prevent foreclosure.
Vacant House
Vacant homes can be a lot of work and a source of stress. Rather than let your property sit empty, you can sell the property and have some money in your pocket.
Divorce
A home is a difficult asset to deal with during divorce. Since you have no control how long it will take to sell, you risk holding up the completion of the divorce process.
No Need To Clean Or Make Repairs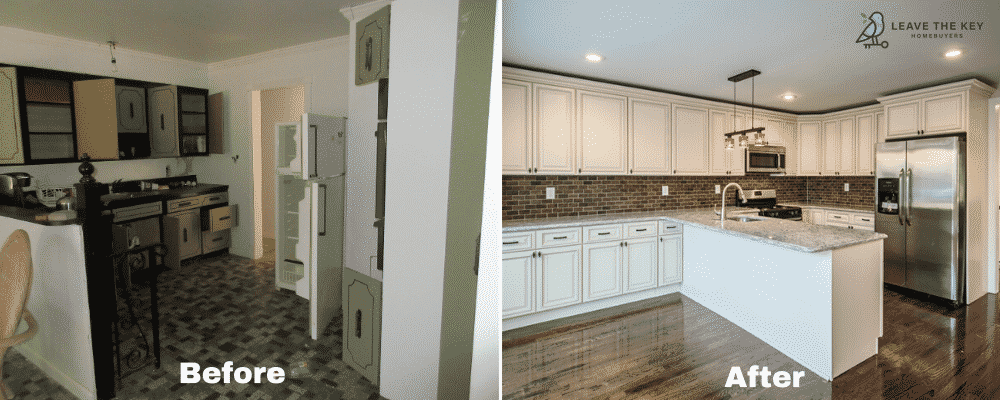 When we say "We Buy Houses As Is", we mean As Is and in ANY condition. You can leave your property in its exact condition, take what you want and we handle the rest. Even if your property has trash on the floor, unused furniture, food in the fridge, clothes, it doesn't matter how bad. We can still buy your house, no matter the condition.
Why Our Clients Love Working With Us, And You Will Too!
"It started well, it ended well. I would highly recommend them to anyone looking to sell their property."
Mrs. Waldman
Plainview, New York
"I was pleasantly surprised with the offer we agreed upon for my home. It was my first time selling and Leave the Key Homebuyers was a pleasure to work with. The interactions I had with them were better than any of the other cash buyers I called."
Gene M.
Suffolk County, New York
"Can't say enough good things about Leave the Key Homebuyers. They're super easy to work with, helpful, and knowledgeable. I would highly recommend them to anyone looking to sell their home."
Sabrina V.
Nassau County, New York
The Easiest Way To Sell Your House Fast In Hempstead NY
Whatever kind of property you own, you can sell it right now for cash and you never have to pay any commissions, fees, or closing costs. You don't have to make repairs, hire a cleaning service, worry about curb appeal, or pay for fancy photos. Even if your house is in a state of disrepair, we will buy it for cash from you. We don't need to wait for any inspectors or lenders in order to approve the sale, we can work directly with you to give you cash for your house fast.
Since we are local cash home buyers in Hempstead, we understand the area and can make an offer that works best for you and your family. Selling a house for cash in Hempstead is simple with our three step home buying process. Sell your house on your terms and get a FREE cash offer today on your Hempstead house today!
Hempstead, NY is the largest town in all of New York with a population of over 750,000 residents. Made up of 22 incorporated villages, Hempstead is one of three towns that make up densely populated Nassau County, which is found in western Long Island and borders Queens to the west, Suffolk County to the east, North Hempstead and Oyster Bay to the north, and the Atlantic Ocean to the south.

While technically a town, Hempstead is actually three times as large as Buffalo, NY, and, if incorporated as a city, would be the 18th-largest city in the United States. Hempstead covers over 191 square miles. Jones Beach State Park, which is one of the most popular beach destinations in the country, is located in Hempstead. Hofstra University's main campus is also found here. Commuters have plenty of options to get to Manhattan or Brooklyn from Hempstead, including the Long Island Rail Road and MTA buses. Nassau Inter-County Express (NICE) is a regional bus service that serves Hempstead and Nassau County.