If you are suddenly out of work or a medical emergency has left you facing foreclosure, the time it takes before your home is sold varies by federal law and individual state laws. No matter how long the court takes, it would be best for you to stop foreclosure from happening immediately.
Your mortgage lender will begin sending past-due notices, and if multiple payments remain unpaid, foreclosure proceedings may start after a period of time—usually 3 to 4 months.
The time it takes for a foreclosure to be completed can vary depending on the case's complexity and other factors. In this article, we'll discuss several last-minute ways to stop foreclosure from happening immediately.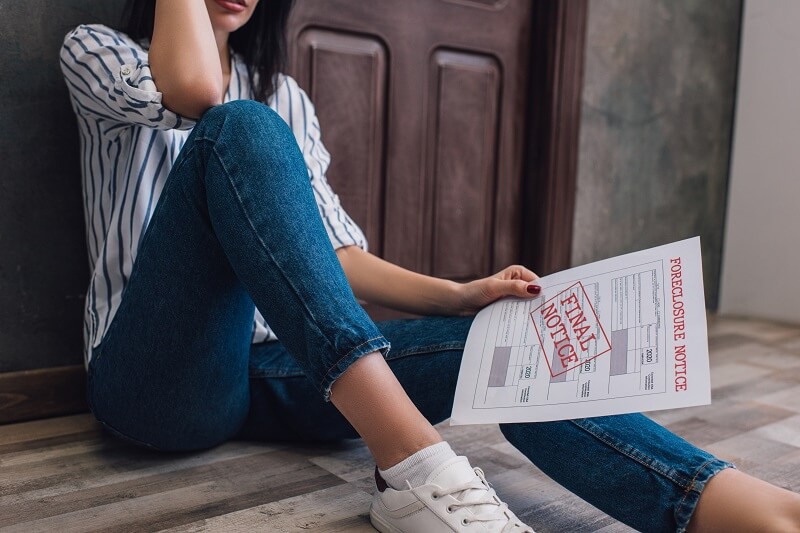 Help, I Need to Stop Foreclosure Immediately
Maybe you have a Long Island Colonial home that you can't keep up with, or sudden layoffs have you scrambling to pay the bills. Don't worry; instead, find a company with the promise "we buy houses Long Island" and get a fair cash offer.
Selling your home to a cash buyer is the fastest way to stop foreclosure. By selling your house for cash, you can avoid the lengthy process of listing, marketing, and waiting for a qualified buyer to make an offer.
Cash buyers are typically investors with the funds available to purchase your home and close the deal quickly. With cash, you can pay off any outstanding debts and move on without worrying about foreclosure proceedings.
You won't have to pay closing costs and other fees associated with traditional real estate transactions. This makes it easier for homeowners facing foreclosure to get out from under their debt without spending additional money on legal or administrative fees.
If you need to sell a house fast in New York to avoid foreclosure, look for reputable cash home buyers in NYC and the surrounding areas.
Ways to Stop Foreclosure Immediately
A lender seeks to reclaim their investment through the legal foreclosure process if you fail to fulfill specific terms outlined in their mortgage document. This could mean missing several monthly payments or not meeting some other obligation set by the loan provider.
The first step is pre-foreclosure and the notice of default. The notice will include information such as the name and address of the borrowers, details about the loan amount and payment due dates, and other relevant information. It also serves as public notice that the borrower is in default.
They take ownership and then resell the mortgaged property.
Although the prospect of foreclosure can be intimidating, it is not necessarily a dead-end. Numerous options and resources are available to assist you in keeping your home or loss mitigation options if staying put is no longer an option for you.
Declare Bankruptcy
You have to have missed payments before your mortgage lender initiates the legal proceedings necessary to have the house sold at auction so they can receive payment. Sometimes, filing for bankruptcy can delay or even save your property from foreclosure.
Upon filing for bankruptcy, the court will issue an automatic stay that prohibits creditors from attempting to collect debts. Additionally, all foreclosure activities must be halted by this order issued by the court.
If a lender has already scheduled a foreclosure auction for your home, the foreclosure sale will be delayed by three to four months unless they bring forth a motion to lift the stay. You may even have more time if such a motion to lift the stay is presented and approved, giving you space to make other arrangements.
Regarding bankruptcy, there are two main options: Chapter 7 and Chapter 13. The primary difference between the two is that Chapter 7 bankruptcy liquidates assets, while Chapter 13 is a debt reorganization.
Chapter 7 bankruptcy allows individuals and business entities to discharge most debts and get a fresh start quickly. This type of bankruptcy remains on your credit report for up to 10 years.
For many people, exemptions will not be enough to protect their homes from being liquidated in a Chapter 7 bankruptcy. Filing for this type of bankruptcy is thus an unwise choice for those unwilling to part with particular possessions, such as their homes.
On the other hand, Chapter 13 bankruptcy requires the debtor to make payments over time. This type of bankruptcy may remain on your credit report for up to seven years. Either type of bankruptcy causes your credit score to suffer.
Homeowners looking to keep their property have more options if they opt for the Chapter 13 bankruptcy path. With this kind of debt repayment plan, you can spread out any overdue payments over time as long as all other mortgage obligations are met regularly. Your home will remain safe from foreclosure, provided your repayments under Chapter 13 are made on time.
In either Chapter 7 or Chapter 13, you still have a chance to sell your house after filing for bankruptcy.
File a Lawsuit to Stop the Foreclosure
Bringing a lawsuit against your lender for foreclosure can be an efficient solution to lessen the worries most homeowners experience in this situation. This is more formally known as "mortgage litigation." A law firm specializing in foreclosures is your best bet.
A skilled foreclosure attorney can swiftly assess whether the lender has infringed upon the law and if it is plausible to commence legal action to end foreclosure procedures.
Apply for a Loan Modification
A loan modification is a change to the terms of an existing loan, typically made by a lender to make it more affordable for the borrower. It can involve:
Reduction in the interest rate
Extension of the length of the loan
Lower monthly payment
Better interest rate
Changes to make payments more manageable
A loan modification can be a helpful solution for homeowners struggling to make their mortgage payments and facing foreclosure. It involves changing the terms of an existing loan to make it more affordable for the borrower. Loan modifications may benefit lenders because they can reduce losses associated with foreclosure.
Deed in Lieu of Foreclosure
A deed in lieu of foreclosure is when a borrower voluntarily transfers the title of their property to the lender to avoid foreclosure. This process is often used when a borrower cannot make mortgage payments and wants to avoid the lengthy and costly foreclosure process.
Forbearance
Forbearance in foreclosure is an agreement between you and their lender that allows the homeowner to pause or reduce their monthly mortgage payments for a limited time. This can help struggling borrowers avoid becoming delinquent on their payments, as well as avoid foreclosure. During this forbearance period, the lender agrees to refrain from starting the foreclosure process.
Short Sale
A short sale in real estate is an offer of a property at an asking price less than the amount due on the current mortgage loan. The mortgage company agrees to accept the sale's net proceeds as a complete payment for the existing debt.
Sell to a Cash Home Buyer
Selling to a cash home buyer has many benefits, including:
Quick closing times and fewer conditions for sale
No appraisal costs, processing fees, loan fees, or credit checks
No risk of buyer financing fall-through
Faster closing process with no waiting for bank approval
Avoid expensive repairs and save thousands of dollars in real estate commissions
No need to allow groups of strangers to tour your home
Selling your home to a cash buyer avoids foreclosure. Cash buyers can purchase the property outright without needing financing or a mortgage. This means the home sale can be completed quickly and conveniently without needing inspections or lender approvals.
Cash buyers often offer certainty of sale, meaning you can be sure the deal will go through without any issues.
Seeking Legal Advice When in Foreclosure
When faced with the possibility of foreclosure, one key point to explore is if there are any justifiable grounds for contesting it. If so, you must decide whether or not enlisting an attorney will be necessary. In cases where a homeowner has no legal right and the foreclosure appears valid, hiring an attorney may not even be required.
When selecting an attorney, it's essential to assess your choice carefully. Take the opportunity to speak with multiple attorneys in your area, learn about their familiarity with comparable cases, and get their opinion on your foreclosure case. They'll be well-versed in foreclosure laws and may offer a free consultation to review your case.
It is important to note that lenders must follow specific procedures before they can legally foreclose on your house. If they fail to do so, they may be held liable for any damages caused by their illegal actions. If you believe that a lender has illegally foreclosed on your house or is attempting to do so, it is vital to seek legal advice as soon as possible to protect yourself from further harm.
A foreclosure lawyer can help you avoid foreclosure scams. These are fraudulent schemes that target homeowners who risk losing their homes. These scams often involve criminals offering false mortgage relief or foreclosure assistance promises in exchange for upfront fees. Typical schemes include low-interest mortgage loans, signing over home ownership, and renting a home from the scammer.
Conclusion
If you are facing foreclosure in New York or surrounding areas, there are several options for foreclosure prevention.
Declaring Chapter 13 bankruptcy can provide an automatic stay of foreclosure proceedings and give you time to catch up on your payments. Filing a lawsuit to stop the foreclosure is another option, as is applying for a loan modification.
For many reasons, selling your home to a cash buyer in foreclosure is the best option. First, it allows you to avoid the hassle of dealing with a traditional sale and all the associated costs, such as closing costs, seller concessions, and agent commissions.
Regardless of your route, acting quickly and contacting an experienced attorney who can help guide you through the process is essential.