We all dream of owning a house in perfect condition but the truth is that it's not often possible to keep your home in pristine condition. The median age of homes owned by individuals is 37 years and it keeps climbing. And with older housing stock comes a lot of homes with problems and repair needs. 38 percent of homes in the United States were built before 1970, per Freddie Mac. While there has been a boom in renovations in recent years, there are simply too many homes to maintain top-tier condition in each of them. A house is constantly in need of upkeep and care and that kind of never-ending cycle can spiral out of control for homeowners, especially those looking to sell.
When you do decide to sell your house in New York, market buyers are going to be looking for problems to give them a good reason not to buy. That can be big issues like leaky roofs, rotted wood decks, cracked foundations, or peeled wallpaper. But it can also be minor issues that add up, such as faucet leaks, old paint, or cracks in the floor. Whether you're selling a house with roof damage, selling a house with water damage, or selling a house in need of other repairs, you're in for a struggle when selling a damaged house on the open market. 
If you're looking to sell your house fast, you are going to need to counteract anything that puts it in a poor condition, especially in the eyes of buyers. Minor repairs and major repairs can turn off buyers, either way, so you'll want to do everything you can to avoid "fixer-upper" status. You can also avoid market buyer issues by selling your house for cash to an investor like Leave the Key Homebuyers. But either way, let's run through some special tips for selling a house in poor condition in New York.
Tips To Selling A House In Poor Condition In New York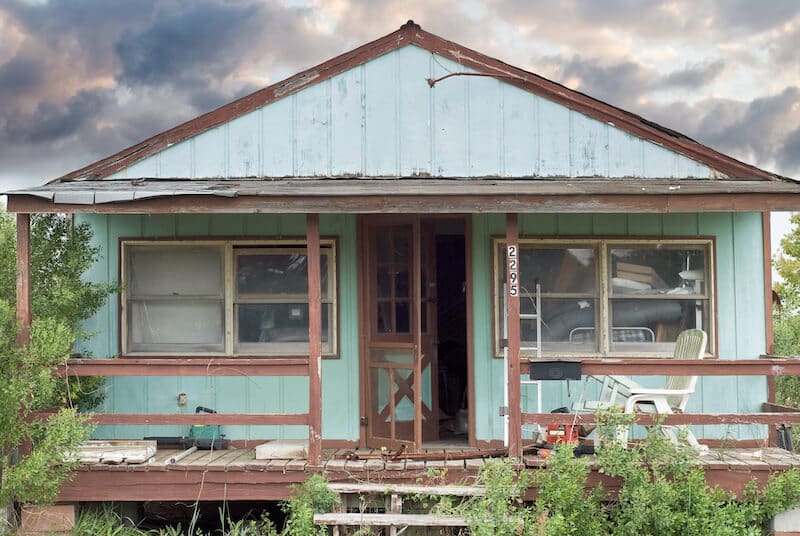 How To Tell If The House Is In Poor Condition
So, do you have a house in "poor condition?" That might be selective depending on different's people's ideas of what a home condition means. There are some specific categories that a house can be in to be considered in poor condition.
The most obvious category would be if a house is considered uninhabitable. If the house is rundown or in such bad condition that it would be harmful or even illegal for a person to live inside of it, that is an uninhabitable house in very poor condition. Often, a home inspector will note this in their home inspection report, citing specific issues that you can point to.
Those issues include serious electrical issues, such as outdated wiring or frayed wires. It can also include serious plumbing concerns like leaky pipes or broken water heaters. It can also include very bad roof damage, black mold, asbestos, termites, extensive foundation problems, chimney issues, or a non-functioning HVAC.
Another way you can consider a house in poor condition is it's habitable but there are enough problems that would garner a "fair condition" rating from your home inspector. These kinds of issues include electrical problems, plumbing issues, roof damage, wood rot, foundation concerns, an outdated kitchen or bathroom, damaged floors, or non-functioning fixtures. If you want to sell your house on the open market, you're going to want to take care of as many of these concerns as possible. If you can't or don't want to, selling your house for cash might be a better alternative for you.
The final way that your New York house might be considered in poor condition is if it's got "good bones" but has enough general repair concerns or maintenance needs that would cause some buyers to say it's not up to par. That's the kind of thing that could affect your offers and the final sale price significantly. The kinds of issues that could cause this include a messy interior, outdated rooms, stained floors, peeling paint, outdated finishes, untended landscaping, or weathered exteriors.
Can You Sell a House in Poor Condition in New York?
Regardless of how bad your house in poor condition in New York might look, you always have options to sell it. You've got three essential options to consider.
First, you can decide to do nothing and simply sell the house as-is. If you don't have the money to make improvements, don't want to make improvements, or want to sell your house as soon as possible, selling it for cash to a home buyer like Leave the Keys Homebuyers can be the most logical solution. Cash buyers buy houses as-is, which means they buy them in their current condition no matter what. They then take on the responsibility of making repairs and cleaning up. You'll get a cash offer that you can choose to accept and, if you do, you can close on your own schedule, often within a couple of weeks.
Another option for you is to decide to make low-cost fixes and cosmetic changes in order to improve your standing on the housing market without sinking too much money into the problems you aren't able to fix. By sorting out some of the easy-to-fix issues, you'll at least make a good-faith effort in the eyes of homebuyers and help keep your sale price up.
And finally, you can decide to take care of major repairs or upgrades in order to ensure that market buyers will be interested and make offers. It's unlikely that you'll get too many market bites unless you're making big repairs, so if it's really important that you sell your house on the market then you'll have to pony up and spend money in order to get offers.
Important Points To Remember
When you're trying to sell a house in poor condition, you're going to want to make sure you consider certain things beyond how the house looks or what buyers think.
First and foremost, you'll want to keep an eye on market conditions. Is it a buyers market or a seller's market? Are houses selling fast right now or is it a slow season? If the market conditions are hot, then you might not have to do as much work on your house in order to sell it. But if it's a tough time to find buyers on the market, you'll have to consider if your plans for repairs or renovations are enough to generate a sale.
Something else you'll want to consider is the competition in the housing market. You're going to want to look at comparable sales in order to see how your house measures on the housing market. If you can find several homes in your neighborhood that are similar and have recently sold, you'll have a really good sense of what your current value is at the moment. Make sure you consider if these other houses have the same number of rooms, have made similar upgrades, or are in similar locations as all these factors will make a difference.
You'll also want to consider your "value vs. spend" framework. Basically, this boils down to how much you'd be willing to spend to reach the maximized sale price you think you can get for your house in poor condition. Would you spend $10,000 in repairs in order to possibly get a sale price that was $25,000 higher than you'd get now? But you need to be sure about it because you don't want to spend $10,000 and only end up seeing a $5,000 boost in the sale price from where it would have been. It's all about return on investment and if you aren't getting a good return then it's not worth it.
Finally, remember that if you sell your house in the housing market you're going to have to get it inspected. And no matter how much work you do, chances are that the inspection report will uncover some issues that buyers will know about. You're required by New York State law to disclose these things anyway, but you'll need to know that this is going to come up in negotiations. Of course, if you're selling your house as-is, you won't have to worry about any of this.
Selling The House As Is
When you look at all the steps and costs involved with selling a house in poor condition in New York, it might not seem like it's worthwhile to sell on the open market. Along with all the costs mentioned above, there are also real estate commission fees and lenders to worry about. It's understandable that you'd want to avoid all of that.
Another option available to you is to sell your house as-is directly to a cash home buyer like Leave the Key Homebuyers. We buy houses as-is and we pay cash for them. You don't have to make repairs, upgrades, or do any cleaning up. You don't need to do anything to the house no matter what the condition currently is. You can sell the house in the exact condition it's in and get paid in cash for it. Just contact us today to get started!