One of the best ways to protect you and your family's assets is through a living trust, but what happens if you need to sell that property? While it's possible to sell a home that's part of a living trust, it's not as straightforward as the traditional home selling process is, if you can call that straightforward.
If you are selling property in a living trust but aren't sure where to start, we're here to help you with everything you need to know about it and eight tips for selling your real estate. It seems like a complicated process, but with a little education, it won't be as challenging as you might think it will be.
Selling a Property in a Living Trust
Before we can address selling a property in a living trust, it's important to know what that exactly is. A living trust is a legally binding document that protects the asset of someone from creditors. It's created during the settlor's lifetime rather than at another point. It's a great tool in estate planning, and an estate planning attorney or settlor can assist with creating one.
They're placed in a living trust in a certain way that suits what the beneficiary wants. The settler will eventually transfer the real estate ownership to a trustee. The trustee will then manage the assets on behalf of the beneficiaries, especially when they're incapacitated. It will then go to the title guarantee.
What Is a Trustee
A trustee can be anyone that holds and manages an asset, like a piece of real estate in a living will. It can be someone's family member, an attorney, a friend, an individual, or another professional that someone has entrusted to handle this situation.
This individual has a fiduciary duty to uphold the trust and abide by the best interests of the person they're managing the asset for. As a trustee, you hold a lot of responsibility when it comes to selling the house in the living trust.
Can You Sell a House to a Living Trust
The good news is that it's possible to sell a home while it's in a living trust. It's very common to do this when dealing with estate planning so you can transfer the real estate asset, like a house, into a living trust for the beneficiary. It is a slightly more time-consuming process, but it can be done with some patience and if you know what you're doing.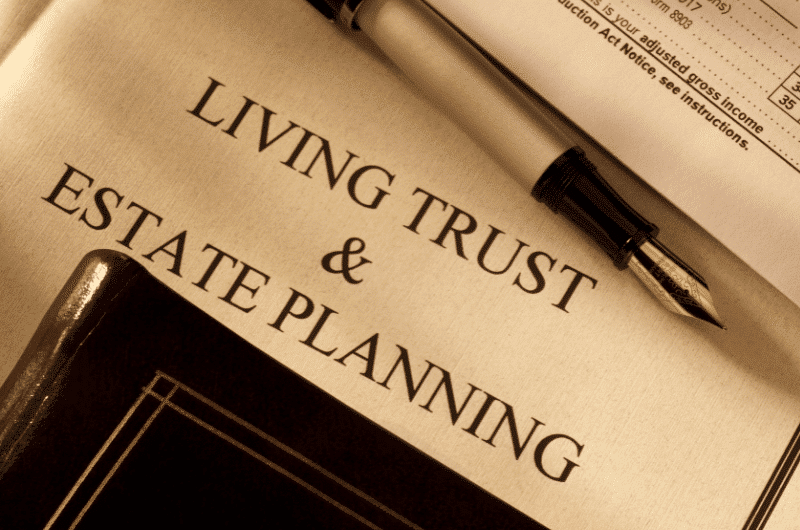 Acting on Behalf of a Beneficiary
If you're acting on behalf of a beneficiary when dealing with a living trust, there are a few things you need to know about your role in the trust and probate process. When you're acting on behalf of the beneficiary, power of attorney, or otherwise anyone who's entitled to the property, knowing your place in the process is vital to smooth sailing.
You need to act in the best interest of the person you're representing, whether they're getting the property in a life insurance payout, it's real property, they're the surviving spouse, or you're fighting for them in probate court. We also offer advice when it comes to selling a house in probate that you might find interesting.
When you're selling a house that someone owned who placed it in a living trust but is now deceased, you'll enter the situation of probate. Probate can be a time-consuming venture, but it's a process that you'll have to endure if you want or need to sell the property.
Selling a house in probate will take far longer than the traditional home selling process, but as long as you know what to expect, it won't be as bad. Everything you need to know about probate can be found on our website, and we're happy to speak to you more about your specific situation if you prefer.
Info on Title Guarantees
If you're the title guarantee on a living trust, you play a huge role in selling the property in a living trust. Before you can sell the property, a few things will happen that can change the course of the sale.
A title search and examination will happen. They will examine who owned the property previously and if there is a disclaimer or two that the new buyers need to be aware of. You will also need to have title insurance. Having title insurance is a great way to protect the lender against losing anything from title defects.
As the seller of the property in the living trust, it's your responsibility to provide clear instructions, disclaimers and offer a fair market value for the home you're selling.
You can seek advice from real estate agents, attorneys, and others who have been through the same situation if it makes you feel more comfortable. Plus, they can provide insight into how you should approach the sale.
How to Sell a House That's in a Trust and Tips to Do So
You can sell your home if it's in a living trust, but you might not be reaping the benefits of this estate planning tool if you sell it too early. Regardless, if you want or need to sell a house that's in trust for whatever reason, here's how you can do it:
Creation of the Living Trust: This usually happens before you're ready to sell the house, but you'll need an attorney to draft and execute the trust agreement. This includes transferring the deed of the house into the trust.
Prepare the Deed: You need to prepare the deed and trust document to transfer ownership of the house from your name to the name of whatever the living trust is. It can vary depending on where you live, but it's best to consult with an attorney or legal professional so you abide by local laws.
Execute the Deed: Here's when you'll execute the deed, which means you'll sign the deed. Oftentimes this will need to be notarized with a witness.
Record the Deed: Now, you'll file the deed with the government body that it applies. It's the one that handles all property records within the jurisdiction of the county where the property is. It's any clerk that handles a public record of any kind.
Sell the House: Now, you can start the process of selling the house. The trust acts like the property owner and can enter a sale contract with a homebuyer to complete any paperwork for the sale.
Before you jump in and start trying to sell a house that's in a living trust, here are eight tips you'll want to keep in mind:
Be patient with yourself, the buyer, and the real estate agents involved
Appoint a trustee that you can trust
Ensure you obtain all the required and necessary legal advice
Make sure you prepare the property for sale, like repairing issues, renovating, etc.
Hire a professional appraiser for the real estate
Market the property so that the trust beneficiary gets the best deal possible when selling
Provide all necessary disclosure about the trust assets
Consider the estate taxes and other tax implications of selling a property in a living trust
The tax implications of selling a house while it's in a living trust vary. You run the risk of the beneficiary needing to pay capital gains tax on the property; estate taxes can be higher, and there are trust tax considerations, as well as state, local, and income tax issues to think about.
This can weigh heavy on the bank accounts of those trying to sell the home, so seeking appropriate legal advice is always wise. Seeking the advice of a legal counsel is also important for asset protection. There might be a tax exemption if you're on Medicaid or for other reasons, but your legal representative can assist you.
If you're in a position where you want to place your home or other property in a living trust, be sure you choose someone who has your best interests at heart and whom you can trust. This person will be responsible for ensuring that any sales go smoothly and that your beneficiary earns what is rightfully theirs based on the fair market value of similar size homes in the area.
Conclusion
Whether you're selling property in a living trust or just looking to sell a house fast in Queens, we buy houses in NYC. We're ready to help you deal with this type of trust. With some basic understanding of the process and some patience, you can get that property in a living trust off your hands in no time.
As cash home buyers in New York, we're prepared to help you sell your home in probate or your trust property as quickly as we can. We also have resources that can help you understand the legal and financial aspects of selling a house in probate. Contact us today so we can get started on making your transaction as smooth as possible.