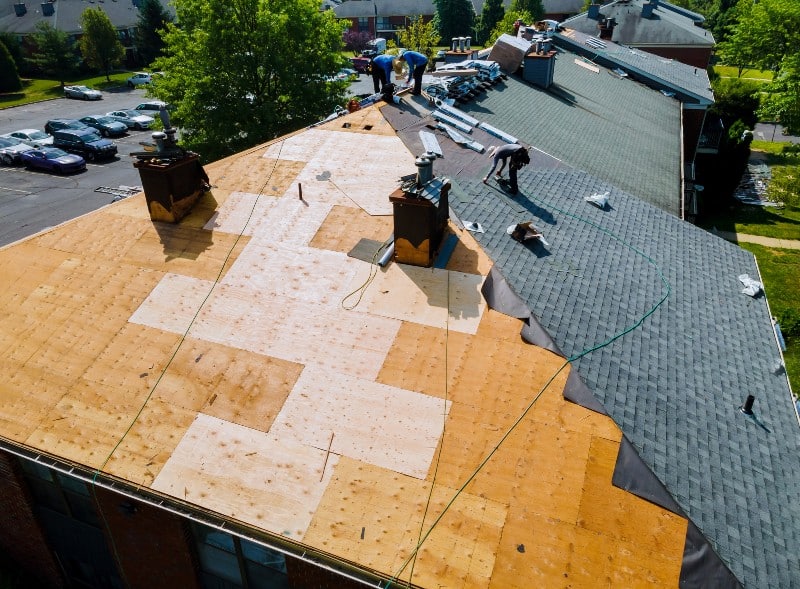 When selling a home, which home repairs should you make? Not all home repairs offer a significant return on investment or increase your home's value. Read on to learn which repairs are the most important, which are the most expensive, and which you shouldn't bother with.
Most Important Home Repairs
First, let's focus on the most indispensable home improvement jobs homeowners should take care of before selling a home. We're not considering the price yet, as not all these repairs are expensive.
The first category of essential home repairs includes fixing damage that makes your home unsafe or uncomfortable to live in. Here are some of the most important things to fix before selling a house:
Foundational damage: Foundation repair will make your home safe to live in.
Roof repair: A leaky roof that causes water damage every time it rains makes your home undesirable to buyers. Depending on the age of your roof, a complete roof replacement may be advisable.
Water damage: Water damage can come from burst pipes and floods, not only leaky roofs. It could cause drywall damage, but one of its ugliest effects is mold and mildew buildup. Mold and mildew can be detrimental to your health.
Termite damage: Termite damage isn't just unsightly. It could lead to significant structural issues and cause your walls and ceiling to cave in, making your home unsafe.
Electrical repairs: Not all electrical repairs are worth it. However, faulty circuit breakers or other electrical issues that can lead to fire or electrocution are worth the repair costs they involve. An electrician can inspect your electrical system and advise you on which repairs to make.
Plumbing issues: A backed-up sewer line can lead to sewage backup, which is unpleasant. The sewer line allows contaminated sewage to drain and leave your property (except in rural areas, where homes might have a septic tank instead). A plumber can repair other septic system issues, like burst pipes and simple toilet clogs.
HVAC repairs: You should install a new HVAC system if your current one is old and no longer safe to use. Old HVAC systems could lead to air quality issues.
The second category of the most crucial home repairs includes those that improve curb appeal. The average cost of such restorations is often low. For example, getting a landscaping company to mow your lawn, add mulch, and install flowers doesn't usually cost much money.
Other renovations that don't cost a lot of money but are vital if you want to make a good first impression include:
Repainting the exterior
Repainting the interior
Decluttering your home
Deep cleaning your home
If you have the know-how, take care of the most common home repairs yourself using DIY tools. Replace burnt-out light bulbs to make your home brighter during night showings.
Use a plunger to unclog clogged toilets, which can be unsightly during home viewings. A handyman can take care of other common home maintenance tasks.
Most Expensive Home Repairs
The most expensive home repairs aren't always the most important. Some critical home repairs, like foundational repairs, are indeed costly. However, other expensive home repairs aren't necessarily essential.
For example, installing a swimming pool is usually a bad idea. So is installing a sunroom. Many people don't care for any of those, but both cost a lot of money.
Following are some of the most expensive and vital home repairs:
Foundational repair
Termite damage repair
HVAC replacement
Roof replacement
Mold and mildew cleanup
Fire damage repair (including soot and smoke removal)
Certain types of electrical repair, such as electrical rewiring
Certain types of roof damage may only require roof repair, which is generally a lot cheaper than a complete roof replacement. The cost of mold and mildew cleanup also depends on the extent of the mold buildup.
Following are some of the most expensive home repairs that are usually unnecessary and not worth it:
Finally, there are expensive home repairs that sometimes make sense, such as finishing the basement and attic to add new bedrooms and other spaces, such as a home office and play area for the kids. Many people look at the number of bedrooms when searching for a home, and it can increase your home value.
However, they don't make sense in all situations. For example, if you're trying to sell a house fast in Queens, making significant renovations is a bad idea.
The construction work can stretch out, and you will be unable to show your home to potential buyers while construction work is going on. You can't impress buyers with a home that is unfinished and has construction clutter and dust all over the place.
Least Important Home Repairs
The least essential home repairs are those that don't add much value to your home. Let's start with minor repairs that home buyers don't typically care about or notice, including:
New light fixtures
New faucets
New mirrors
These are things buyers can take care of themselves if they genuinely want to. Besides, what's the use of installing new faucets if you can't completely remodel your kitchen or bathroom?
Partial fixes just make your home look bad. An outdated bathroom with modern faucets looks weird. Buyers may even think you ran out of money, which means you may be desperate to make a sale. They may make lower offers if they sense you need cash quickly.
You should also avoid significant renovations that provide a questionable ROI and which you may not be able to finish. These renovations are often expensive and can include the following:
Remodeling your kitchen
Remodeling your bathrooms
Adding a new master suite to your home
Adding a new bathroom
People spend a lot of time in the kitchen and prefer a modern, good-looking, functional kitchen. However, is it worth it? The average recovered cost for the above four repairs ranges from 50-59%.
A kitchen remodel scores the highest, with homeowners recuperating 59% of the cost. That's not enough to make it worth it, especially considering the extra time and hassle it will take to complete the work.
Also, avoid any repairs that only matter to some buyers. They include:
Installing a sunroom
Converting your garage into a gym, office, or living room
Installing an outdoor swimming pool
These repairs are often expensive, and they can even make your home less attractive to some buyers. Not everyone cares about having a home gym. You may think it doesn't hurt, but if it comes in the way of other conveniences, such as having enough garage space to park their cars, it may turn off some buyers.
Finally, the last type of home repair to avoid is unpermitted work (repairs you don't have a permit for). You'll see a lot of answers on Google for the search term "selling house with unpermitted work." While it's possible, it's a hassle that you can avoid by not doing such repairs in the first place.
Is It Worthwhile Repairing Your House Before Selling?
That depends on your goals and specific situation. If you're selling through a real estate agent, it's worth taking care of major repairs, such as structural and foundational repairs. Otherwise, it could be hard to find a buyer, especially if you're targeting traditional buyers taking out a mortgage on your home.
Minor cosmetic repairs, such as repainting your exterior and improving your home's curb appeal through landscaping, are generally worth it. However, if you have severe structural damage or foundational problems, you can't cover them up with a fresh coat of paint. They will show up in the home inspection reports.
If you don't have money to make those repairs or need to make a quick home sale, consider selling to cash home buyers in New York. Cash buyers buy homes as-is, even homes that require serious repairs.
Such homes (fixer-uppers) are attractive to cash buyers, home flippers, and real estate investors. A cash buyer can get a fixer-upper for a reasonable price, invest money in repairs, and then flip it for a better price, especially if the local real estate market is good. As a seller, you won't have to deal with the hassle of hiring contractors to make expensive repairs.
Conclusion
If you've decided that it's worth making repairs before selling your home, focus on the most essential repairs, such as making your home safer to live in and improving its curb appeal. However, if you don't have the funds to make any repairs, contact us.
We buy houses NYC buyers love. We use a fair and straightforward three-step process. Start by calling us or requesting an offer online, so we can make an appointment to view your home.
You can also send us pictures if you prefer. We'll present you with a fair cash offer based on comparable properties in the area selling for cash and your home's details, such as square footage and the number of bedrooms. Finally, we'll close on your schedule.