The state of New York is home to some of the most bustling boroughs in all of America. Spots like Times Square and Central Park are alarming yet intriguing. It's substantially fair to say that this city never has a dull moment.
In the 1990s, New York City had a harrowing history despite being far less populated than it is today. The violent crime rates were steep, but this did not stop optimistic outsiders from transforming into New York residents.
The state of New York is wholly a melting pot of communities. Spanning from Chinatown to Little Italy, New York is consistently evolving into a responsible and comfortable place to reside. So, what could stop you from flourishing in the empire state?
Let's dive into the key factors that make New York a great place to call home. Naturally, there is nothing wrong with contemplating the security of the state. So, venture forward to find out what keeps America's liveliest city running.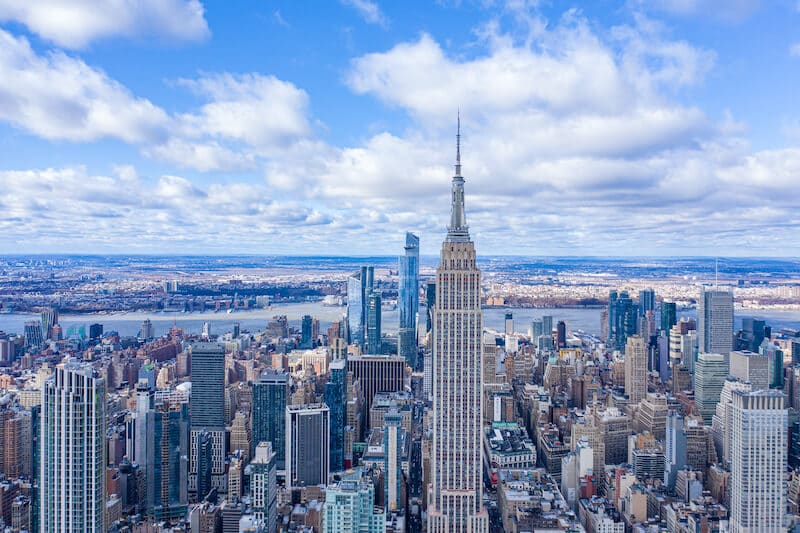 Is New York a Safe State to Live in?
People rarely think of New York as a state with the peaceful, suburban lifestyle that others are akin to. Regardless of NYC being "the city that never sleeps," the state as a whole is fortunately secure. New York takes eighth place in the top ten safest states in the US.
Likewise, the average cost of living in NY might seem intimidating given the state's popularity. Housing in New York does not always have to be expensive. If you are thinking about moving, consider these notably affordable and safe areas in New York:
Long Island
Queens
Manhattan
The Bronx
Staten Island
Brooklyn
Queens possesses nine out of New York's top twenty safest neighborhoods. Manhattan and the Bronx follow right underneath, hovering above Brooklyn on the New York safety list. Above all of these locations, Long Island and Staten Island score the absolute best. The citizens in these two locations mention that these areas do not require as much vigilance as others.
Generally, many of the boroughs within New York's large cities are a lot more guarded than you think. Long Island alone is noted first on the list of safe and affordable places to live in New York State. Its safest neighborhoods include Floral Park, Massapequa Park, Rye, Rockville Centre, North Hills, and Sea Cliff.
Sea Cliff impressively offers some of the best commute times and the lowest unemployment rates in the Long Island area. This information is critical to consider, given that many residents spend over an hour driving to work.
If you chat with NYC homeowners, they might tell you that real estate is cheaper in New Jersey. However, New Jersey is still a decent 30-45 minute drive into New York's Upper East Side and Upper West Sides. It would also pose problems when taking into account public transport.
Essentially, Long Island is an excellent starting point if you're uncertain. The city possesses more space to invite newcomers, and the crime rates are minimal. For any New Yorkers looking to sell their Nassau County property and relocate to a new NYC neighborhood or beyond, visit buy my house Long Island for optimal assistance.
New York Crime Rates
Of course, even the safest cities in New York still experience varying crime levels. Outside of NYC, the crime rates in New York have dropped significantly. Contrarily for violent crimes, some of the rates have increased ever so slightly.
Aggravated assault increased 4.5% from 2019 to 2020. Shockingly, violent crime rates relating to murder escalated by nearly 47% from 2019 to 2020. Beginning in 2011 and passing through to 2020, violent crime rates saw an overall decrease of almost 9%.
Moreover, property crime rates decreased from 2011 to 2020 by over 26%. These crime statistics prove that the state of New York is increasingly becoming safer each day despite the 2020 surge in crimes.
In New York City, violent crime rates endured a 6% reduction. The year 2020 is highlighted as a challenging year due to the sudden escalation in murders, burglaries, and robberies. Many who live in New York City explain that staying safe is a significant issue, but it is still noticeably better than it was a decade ago.
You should also take into consideration the effects of the pandemic. Many hardworking people lost their jobs. This predicament contributed to looting and riots throughout the whole country. Resultantly, NYC is not the only city in America to see an uptick in crimes.
New York Crimes by Type
One of the most important aspects of identifying security is crimes by type. If an area experiences more murders than robberies, it would be grueling to consider it safe. While motor vehicle theft rose throughout the state by 5% in the last decade, burglary decreased by over 50%.
Larceny decreased by nearly 24% and robbery by almost 39%. In just the last two years, rape received an overarching decline of over 15%. Additionally, NYPD continues to encourage victims to step forward as many rape-related crimes never get reported.
In essence, nitpicking crime types is beneficial, but it often discourages you from moving into a predominantly safe area. If you take a look at the end-to-end responses, it may help push your decision along further.
Local Responses in New York
Thankfully in terms of New York State, the response times are prompt across the board. In 2019, the NYPD crime response time averaged under five minutes. Although this average time increased for 2020, they briskly recovered, entering 2021.
Most parts of Long Island wait less than four minutes before police arrive. Response times for severe and critical emergencies admirably stand below six minutes.
On the contrary, many of the crimes in New York State do occur in New York City. It will be pivotal to review the local responses linking to the most active parts of NYC.
NYC Crimes by Type
New York City frequently diverges from the remainder of the state. The reasons why many residents view NYC through a completely different lens are innumerable. For one, this city has boroughs that guests habitually treat as tourist attractions. Experiencing museums, parks, and Broadway shows are just a few of the best things to do in NY.
Delving deeper into each type of crime in NYC, how would they factor into the overall safeness of the city?
Over the last decade, almost all crime types have reduced. Rape decreased by nearly 19%, and robbery rates declined by a third. Excluding the surge that occurred in 2020, murder rates in NYC diminished by nearly 10% in the last decade.
The most crucial component to discuss is the massive increase in population. The crime rates by type continue to decrease despite the citizenry in New York City displaying steady growth.
For more details regarding crime rates in NYC and New York State altogether, this recently-updated index relays valuable data.
Local Responses in NYC
NYC holds some of the best national average response times out of many other big cities in America. NYC is fourth in the top five cities with rapid responses, accompanying San Francisco, Los Angeles, Houston, and San Antonio.
New York City also accommodates over 8.6 million residents. This figure is two times the population in Los Angeles. As a result, the average response time is astonishing when you factor in the enormous number of citizens in the area.
Queens and Manhattan both have an average response time of 3.5 minutes. Unsurprisingly, the wealthier areas such as Greenwich Village and SoHo experience short response times from the NYPD.
The average 911 response time of New York City sits under seven minutes. The last couple of years displayed a few spikes in the end-to-end response times. The average encountered a temporary increase from seven minutes to twelve minutes. Mercifully, this sudden upsurge did not last. Additional analytics show that NYC is pushing toward keeping the response times for critical emergencies as low as possible.
Now entering 2022, local authorities are determined to further reduce the latest response time trends. Moreover, it is necessary to keep in mind that the pandemic is rising once more. The number of New York City residents will consistently climb, so choosing a small town instead is worth appraising.
If you are considering relocating within the state, remember that we buy houses in New York. Our cash home buyers in Brooklyn and other areas can take care of your home sale so you can move to one of the safe neighborhoods this state has to offer.
Conclusion
It's normal to question the safety of one of the most populated cities this country contains. Besides, most parts of the US are not viewed as 100% safe. If you feel New York offers less security, the updated crime data proves otherwise.
Reviewing everything we discussed, there's more to the Empire State than just New York City. All of New York's surrounding areas continuously receive upgrades and amenities that are worthwhile.
Whether you want to live in the Big Apple or the suburban areas of New York, there are plenty of safe areas for you and your family.