Steps To Selling Your House: A Guide To Sell Your House In New York
Selling a house can sound like a very daunting challenge, especially if you've never done it before. There are so many processes to know and rules to follow. Plus, there's so much to do before you even list your home. And if you're planning to sell your house in New York, you have to understand the specific conditions of the local market and best practices to make sure your home sells quickly in the Empire State.
The good news is that there are some quality practices you can put into action that will put you in a position to sell your house sooner than later so you can move forward. Here is a guide to selling your house in New York.
Step 1: Decide How You Want to Sell Your House
This might seem obvious but you actually have some options when it comes to how you sell your home. How you make that decision will affect everything else that happens moving forward so it's very important to make the right choice for you and your situation.
First, you can list the home on the market with a real estate agent.
This is a common strategy since the agent is experienced in the process and will handle all of the paperwork and negotiations for you. A good real estate agent will answer your questions and give you guidance when it comes to the local housing market, prices, and how you can stand out in the competitive marketplace.
An agent will usually get a five or six percent commission fee on the final sale price of the home. You'll also likely be responsible for various closing costs and fees related to the home buying process.
Your second option is to sell the house yourself.
Commonly referred to as For Sale By Owner, this means you are in charge of every aspect of the home sale. The benefit of going this route is that you don't have to pay a commission to the listing agent, which could net you thousands of dollars. The buyer's agent will still receive a commission but you can negotiate that rate before selling.
The downside of this strategy is that you will be the one responsible for everything, including scheduling, marketing, paperwork, and negotiations. Unless you're very experienced in home selling, this can be a very overwhelming headache and it's easy to miss a critical step that ends up costing you money.
The third option is to sell your house directly to a real estate investor.
There is so much uncertainty that comes with selling on the open market, but this method eliminates the unknowns. In this situation, you work directly with an investor who offers you a competitive cash offer. It's up to you how fast the transaction moves and they will work with you on all the details in order to make it a smooth transaction.
Then, you get the cash and you can move forward and sell your house fast. This option is beneficial if there are any conditions on your house that would make it hard to sell on the open market (mold damage, tax liens, hoarders) or if you're relocating outside of New York quickly.
Step 2: Sort Your Sale Price
If you list your house on the open market, the most important decision you'll make is how you price it. If you want offers to roll in quickly, you have to try to find the right balance between expectations and current conditions of the New York real estate market. If your house seems overpriced, it could set you back by weeks or even months.
A good way to know what you should be asking for your house is to size up what's already happening in the market. You can focus on the county or city but you really want to hone in on your specific neighborhood. Get down to a street level in order to find a clear idea of what the current values are.
Look at the houses that are currently for sale in the area to see what their asking price is, but also look at what has recently sold. This will help you get a realistic idea of the difference between what your neighbors want versus what they're actually getting. Their headaches and delays will help you understand how to avoid them.
You can also consider if you're willing to keep the house on the market longer in order to get the price you want. Or if you want to sell quickly, figure out your ideal price and then list for slightly less in order to entice buyers.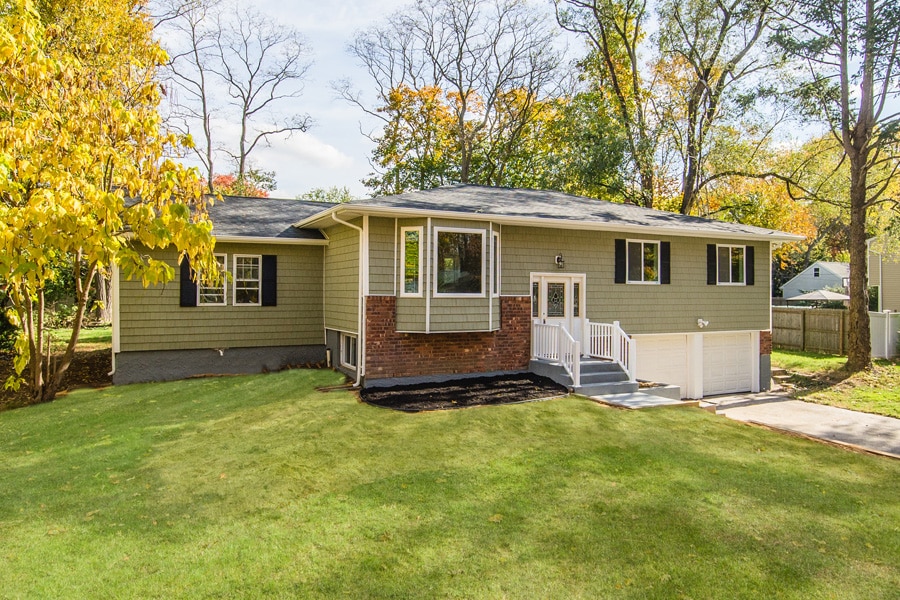 Step 3: Curb Appeal & Cleaning Up
You might think your house is perfect as-is but once it's up for sale that's irrelevant. What's important is what potential buyers are able to see in it. Specifically, can they see themselves living here? Do they see a house that's ready to live in?
Start by decluttering the house. You might like a lot of the decorations but all of that is distracting to buyers. Clear out accent pieces in order to give buyers some visual space to see their own things here. You might even go as far as to put larger items in storage. Next, tone down the decor. All of your flashy decor, unique pieces of art, and eccentric patterns should go in storage.
It's not just about prepping your house. It's also about preparing your property. Think about curb appeal. Does the exterior of the house need a wash or a fresh coat of paint? Consider if the lawn needs to be mowed and the garden needs to be groomed. Think about buyers driving past your house and taking a look. What can you do to make sure they stop?
Step 4: Time to List Your House
Your listing agent will take care of the specifics but there are some things you should consider when you list your home in order to make it stand out from the crowded marketplace.
Hire a professional photographer and home stager to make your house really pop visually. They'll be able to make each room stand out and draw the eye. Even if all you can do is hire a photographer, that will pay dividends. The difference between a home listing with professional photos and one with generic photos is very noticeable and has an effect.
Host an open house (or seven) in order to entice buyers for a closer look around. Work with your agent to make sure there's enough signage and marketing so people actually show up. Also, make yourself available for drop-in visits and for people to see your home when you're not there. Don't give any potential buyer a reason to be annoyed or to look elsewhere instead.
Step 5: Review Offers & Negotiate
At this point, you've hopefully got a few offers to sift through. You'll have to figure out what's most important to you and which buyer seems like the most likely to get fully approved and finish the deal. Or you can let them bid against each other, driving up the price they're willing to pay.
Some of the things you should be looking for include lending pre-approval, proof of available funds, potential seller concessions, how they intend to pay (cash or financing), whether there's a buyer's contingency (they have to sell their current home first), or any timeline issues. Certain buyers will look better on paper, but you'll want to put in the due diligence when deciding which offer you'll accept. The wrong choice means lost time and money.
Step 6: Accept The Offer
Once you've settled on the offer you want, that doesn't mean the process is over. Now you move on to the final stage. The buyer will have a chance to inspect the home. If they're happy, the buyer will then finalize their financing and enter the underwriting period. The bank will do its due diligence on the buyer and home contract in order to give the loan full approval.
Once the bank is happy, all that's left is signing the titles and escrow documents. With that, the home is sold and you can move forward into the next stage in your home-owning journey, whether it's in New York or elsewhere.
To learn more about selling your home or working with Leave The Key Homebuyers, fill out the form below.